BULLS' YOUTH AND DESIRE WILL WIN TOP SEED

By Nick Friedell
ESPNChicago.com
Bulls blog
The Chicago Bulls have the inside track on the No. 1 seed in the Eastern Conference playoffs because of their youth.
Bulls remaining schedule
Date
Opponent
Tuesday
at Hawks
(40-30)
Friday
vs. Grizzlies
(39-32)
Saturday
at Bucks
(28-41)
Monday
vs. 76ers
(36-34)
March 30
at Wolves
(17-54)
April 1
at Pistons
(25-45)
April 2
vs. Raptors
(20-50)
April 5
vs. Suns
(35-33)
April 7
vs. Celtics
(50-19)
April 8
at Cavs
(13-56)
April 10
at Magic
(45-26)
April 12
at Knicks
(35-35)
April 13
vs. Nets
(22-47)
Records through Monday
Boston Celtics coach Doc Rivers has already said he won't push his veterans over their minutes limit down the stretch in the regular season just to pick up a better seed.
Bulls coach Tom Thibodeau has no such worries. He has a team full of youthful, hungry players who desperately want the No. 1 seed to ensure a home game in a potential Game 7 against the Celtics.
Thibodeau has played Luol Deng and Derrick Rose close to 40 minutes every night, and he's not about to change his line of thinking now.
Out of their final 13 regular-season contests, the Bulls have only five more games against teams with winning records, including the April 7 showdown against the Celtics. They have one game against a New York Knicks team that seems to be fading fast and six more against sub-.500 teams such as the woeful Cleveland Cavaliers and Minnesota Timberwolves.
The one thing that might trip up the Bulls is that they have three more sets of back-to-backs in the final three weeks. But Thibodeau has proved he can prepare his team well for those games -- the Bulls are 13-5 in the second night of a back-to-back this season.
The Bulls don't have the Celtics' playoff experience, and that might come back to bite them if these teams square off down the line.
But the Bulls have an easier path to the top seed. And they know if they secure it, the reality of playing at United Center may make up for some of the deficiencies that every young team must deal with in the playoffs.
Nick Friedell covers the Bulls for ESPNChicago.com and ESPN 1000.
You've heard our takes; now give us yours. DISCUSS
FOCUSED CELTICS WON'T LET HOME COURT SLIP AWAY THIS TIME

By Chris Forsberg
ESPNBoston.com
Archive
From the very moment the Boston Celtics walked off the confetti-strewn court at Staples Center, where the rival Los Angeles Lakers were celebrating a second consecutive world title last June, coach Doc Rivers and his charges told anyone who would listen how different the ending would have been had Game 7 of the NBA Finals been played in Boston.
Celtics' remaining schedule
Date
Opponent
Wednesday
vs. Grizzlies
(39-32)
Friday
vs. Bobcats
(28-41)
Sunday
at Wolves
(17-54)
Monday
at Pacers
(31-40)
March 31
at Spurs
(57-13)
April 1
at Hawks
(40-30)
April 3
vs. Pistons
(25-45)
April 5
vs. 76ers
(36-34)
April 7
at Bulls
(50-19)
April 8
vs. Wizards
(17-51)
April 10
at Heat
(48-22)
April 11
at Wizards
(17-51)
April 13
vs. Knicks
(35-35)
Records through Monday
Clinging to the top seed in the Eastern Conference -- locked in a tie with the Chicago Bulls -- with less than a month remaining in the regular season, the Celtics didn't come this far to let regular-season positioning affect their postseason potential.
While the Bulls certainly have the easier remaining schedule and will have the luxury of a head-to-head matchup against Boston at the United Center on April 7, it's hard to imagine it won't be the Celtics leaning on past experiences -- both good and bad -- to emerge as the East's top seed.
The Celtics need to put on blinders, and ignore what the Bulls and Heat are accomplishing (except, of course, during those head-to-head battles in the season's final days). Boston ought to assume Chicago will go 12-0 (hey, it's won nine of its past 10) and be happy if the Bulls trip up along the way.
Boston must figure out how to avoid stumbles of its own, particularly on the second night of back-to-backs on the road, where the team has suffered eight of its 19 losses this season (and nearly a ninth before rallying from a 15-point deficit versus New Orleans on Saturday). Boston plays 10 of its 12 remaining games as part of five back-to-backs, four of which close on the road. That's a daunting proposition, but we all know what the Celtics are capable of when the chips are on the table.
Boston might be kicking itself for taking its foot off the gas pedal at times during the regular season (what team isn't this season?). Now it's in a dogfight with Chicago, and if that means having to lean on a playoff rotation and rally from 15-point deficits in consecutive games (versus New Orleans and New York) to prevent losing ground, then so be it.
Boston will lean on its veterans and find a way to emerge with the top seed in the Eastern Conference, allowing itself no excuses for not getting back to the Finals this year for a chance to atone for letting Banner 18 slip away nine months ago.
Chris Forsberg covers the Celtics for ESPNBoston.com.
LISTEN LIVE!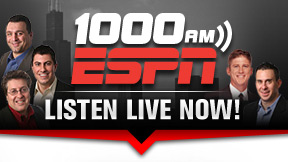 Want to sound off on today's Hot Button topic? Give us a call at 312.332.ESPN. Listen Live

ESPNSteinLine

Marc Stein


The Bulls are the only team to start the season with 14 players -- one short of the league maximum -- after Monday's flurry of final cuts.
27 minutes ago

AroundtheHorn

Around The Horn


Also @BillPlaschke gets his comeuppance. We're leading with the Cubs in the World Series and Plaschke wearing MUTES
about 2 hours ago

jadande

J.A. Adande


I like the "dribble" line. Otherwise what, he'll get called for traveling? https://t.co/qRZ5vwWXgT
about 2 hours ago

MarcJSpearsESPN

Marc J. Spears


With Andre Miller not on an NBA team right now, that leaves Memphis forward Vince Carter as the oldest player in the league born on 1/26/77.
about 4 hours ago

MarcJSpearsESPN

Marc J. Spears


NBA free agent point guard Andre Miller, 40, still wants to play & hopes to sign with a playoff caliber team, a source told @TheUndefeated.
about 4 hours ago

ESPNSteinLine

Marc Stein


That would MEAN that both Metta World Peace AND Thomas Robinson make the Lakers' final 15-man roster ... https://t.co/0N2jzZu4WG
about 4 hours ago

ESPNSteinLine

Marc Stein


That would Metta World Peace AND Thomas Robinson make the Lakers' 15-man roster ... https://t.co/0N2jzZu4WG
about 4 hours ago

MarkG_Medina

Mark Medina


Mitch Kupchak's statement on Yi Jianlian's departure https://t.co/toUidit0fu
about 5 hours ago

Chris_Broussard

Chris Broussard


Very impressed w/Wisconsin basketball player Nigel Hayes on @OTLonESPN. He spoke about race, justice & paying NCAA athletes #Strongbrother
about 5 hours ago

Sportando

Sportando


Shaquille O'Neal loves donuts and now owns a Krispy Kreme Doughnut shop: https://t.co/AGckpmHIoX https://t.co/A5NRJgLVIy
about 5 hours ago

NickFriedell

Nick Friedell


Rose has thrown out the first pitch at Wrigley before as well. https://t.co/umnSsElCBz
about 5 hours ago

ESPNSteinLine

Marc Stein


The Opening Night edition of your @espn NBA Power Rankings are ready for your perusal, dissection, scorn, etc. --> https://t.co/zsOQv6XQeY
about 5 hours ago

ESPNSteinLine

Marc Stein


Cal State Fullerton all-time scoring leader Bobby Brown is still alive to snag Houston's last roster spot. It's Bro… https://t.co/qfpX4t21Qm
about 7 hours ago

Chris_Broussard

Chris Broussard


Looking forward to my 1st day at @FS1 tomorrow with @RealSkipBayless & @ShannonSharpe on @undisputed. Talking NBA season!
about 8 hours ago

Rachel__Nichols

Rachel Nichols


#TheJumpis backTODAY....See ya at 3:30p ET/12:30p PT on ESPN2 https://t.co/XQnOCHriWo
about 8 hours ago

jadande

J.A. Adande


The NBA is adding a zoomed-in shot option for mobile viewers on League Pass this season. https://t.co/2J8p999fu0
about 9 hours ago

ESPNSteinLine

Marc Stein


Link to the @espn latest on Yi Jianlian requesting and receiving his release from the Lakers --> https://t.co/fGZei75bl9
about 15 hours ago

jadande

J.A. Adande


Can't summarize that Seahawks-Cardinals game any better than this https://t.co/h6aw1G3uTY
about 17 hours ago

ESPNSteinLine

Marc Stein


Don't start with me, Thomas. Not at this hour ... https://t.co/KMUHctfynQ
about 17 hours ago

ESPNSteinLine

Marc Stein


RELAX! The NFL has seen worse. In 1977, at age 8, I listened to an entire Bills 3-0 win over Atlanta on the RADIO. #anythingforfergy
about 18 hours ago