With Boston's elimination in Miami on Wednesday, this is a good time to talk about one of the most remarkable runs we've seen.

When Kevin Garnett and Ray Allen joined Paul Pierce in 2007, the Celtics rose from the ashes to win the 2008 NBA title -- the 17th for the franchise -- and take us all on a journey that has twisted and turned for four seasons and counting.

Now the Celtics have plenty of success to look back on and some decisions to make. We asked five writers for their takes on the era of the Big Three, Rajon Rondo, coach Doc Rivers and team president Danny Ainge.
1. With one title in two Finals trips in this era, Celtics fans should feel ...

A. Happy
B. Satisfied
C. Unsatisfied
D. Unhappy
E. [Your description here]

Brian Robb, href="http://celticshub.com/">Celtics Hub: E. Satisfied but left wondering. You can't help but lament how many other titles were left on the table for this Celtics team after 2008. All four years in this era, this team has been a top contender before injuries sidetracked things. It hurts to say, but I think we'll be looking back in 10 years and wondering "What if?" with this crew.

Brendan Jackson, href="http://celticshub.com/">Celtics Hub: E. Cheated and unsatisfied. If this season is indeed the last go-round for the Celtics' Big Three, the "what ifs" will be inescapable. What if Garnett were healthy in 2009? What if Kendrick Perkins were healthy in 2010? And, dare I say, what if Rajon Rondo were healthy in 2011?

Chris Forsberg, ESPN Boston: B. Satisfied. Considering what this team went through in 2006-07, winning a mere 24 games and enduring a franchise-record 18-game losing streak, the Big Three era made this team relevant again. Like the players, Celtics fans will be left to wonder what could have been had this group stayed healthy, particularly during the 2010 NBA Finals.

Ryan DeGama, href="http://celticshub.com/">Celtics Hub: B. Satisfied. It's hard to argue with a championship when you consider the other long-suffering fans around the league. But C's fans will never forget the Garnett injury that sabotaged an elite 2009 team and the Perkins ACL tear that probably cost them a title in 2010.

Hayes Davenport, href="http://celticshub.com/">Celtics Hub: E. Deliriously happy. Only eight teams have won NBA titles in the past 30 years, so any time your team manages to get into the mix, you're happy. Throw in that the season preceding the Garnett era was the on-court nadir of Celtics history, and you have a fan base that can't complain, no matter how much it really loves to.
---
2. The Kendrick Perkins trade has been much-maligned. The criticism is ...

Perkins

A. Right on point
B. Missing the point
C. Overstated
D. Understated
E. [Your description here]

Brian Robb, Celtics Hub: A. Right on point. Trading Perk was the right idea in theory but simply not executed well. Championship teams don't trade their incumbent starting center halfway through the season unless they are getting back a sure thing. From Jeff Green and Nenad Krstic, the Celtics needed offense, but all they got was inconsistency while creating a major void in the interior.

Brendan Jackson, Celtics Hub: B and C. Overstated and missing the point. Perkins contributed most to the team's toughness and chemistry, meaning he couldn't have prevented the Celtics from being too tired to put the ball in the hole late in games. Moreover, this trade would not have happened if Tony Allen were still a Celtic and Marquis Daniels hadn't had a horrific injury.

Chris Forsberg, ESPN Boston: C. Overstated. The Perkins trade is an easy scapegoat for this team's struggles. Alas, Perkins wouldn't have been on the floor when the Celtics' execution crumbled on the final play of regulation in Game 4. Boston's difficulties extend well beyond the loss of a core member, but that one move will unfairly define much of this season.

Ryan DeGama, Celtics Hub: E. [Expletive deleted.] To be clear, Boston is losing this series because Miami's best guys are outplaying theirs, not because of the trade. But Ainge blew this wager. He doubled down on the health of the 4,000-year-old Shaq just so he could deal a physical starting center for a disengaged reserve tweener who doesn't rebound. Ubuntu!

Hayes Davenport, Celtics Hub: A. Right on point. Say, theoretically, that Jeff Green played up to expectations in his time with the Celtics. Even in that imaginary dreamscape, this trade is still a complete bust. The Celtics were already a below-average rebounding team, and dumping Perkins made them dramatically worse. Result: Miami outrebounded Boston by 17 in Game 4.
---
3. When Boston's season ends, it will be time for Danny Ainge to ...

Ainge

A. Bring everyone back
B. Tweak the roster
C. Make a major move
D. Start over
E. [Your prescription here]

Brian Robb, Celtics Hub: B. Tweak the roster. With all four All-Stars under contract, it only makes sense to bring back the core for one last hurrah. These guys need help, as the subpar offense must be addressed with personnel who create easy baskets to take the burden off the old guard. With necessary adjustments, I believe that this team can contend for one final year.

Brendan Jackson, Celtics Hub: B. Tweak the roster. Barring retirement or a trade involving the Big Three, this is basically the same team again. There's just no cap room yet for major additions. Furthermore, a tweak might allow the Big Three to play fewer minutes and be ready for one more playoff run.

Chris Forsberg, ESPN Boston: E. Wait and see. Unfortunately, a potential lockout coupled with Doc Rivers possibly hanging up his whistle and clipboard leave this team's direction very much in limbo. Maybe a lockout-shortened season would entice some veterans to stay for one more rodeo. A large-scale overhaul could be expedited by how the dominoes fall.

Ryan DeGama, Celtics Hub: C. Make a major move. Ainge should focus on acquiring a guy who can be the best player on a championship team. That means he should be in on Dwight Howard and Chris Paul as well as any other disaffected megastar pouting his way across the NBA landscape.

Hayes Davenport, Celtics Hub: B. Tweak the roster. Starting over comes in the 2012 offseason, when every player except Rondo and Pierce is off the books. Until then, you try to wring another playoff run out of the Big Three and swap out some of the pieces around them to the extent that it's even possible. Any takers on two O'Neals for the price of zero?
---
4. Rajon Rondo, age 25, is the only Celtics star under 33. He is also ...

Rondo

A. The foundation for a new era of Celtics title contention
B. A franchise player but not enough
C. A keeper, but only a good piece, not a franchise player
D. The guy who can bring Boston back the most in a trade
E. [Your description here]

Brian Robb, Celtics Hub: C. A keeper, not a franchise player. There's no way a team wins a championship with Rondo as its best player. Danny Ainge knows this and has positioned himself well to add another major piece in 2012 and reload on the fly. With Rondo signed to a below-market contract until 2015, C's fans can rest easier knowing that one crucial part of the team's future is in place.

Brendan Jackson, Celtics Hub: B. A franchise player but not enough. When has one player been enough to win a title? The Celtics will have to rebuild around Rondo -- trading him for another impact player would have them running in place. Rondo, another star and a then-on-his-way-out-the-door Paul Pierce might be enough to contend in 2013.

Chris Forsberg, ESPN Boston: A. The foundation. Rondo is signed long term at reasonable money, which, after many of Boston's bloated contracts expire after next season, might allow the team to construct a new Big Three of Rondo, an aging Pierce and Free Agent Superstar X. (Dwight Howard, obviously, is the biggest name of that 2012 group, but others will be available.) That's a solid core that could keep Boston competitive.

Ryan DeGama, Celtics Hub: C and D. Five years into his career, you can still hurt Boston by leaving Rondo wide-open in crunch time. What franchise player has that kind of Achilles' heel? Rondo could be a piece of the next Boston contender or traded for the guys who will headline it. It's heresy, but I'm unconvinced he'll be around beyond summer 2012.

Hayes Davenport, Celtics Hub: B. A franchise player but not enough. Rondo is no better than a third scoring option on a championship team, but his value lies in his ability to turn marginal teammates into deadly threats. An otherwise-talented player who can't create offense could see a career renaissance under Rondo's tutelage, just as he briefly made Shaq look young again in the first month of the season.
---
5. What is your favorite memory from this era of Celtics basketball?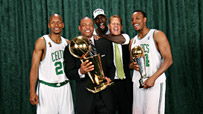 Brian Robb, Celtics Hub: The second half of Game 6 in the 2008 NBA Finals. To me, you can't beat 24 minutes of garbage time against your hated rivals. The 3-point barrage from Ray Allen, the Gatorade dump onto Doc Rivers while the game was still in progress, the emotional postgame interview with Kevin Garnett -- and that's just a small sample of the goodness provided.

And with 2008 likely to be the only title year from this era for the C's, it will only make those memories sweeter.

Brendan Jackson, Celtics Hub: The defense. This has been the identity of the Boston Celtics for the past four years, and any great memory from this era can be attributed to it. The hard screen hedging, quick closeouts on shooters and sharp defensive rotations. Every deflection, every loose-ball possession earned, every induced shot-clock violation -- those are my greatest memories. Going forward, whether this identity remains depends on who holds the whiteboard.

Chris Forsberg, ESPN Boston: Beyond the world title, the most endearing memory might simply be the rejuvenation that basketball received in this city just from bringing the Big Three together. After a depressing 2006-07 season, few could have envisioned such a quick turnaround, particularly after Boston's impossibly bad luck in the draft lottery.

But Celtics basketball had buzz from the moment Kevin Garnett arrived and didn't fail to deliver during a stellar regular season before the postseason run to a 17th world title.

Honorable mention: the loose and playful atmosphere at training camp this season, including the addition of Shaquille O'Neal. This team really enjoyed itself early on.

Ryan DeGama, Celtics Hub: Game 6, 2008. The Lakers are down 18 in the final minute of the second quarter. Garnett takes a pass from Pierce and rolls down the lane, where Lamar Odom fouls him. Garnett hangs in the air and banks in a one-hander for an and-1 and a 20-point Boston lead. Annoyed, the girl I'm watching the game with turns to me and says, "This is terrible; it's not even going to be a close game." I look back, delighted, and say, "Exactly."

Hayes Davenport, Celtics Hub: Kevin Garnett's postchampionship interview with Michele Tafoya seems like the only possible answer. But I'll go with a moment immediately after the interview, when KG seeks out Bill Russell in the fracas for a hug. Garnett pulls back, looks Russell in the eye and says, "I hope we made you proud." I remember hearing that and pretending to sneeze into some paper towels to disguise to my friends that I was openly weeping.
---


ESPN.com and the TrueHoop Network
Chris Forsberg covers the Celtics for ESPN Boston. Hayes Davenport, Ryan DeGama, Brendan Jackson and Brian Robb write for the TrueHoop Network.
• Follow ESPN's NBA coverage on Twitter | On Facebook