Updated:
February 13, 2011, 6:25 PM ET
1. This Time, Lakers Have Last Word
By Brian Robb
ESPN TrueHoop
BOSTON -- The Los Angeles Lakers had a statement to make Thursday night. Just 11 days removed from allowing 60 percent shooting on their home floor in an ugly loss to their longtime rival, the Lakers entered the TD Garden looking for not just revenge against the Boston Celtics, but their first signature victory of the season.
Ironically, it was that very defense that let the Lakers down in Los Angeles, combined with some clutch second-half shooting from Kobe Bryant that enabled the defending champions to turn the tables on the Celtics for a 92-86 win. The win gave the Lakers a split in the season series with Boston, in what could serve as an NBA Finals sneak preview for the third time in the past four years.
Both teams, however, have plenty of looming obstacles if they hope to return to the promised land in June for a Finals rubber match. Surprisingly, it was the Lakers who had more questions to answer about their team's championship prospects when they arrived in Beantown for the nationally televised showdown.
With trade rumors swirling around several members of the Lakers' roster, consistent lackluster play on the defensive end, and a lack of quality wins over other contenders around the league, adversity appeared to be constant theme for the purple and gold in recent weeks.
Yet the questions about the team's defense were quieted during the convincing win, as the Lakers held the C's to just 33 points on 30 percent shooting from the field in the second half. The significance of handing the undermanned Celtics just their fifth home loss of the season was not lost on Lakers head coach Phil Jackson in his quest for a fourth three-peat.
"We got a 1-7 record against power teams, so this is important," Jackson continued. "Finding ourselves in a game like this, in which we were highly competitive, while sticking to our identity. We started feeling comfortable out there."
The comfort level should diminish a bit if these two teams meet again in June, as the Celtics lacked adequate reinforcements in this contest. Down to just 10 active players, Boston missed the extra manpower and size of Shaquille O'Neal and Jermaine O'Neal to limit the Lakers vaunted front line, which combined for 46 points and 31 rebounds in the win, while L.A. won the battle of the boards overall by a 47-36 margin.
Instead, a back-and-forth affair should be counted on between two rivals down the road. Both squads have squared off 21 times since the start of the 2007-08 regular season, including their two series in the NBA Finals. The Boston Celtics hold a slim 11-10 edge in these contests.
With painful memories of Game 7 of the Finals last year lingering with Boston, the C's remain committed to earning home court advantage in a potential rematch, despite battling a plethora of injuries to all areas of the roster. Yet, last night, the deck was stacked too high against a Lakers team that is finally playing united basketball.
"I think we played together, defensively and offensively today," Ron Artest explained. "Kobe was kind of dissecting them, playing like a Peyton Manning role out there, and then he sealed the deal with some big shots [20-of-23 points in second half]."
For now, the two heavyweight contenders will go their separate ways, unsure of whether they will see each other again next, with a different set of challenges staring them down. Can the Celtics overcome their injuries? Will the Lakers continue to step up their defensive effort and team play to show they can beat the top dogs around the NBA?
The answers remain to be seen, but a rubber match between the battle-tested rivals in June would come as a surprise to no one.
Brian Robb's work appears regularly on CelticsHub.com
Dimes past: Jan. 25 | 26 | 27 | 28 | 29-30 | 31 | Feb. 1 | 2 | 3 | 4 | 5-6 | 7 | 8 | 9 | 10
2. Reacting To Sloan's Resignation

Sloan
Jerry Sloan's decision to step down as head coach of the Utah Jazz after 23 seasons caught most by surprise. Here's an overview of how people around the NBA -- players, past and present; coaches; fans and more -- reacted to the news:
IN THE MEDIA
Utah point guard Deron Williams:
"I would never force Coach Sloan out of Utah. He's meant more to this town, to this organization than I have, by far. That's not my place. If that was the case, I would've just said I wanted out before."
Jazz Hall of Famer John Stockton:
"We had our share [of rocky relationships]. I think that goes with the territory sometimes, [with] point guards and coaches. You're kind of an extension of your coach, and you're going to have disagreements and battles. I don't know if that's the root cause of all this. I would hope not. I think that if Jerry resigns, nobody's going to run him out, I don't care who it is. I think it's just a sign that it was time, he's fought a lot of battles. Maybe he doesn't want to argue with his point guard or anybody else any more. And I think he's earned that."
Celtics coach Doc Rivers:
"He's been there, like this rock. And all of a sudden, the rock is gone. It's like your franchise moved or something."
Former Jazz guard Kyle Korver:
"You always knew what you were going to get. There weren't any mind games. There wasn't any extra stuff going on. There was no guessing with anything. Same plays, same defense, same philosophy. Game after game, year after year, you knew what to expect. There is something to be said about playing under consistency. I went there from Philly where I had four coaches in 4 1/2 years. It was really nice."
Charles Barkley: "I've got great admiration and respect for Coach Sloan. But ... I've been disappointed in that Utah team. Maybe there's just a disconnect between old-school and new-school."
• For more Sloan reactions, click here »
3. Daily Dime Live Recap
Zach Harper, TrueHoop Network bloggers and fans gave their in-game opinions throughout Thursday's slate of NBA games in Daily Dime Live.
THURSDAY'S BEST

Afflalo
Arron Afflalo, Nuggets: Melo was impressive with 43 points, but for one huge fourth quarter, Afflalo was the man. He put in a buzzer-beating game-winner, capping his 19-point fourth quarter that keyed a 121-120 win over the Mavs.
---
THURSDAY'S WORST

Wright
Dorell Wright, Warriors: Clanks his way to a 1-for-9 evening, good for three points in the loss to Suns. Considering that he was averaging 16.7 ppg, the Warriors could have used a lift in a 111-88 road loss.
---
TWEET OF THE DAY
Key to Lakers-Celtics this year: team with player who gets stitches in bald head wins.10:30 ET via ÜberTwitter
J.A. Adande
jadande
---
QUOTE OF THE NIGHT
"You knew once he saw it was a chance to win, Kobe was going to be Kobe."
-- Celtics coach Doc Rivers, on Kobe Bryant's strong second half, including eight points in the final 4:51 to help the Lakers hold on.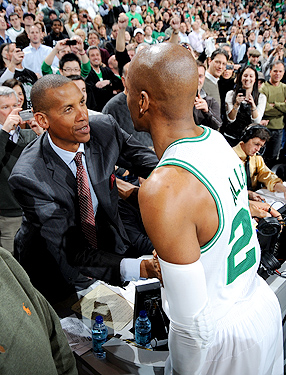 Brian Babineau/NBAE/Getty Images
Ray Allen gets a hand from the former all-time 3-point record holder, Reggie Miller, fortuitously on hand for the TNT broadcast. The record was
25 years in the making.
By Ramona Shelburne
ESPNLosAngles.com

Bryant
BOSTON -- For weeks, months maybe, Kobe Bryant has held his tongue as the Lakers muddled their way through another winter.
There was still time, he figured. Space to get it together. Room to grow back into what everyone still knows they are: the best team in the NBA, whenever they play as hard and as disciplined as they did Thursday night in an impressive 92-86 win over the Celtics.
But inside Bryant has been boiling. No, burning.
He has been down this lamentable path too many times over the years and seen too many ways it can snake off in the wrong direction.
Finally, in the sweet afterglow of the type of game that has been way too long in coming, he cracked.
Asked how he remained so patient with this team's struggles, Bryant paused, rolled his eyes, and said, "Zen."
• For the full story, click here »
By Elias Sports Bureau

Allen
Ray Allen passed Reggie Miller for the NBA's all-time lead in 3-point field goals on Thursday. Allen's average of 2.39 3-pointers per game is the highest in NBA history; Miller averaged 1.84 per game. The only other players to average two or more 3-point field-goals per game are Peja Stojakovic (2.20) and Gilbert Arenas (2.03).
Allen has made at least 600 3-point field goals for each of three different teams: 1,051 for the Milwaukee Bucks, 869 for the Seattle SuperSonics and 642 for the Boston Celtics. No other player has made even 400 3-pointers for each of three NBA teams.
• For more Elias notes, click here »
By John Hollinger
ESPN.com

Paul
Woody (Waterville): I know LeBron has been the best player in the league but would you be upset if Chris Paul won the MVP? His PER's only 1.5 less and he does have a lot less help. Surely there's something to the theory that it's easier to put up numbers when a defense has to pay attention to Dwyane Wade instead of Willie Green.
John Hollinger: Posting this because I think CP's MVP case has been vastly understated by the masses. That said, Dwight Howard has passed CP in the PER charts and obviously has more defensive value, so if I was pulling the lever today I'd put LeBron first and Howard second.
• See Hollinger's full chat, click here »