1. Heat Show Tougher Skin Against Celtics

By Brian Windhorst
ESPN.com
Archive
MIAMI -- It is said, and with good reason, that in the postseason the more desperate team often wins.
The Miami Heat were desperate to beat the Boston Celtics on Sunday because, in many ways, it was their season. They tried before the game with clichés to insulate themselves in case there was another loss. Then after the win, they played it cool, acting as though it was routine.
But their actions and on-court emotions told a different tale. The Heat's desire was as clear as the spring skies over South Florida. It showed in their effort, it showed as they racked up emotional technical fouls and it even showed when Chris Bosh protested a call so vigorously that he coated 3 square yards of the court with spittle.
The Heat played like they were in an elimination game. And because of their 100-77 victory, they are very much alive.
For a moment, forget the potential playoff seeding and home-court implications the game had. Skip to this reality: How could the Heat go into the playoffs having gone the entire regular season without a win over either the Celtics or the Chicago Bulls and still genuinely believe they could win the Eastern Conference?
No matter the spin doctoring, they couldn't. They don't have the championship pedigree of the Celtics or Los Angeles Lakers. Another loss and the Heat would have been facing a confidence crisis and not just because their failures would've been broken down on "SportsCenter." It doesn't make them weak, it makes them human.
It's true the Celtics may have some soul-searching to do. They simply are not used to getting hammered by rivals by double-digits twice in the same week as happened to them with the Bulls and Heat. They're alarmed by the recent trends and some unexpected troubles, like the continued lackluster play of Rajon Rondo. But ultimately, the Celtics have vast reserves of experience that can buttress them when the postseason starts. The Heat simply do not.
Sunday's victory, which gave Miami a one-game lead on Boston for the second seed, can be neutralized in the standings by a Heat slip-up Monday in Atlanta. Or, next month, by one of those road playoff wins the Celtics have loaded their résumés with. But nothing can wipe away what the Heat proved to themselves.
They had been dealing with the Celtics demon since October when their opening-night dud in Boston contributed to their getting off to a slow start that they've been trying to dig out of for months. The last time the Celtics were in Miami, Paul Pierce smacked them on Twitter by dragging out LeBron James' "taking talents to South Beach" line. It was some great trash talk because the Heat literally had no comeback.
The last time they met -- in February in Boston -- the Heat were rolling as they arrived as winners of eight in a row. They thought they were ready to win and show they'd arrived. Instead they left with another defeat, trudging to the airport with the same pangs of uncertainty that chewed at them during their dark days this season.
So, again, with the final regular-season meeting on their floor with the entire team announcing they were treating the season's last week like a series to win the No. 2 seed, well, there was no way to absorb another gut punch.
"They had beaten us three times, this was out first time together that we've beat them," Dwyane Wade said. "It was getting over that hump; you need to see you can perform and play well and beat them. We had our chances in the other games, we weren't the team that they were. Today we proved we're a much better team than we were in the previous three."
Ultimately, the better team will be determined in the second round in about two weeks as long as both teams handle their business against lower seeds. When it comes time for that matchup, though, the Heat will have something to draw on.
The Heat earned that with hustle and with work. Even after falling behind early when the Celtics made their first six shots and the "same old, same old" feeling came knocking, the Heat's energy was indeed at playoff level.
James and Wade were blurs not just running the floor on fast breaks but on time, leaping into passing lanes and challenging shots and hurling themselves into rotations. Their teammates, who frankly have not been at their expected level all season, followed suit. Joel Anthony was better than any Boston center, and Mario Chalmers stunningly outplayed Rondo. Even Juwan Howard contributed.
It can't be assumed those reserves will deliver like that throughout an entire playoff series, but their effort level could make a major difference for a Heat team that has been searching for a cushion behind its three All-Stars for months.
"We wanted this one," said Chalmers, who had nine points. "We have reached a point where there is no return."
By going with the standard defense against Rondo these days -- playing off of him and blocking the paint while daring him to shoot -- the Heat were able to stuff the Celtics' offense in the half court. In the Celtics' three previous wins against the Heat, Rondo averaged 14.3 assists as he was able to penetrate and dish his team to easy baskets. On Sunday, Rondo had just five assists and the Celtics scored 18 fewer points than their average against Miami this season.
Taking advantage of the Celtics' issues at center, Anthony and Zydrunas Ilgauskas combined for 15 points and 15 rebounds. Eight of their rebounds were on the offensive glass, a direct sign of effort, as the Heat racked up 18 second-chance points.
James had 27 points, but just as important were his four steals, which helped the Heat get their transition game going. Eight of James' 11 baskets came at the rim as he challenged Boston's interior defense, which has proved to have some more holes than in the past.
Wade shot just 4-of-12, but his defensive intensity -- especially racing back to block what looked like a Ray Allen breakaway layup -- inspired his teammates. With the Celtics trying to clog driving lanes, Wade also had to become a distributor, and did so with eight assists.
It was all just one game, yes, but one game the Heat had to have.
"The things they've been through throughout the year, it seems as though they have gathered some tough skin," Kevin Garnett said. "It showed tonight."


NBA Writer Brian Windhorst
• On Twitter @WindhorstESPN | On ESPN.com
• Follow ESPN's NBA coverage on Twitter | On Facebook | On Google+
Dimes past: March 21 | 22 | 23 | 24 | 25-27 | 28 | 29 | 30 | 31| April 1 | 2 | 6 | 7 | 8-10
2. Anthony, Heat Bench Rise Up
By Michael Wallace
ESPN.com

Anthony
MIAMI -- There was no shortage of nicknames for Joel Anthony on Sunday night.
Miami Heat coach Erik Spoelstra referred to his backup center as "The Matrix," because Anthony spent most of the game against the Boston Celtics "in two places at once."
Celtics forward Kevin Garnett simply equated Anthony to a basketball assassin.
"Anthony killed us today by himself," Garnett said after the Heat's 100-77 victory over Boston at AmericanAirlines Arena, a win Miami desperately needed after so many meltdowns and disastrous defeats against its biggest Eastern Conference nemesis.
For Anthony, that's some rather high praise for arguably the lowest-profile player on the Heat's roster. But on Sunday, Anthony emerged from the shadows to help the Heat's bench provide the boost that allowed them to blow past the Celtics and into position to finish with the No. 2 seed in the East.
3. Daily Dime Live
Zach Harper, TrueHoop Network bloggers and fans give their in-game opinions on all topics throughout Sunday's slate of NBA roundball talk in Daily Dime Live.
4. Who's Better: Garnett Or Bosh?
By Chris Palmer
ESPN The Magazine
KEY STRENGTH

Garnett
Kevin Garnett: Defense
Even at the advanced age of 34, Garnett is among the best defensive power forwards in the game. His intensity, focus and desire on D is unparalleled. On the defensive boards, Garnett no longer uses leaping ability to authoritatively collect rebounds, but instead has mastered the art of boxing out from all angles and rarely misses a defensive assignment. He doubles quickly and always seems to be in the right spot. Garnett is like a defensive coordinator shouting out instructions and pointing to areas on the floor that require particular attention. His defensive awareness after timeouts and on inbound plays, particularly under the basket, is a testament to his being one of the best defensive minds in basketball. "That's been a constant for us for a while now and it's something we've come to rely on," said Celtics head coach Doc Rivers.

Bosh
Chris Bosh: Shooting touch
Many power forwards don't develop a deft shooting touch until late in their careers, when their athleticism has begun to wane. But Bosh has long been one of the best shooting power forwards in the game and has a terrific touch around the rim. His extensive catalogue of shots includes a variety of face-up and fall-away jumpers, as well as the ability to pull up after a hard dribble in either direction. Bosh's comfort zone is receiving a pass a few feet above either block, turning and facing, offering a jab step and then releasing a crisp jumper. His range extends to the 3-point arc, but he's more comfortable closer to the paint. "With his feathery touch and quick release, he just makes it so hard to guard him," said teammate Udonis Haslem. "He can extend the floor to where most power forwards don't want to come out and challenge."
• Read more on the matchup at ESPN Insider


Rose
SUNDAY'S BEST
Derrick Rose, Bulls:
Goes 13-for-17 from the floor, sinks all 10 free throws in the 102-99 win over the Magic. The Bulls now trail the Spurs by one game for the NBA's best overall record.
---
SUNDAY'S WORST

Rondo
Rajon Rondo, C's: Remember the Rondo that used to slice up defenses and energize the entire team? That guy was not in Miami. Let's say it was some guy named Ron Rajon who had seven points and five dimes in the loss.
---
TWEET OF THE NIGHT
Tomorrow is the last home game.... I'm throwing like 3 pairs of shoes in the crowd.... Black and white peaksl8:15 p.m. ET Sunday via Twitterrific
Favorite
Retweet
Reply
JaVale McGee
JaValeMcGee34
---
QUOTE OF THE NIGHT
"This is cool and all, but we still have two more games."
-- Chris Bosh, whose Heat play at a more rested, though reeling, Atlanta Hawks team Monday.
---
By Chris Sheridan
ESPN New York

Anthony
Carmelo Anthony was the closer once again, sinking a go-ahead jumper with 4.9 seconds left to complete a game-ending 7-0 run. Not only that, but Anthony also blocked Danny Granger's 18-footer with 2 seconds left, and Mike Dunleavy's tip-in missed at the buzzer. So the winning streak is now at seven games, the Knicks' magic number (wins by them or losses by the 76ers) for clinching the No. 6 seed is down to one, and New York's potential playoff opponents have got to be thinking about the level Anthony is playing at now that he has found his comfort zone in New York.
Anthony made six more 3-pointers (he attempted 13) and scored 34 points, and Chauncey Billups had 21 to help the Knicks overcome the absence of Amare Stoudemire, who watched from the bench with his sprained left ankle in a protective boot. He is still expected to play at least one of the two remaining regular-season games. The Knicks (42-38) clinched a winning record.
8.

Gunnin' For That No. 1 Spot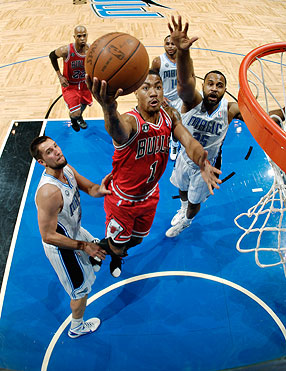 Fernando Medina/NBAE/Getty Images
Powered by 39 from Derrick Rose, the Bulls kept themselves in the hunt for the No. 1 overall seed in the playoffs by beating the Magic.
8.

Rose Seeks Improvement
By Nick Friedell
ESPN Chicago.com

ORLANDO, Fla. --
Derrick Rose
has gotten so good at closing out games this season that even when he does, and his team racks up yet another win (their 60th of the season), he still doesn't sound happy about it. Rose believes that despite what everyone around him thinks, the Chicago Bulls aren't championship ready just yet.
"No, not yet," he said after Sunday's game. "We're pretty close, but we haven't proven anything yet. We're still trying to get there."
What else does he have to see to know they're ready?
"Play a 48-minute game," he said. "Play defense throughout the whole game, rebound, [have] low turnovers. I could go on and on, but we're not there yet."
If that reads familiar, it's because it's the same thing Tom Thibodeau has been saying almost every day all season. If you're looking for another reason for the Bulls' success this season, look no further than that. Rose has bought into everything Thibodeau is selling -- when your best player does that, things usually fall into place. That's what happened yet again on Sunday afternoon. Playing against a Dwight Howard-less Orlando Magic squad, the Bulls started out strong in the first quarter, but looked flat until the final few minutes, when Rose took over.
He's become so confident in his abilities that he can see exactly what his team needs and then do something about it. In this case, it was offense down the stretch, and he provided it in the form of 39 points.
"Derrick was Derrick," Thibodeau said. "You can't ask anything more of him."

Paul
Chris Paul was 0-for-6 from the floor and 0-for-2 from the line while handing out 10 assists in the Hornets' loss at Memphis. It was the fifth NBA game this season in which a player had double-digit assists despite posting a "goose egg" in the point column. Jason Kidd has done it three times and Jose Calderon once.
•
More from Elias