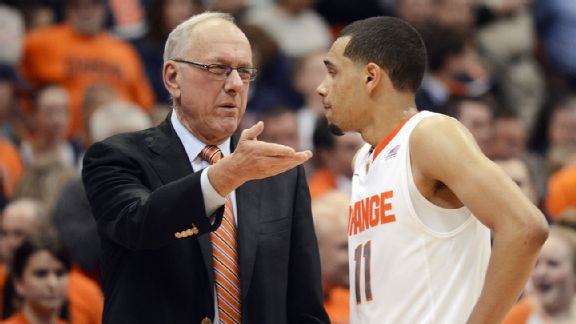 AP Photo/Kevin RivoliJim Boeheim tells Golic and Sedano about Tyler Ennis' instincts, how Syracuse can improve and more.
• Syracuse coach Jim Boeheim dishes on Tyler Ennis' instinctive play, the Orange's areas for improvement, Northwestern student-athletes' attempt to unionize, the state of CBB and more. Boeheim

• Pro Football Hall of Famers Andre Reed and Jim Kelly discuss Reed's induction to the HOF, Reed's career, the Bills' balanced attack when they were teammates and more. Reed and Kelly

• Seven-time NBA All-Star Tracy McGrady comments on his choice to pursue a baseball career, his pitching, working with Roger Clemens, concentrating on basketball in college and more. McGrady

PODCASTS
Mike Greenberg and Mike Golic kick off mornings with the top news, guests and drama from the world of sports.