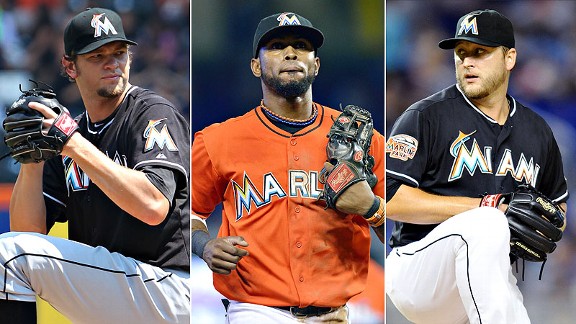 US PresswireGreeny and Herm Edwards give their takes on the trade between the Marlins and Blue Jays and more.
• Indiana coach Tom Crean covers Jim and John Harbaugh, the process of turning the Hoosiers' program around, Cody Zeller, Dwyane Wade and more. Crean

• Monday Night Football's Jon Gruden weighs in on the state of the Jets, Ben Roethlisberger's injury, Bears-49ers, how coaches handle disappointing seasons and more. Gruden

• ESPN NFL Insider Adam Schefter discusses the injuries to the QBs in Pittsburgh, San Francisco, Chicago and Philadelphia, Jason Garrett's future in Dallas and more. Schefter

• ESPN Radio's Mark Schlereth shares his thoughts on the anonymous criticism of Tim Tebow, Ben Roethlisberger's injury and more. Schlereth

• ESPN MLB Insider Buster Olney talks about the reaction to the trade between the Marlins and the Blue Jays and more. Olney

• ESPN sports business analyst Darren Rovell dishes on the financing of Marlins Park, whether the city of Miami could have any recourse against the team and more. Rovell

• College GameDay's Kirk Herbstreit covers Johnny Manziel, Texas A&M's upset of Alabama, Kansas State's No. 1 ranking, Collin Klein, Stanford-Oregon and more.
Herbstreit

• Two-time Super Bowl champion Hines Ward comments on the impact of Ben Roethlisberger's injury, the criticism of Tim Tebow by anonymous Jets and more. Ward

• Greeny and Herm share their thoughts on the trade between the Marlins and the Blue Jays that includes Jose Reyes, Josh Johnson, Mark Buehrle and more. Listen

• Joaquin imagines what Thanksgiving could be like for Jim and Jeanie Buss following the Lakers' hiring of Mike D'Antoni. Joaquin's Stash »
PODCASTS
You know 'em, you love 'em. Longtime friends and veteran voices, Mike Golic and Trey Wingo, join forces to bring you "Golic and Wingo." Sports, life and the biggest names in the game... Every day. You ain't heard nothin' yet.