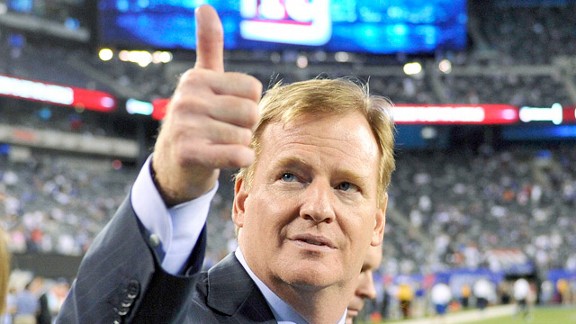 AP Photo/Bill KostrounRoger Goodell tells the guys about player safety, the bounty suspensions, Los Angeles and more.
• NFL commissioner Roger Goodell discusses the safety of the sport, the suspensions for illegal bounties, Sean Payton, the league's future in Los Angeles and London and more. Goodell

• Seahawks coach Pete Carroll covers Seattle's defense, Russell Wilson, Mark Sanchez, the format for college football's postseason and more. Carroll

• Bengals coach Marvin Lewis comments on Cincinnati's 4-5 start, the win over the Giants, Andy Dalton, A.J. Green and more. Lewis

• ESPN NFL Insider Chris Mortensen weighs in on the injuries to Ben Roethlisberger and Jay Cutler, coaches that could be on the hot seat and more. Mortensen

• ESPN MLB Insider Tim Kurkjian talks about whether he expects Miguel Cabrera or Mike Trout to win the AL MVP award and more. Kurkjian

• Super Bowl XXXV champion Brian Billick dishes on Ben Roethlisberger's injury, Bears-49ers, the Giants' recent struggles, Andy Reid's future, Robert Griffin III and more. Billick

• Greeny and Golic share their thoughts on the latest news regarding Ben Roethlisberger's injury, the Jets' anonymous criticism of Tim Tebow and more. Listen

• Greeny and Golic react to Magic Johnson's comments about Jim Buss and the Lakers' decisions to fire Mike Brown and hire Mike D'Antoni. Listen

PODCASTS
You know 'em, you love 'em. Longtime friends and veteran voices, Mike Golic and Trey Wingo, join forces to bring you "Golic and Wingo." Sports, life and the biggest names in the game... Every day. You ain't heard nothin' yet. Available on ESPNews beginning April 2. Visit www.golicandwingo.com for more info.