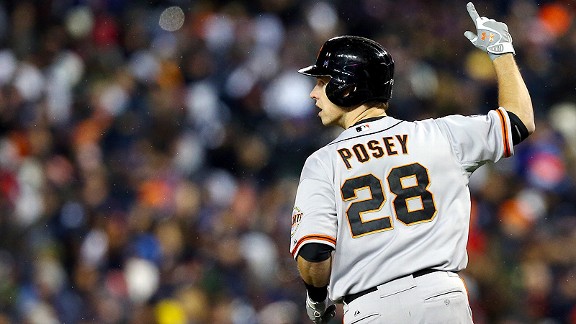 Ezra Shaw/Getty ImagesBuster Posey tells Greeny, Golic and Herm Edwards about winning the NL MVP award and much more.
• 2012 NL MVP Buster Posey talks about the road back from his season-ending injury in 2011, the Giants' run to a World Series title, his future as a catcher and more. Posey

• Broncos WR Eric Decker dishes on being Peyton Manning's teammate, the evolution of Denver's offense, illegal hits and more. Decker

• ESPN NFL analyst Ron Jaworski weighs in on the Jets' QB situation, the injury to Ben Roethlisberger, whether the Saints can reach the playoffs, Peyton Manning and more. Jaworski

• ESPN NFL analyst Herm Edwards comments on whether Tim Tebow should replace Mark Sanchez as the Jets' starting QB, Chip Kelly and more. Edwards

• ESPN football guru Mel Kiper Jr. covers Kansas State-Baylor, Stanford-Oregon, Heisman Trophy candidates, the QB class in the 2013 NFL draft and more. Kiper Jr.

• ESPN MLB Insider Buster Olney dishes on the debate over the AL MVP award, Miami's reaction to the Marlins-Blue Jays trade, R.A. Dickey's future with the Mets and more.
Olney

• ESPN NASCAR analyst Dale Jarrett gives his take on Brad Keselowski's lead over Jimmie Johnson heading into the final race of the Chase for the Sprint Cup and more. Jarrett

• Greeny and Golic share their thoughts on Miguel Cabrera's AL MVP award, whether Bud Selig should stop the trade between the Marlins and the Blue Jays and more. Listen

• Greeny and Golic make their picks for Week 11 of the NFL season in the "Stone Cold Lead Pipe Locks." Locks »
• Greeny and Golic react to the news that Hostess will be closing its business. Golic is devastated. Listen

PODCASTS
Mike Greenberg and Mike Golic kick off mornings with the top news, guests and drama from the world of sports.