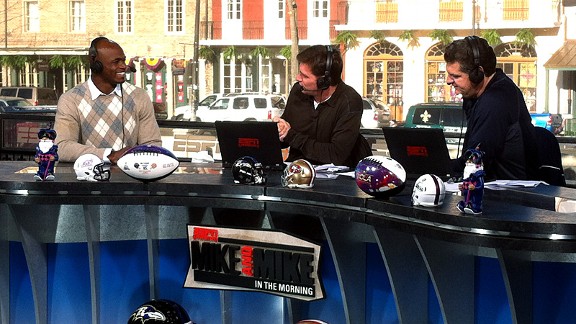 Dustin Stricker/ESPN RadioAdrian Peterson joins Greeny and Golic on ESPN Radio's Super Week set in New Orleans.
• Vikings RB Adrian Peterson talks about coming so close to breaking the single-season rushing record after suffering a serious knee injury at the end of 2011 and more.
Peterson

• Texans DE J.J. Watt weighs in on Houston's season, whether a defensive player can be the NFL's MVP, mobile QBs, the pistol offense and more. Watt

• Giants WR Victor Cruz comments on what preparing for the Super Bowl is like, New York's inconsistent season, his contract status, facing the Ravens' defense and more.
Cruz

• Giants DE Justin Tuck dishes on New York's inconsistent season, the Ravens' offense, the 49ers' decision to replace Alex Smith with Colin Kaepernick and more. Tuck

• Cowboys LB DeMarcus Ware gives his take on the NFL's rule changes, Dallas' dismissal of Rob Ryan, whether his team has underachieved, mobile QBs and more. Ware

• Packers WR Donald Driver says he will retire from the NFL on February 6 in Green Bay. Driver dishes on how difficult the decision was, his career, Super Bowl XLVII and more. Driver

• ESPN NFL analyst Cris Carter covers Donald Driver's retirement, Randy Moss' remarks about being the greatest WR of all-time, the voting for the Hall of Fame and more. Carter

• Super Bowl XXXIV MVP Kurt Warner shares his thoughts on Marshall Faulk's comments about Spygate, the evolution of NFL offenses, Alex Smith and more. Warner

• Three-time Super Bowl champion Matt Light discusses the future of NFL offenses, Marshall Faulk's remarks regarding Spygate, losing close Super Bowls and more. Light

• ESPN's Frank Caliendo makes Mike Greenberg and Mike Golic laugh with some impressions of their co-workers and more. Caliendo

PODCASTS
You know 'em, you love 'em. Longtime friends and veteran voices, Mike Golic and Trey Wingo, join forces to bring you "Golic and Wingo." Sports, life and the biggest names in the game... Every day. You ain't heard nothin' yet.