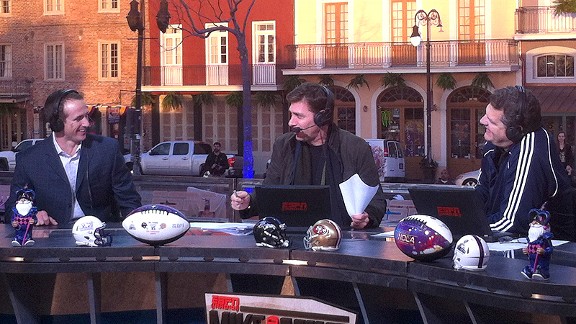 Dustin Stricker/ESPN RadioDrew Brees tells the guys about the Saints' season, Sean Payton, Roger Goodell, Joe Flacco and more.
• Saints QB Drew Brees dishes on the evolution of NFL offenses, New Orleans' unusual season, his criticism of Roger Goodell, winning a Super Bowl, Joe Flacco and more. Brees

• Packers WR Greg Jennings weighs in on Donald Driver's retirement, his future, the Ravens' run to the Super Bowl, Ray Lewis, facing the 49ers' defense and more. Jennings

• ESPN NFL analysts Steve Young and Jerry Rice share their thoughts on mobile QBs, Joe Flacco, Super Bowl XLVII, Randy Moss' controversial comments and more. Young and Rice

• ESPN NFL analyst Mike Ditka discusses whether too much emphasis is placed on winning the Super Bowl, Joe Flacco, coaching Jim Harbaugh, the 49ers' offense and more. Ditka

• ESPN NFL analyst Trent Dilfer says the zone read is the greatest tactical advantage that NFL offenses have had in years. Dilfer also previews Super Bowl XLVII. Dilfer

• Pro Football Hall of Famer Roger Staubach talks about the early days of the Super Bowl, mobile QBs, Robert Griffin III's style of play and more. Staubach

• Pro Football Hall of Famer Harry Carson comments on defending against mobile QBs, Ray Lewis' legacy, player safety in the NFL and more. Carson

• Greeny and Golic make their picks for Super Bowl XLVII in the "Stone Cold Lead Pipe Locks." Lead Pipe Locks »
PODCASTS
Mike Greenberg and Mike Golic kick off mornings with the top news, guests and drama from the world of sports.