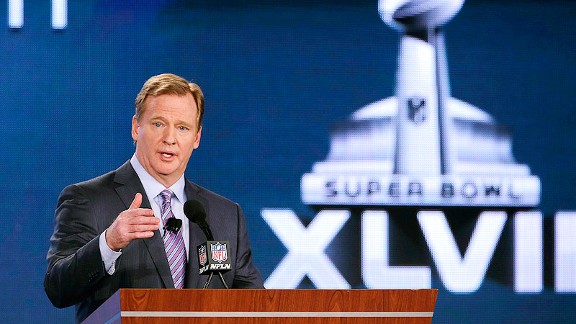 AP Photo/Charlie RiedelRoger Goodell tells the guys about his time in New Orleans, player safety in the NFL and much more.
• NFL commissioner Roger Goodell covers the Saints' bounty scandal, the long-term viability of football, HGH testing, the Pro Bowl's future, the Rooney Rule, London and more. Goodell

• ESPN NFL analyst Cris Carter shares his thoughts on being selected for induction into the Pro Football Hall of Fame and more. Carter

• ESPN NFL Insider John Clayton comments on the voting process for the Pro Football Hall of Fame, Cris Carter, Bill Parcells, Super Bowl XLVII and more. Clayton

• Liam's Mum makes her official prediction for Super Bowl XLVII. Listen

PODCASTS
You know 'em, you love 'em. Longtime friends and veteran voices, Mike Golic and Trey Wingo, join forces to bring you "Golic and Wingo." Sports, life and the biggest names in the game... Every day. You ain't heard nothin' yet.