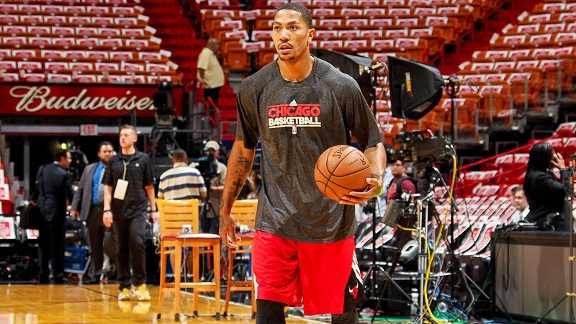 Issac Baldizon/NBAE/Getty ImagesThe guys cover Derrick Rose, Heat-Bulls, Spurs-Warriors, Knicks-Pacers, Thunder-Grizzlies and more.
• Basketball Hall of Famer Patrick Ewing dishes on Pacers-Knicks, LeBron James' dominance, Dwight Howard's future, why he hasn't become a head coach in the NBA and more. Ewing

• Basketball Hall of Famer David Robinson discusses the lack of traditional centers in the NBA, Warriors-Spurs, Gregg Popovich, Tim Duncan and more. Robinson

• ESPN Radio's Colin Cowherd comments on Bulls-Heat, Derrick Rose's status, the fan who made an obscene gesture at Joakim Noah, the blown call in Athletics-Indians and more. Cowherd

• Greeny and Golic look ahead to every Game 3 in the conference semifinals of the NBA playoffs. Will Derrick Rose return to the Bulls' lineup in Chicago? Listen

PODCASTS
Mike Greenberg and Mike Golic kick off mornings with the top news, guests and drama from the world of sports.