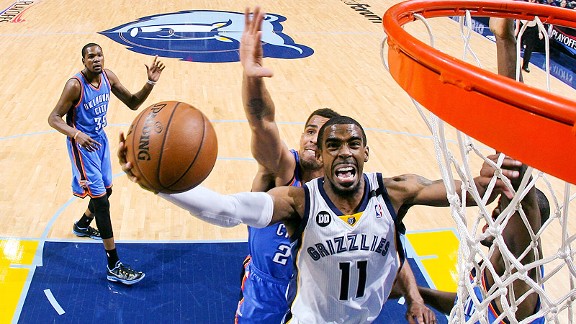 Layne Murdoch/NBAE /Getty Images)The guys discuss Thunder-Grizzlies, Mike Conley, Kevin Durant, Heat-Bulls, LeBron James and more.
• Former NBA players Dell Curry and Mychal Thompson weigh in on what it's like watching their sons play in the postseason, Warriors-Spurs, Mark Jackson and more.
Curry and Thompson

• ESPN NBA analyst Jon Barry dishes on Heat-Bulls, Dwyane Wade's health, Thunder-Grizzlies, Knicks-Pacers, Tyson Chandler's remarks regarding New York's offense and more. Barry

• ESPN Radio's Colin Cowherd comments on Dwyane Wade's health, whether the Heat can win another title if Wade isn't at full strength, fashion in the NBA and more. Cowherd

• ESPN Chicago's Nick Friedell give his take on the Bulls' loss to the Heat in Game 4, the statuses of Luol Deng, Kirk Hinrich and Derrick Rose and more. Friedell

• Heat analyst Tony Fiorentino talks about the health of Dwyane Wade, Miami's expectations for Wade moving forward and more. Fiorentino

• Greeny and Golic share their thoughts on the Heat's win over the Bulls, the Grizzlies' victory against the Thunder in OT and more. Listen

PODCASTS
You know 'em, you love 'em. Longtime friends and veteran voices, Mike Golic and Trey Wingo, join forces to bring you "Golic and Wingo." Sports, life and the biggest names in the game... Every day. You ain't heard nothin' yet.