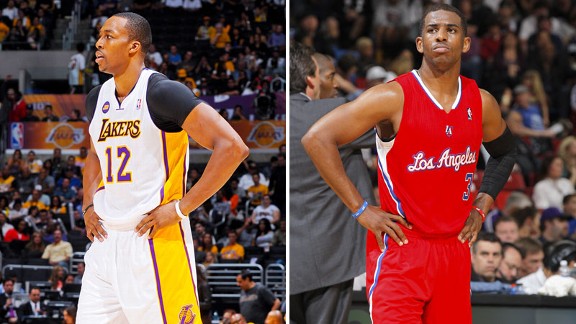 Getty ImagesChris Mannix tells Mark Schlereth and Adnan Virk about Dwight Howard, Chris Paul and much more.
• ESPN NBA analyst Tom Penn talks about his expectations for Dwight Howard's free agency, what Howard means to the Lakers, why he likes the Knicks' expected acquisition of Andrea Bargnani and more. Penn

• SI's Chris Mannix comments on the start of free agency in the NBA, Dwight Howard's meeting with the Rockets, whether Howard will remain with the Lakers, Josh Smith, Andre Iguodala, Andrea Bargnani and more. Mannix

• ESPN 97.5FM Houston's Jerome Solomon shares his thoughts on the Rockets' pursuit of Dwight Howard, James Harden's mindset regarding Howard and more. Solomon

PODCASTS
You know 'em, you love 'em. Longtime friends and veteran voices, Mike Golic and Trey Wingo, join forces to bring you "Golic and Wingo." Sports, life and the biggest names in the game... Every day. You ain't heard nothin' yet. Available on ESPNews beginning April 2. Visit www.golicandwingo.com for more info.