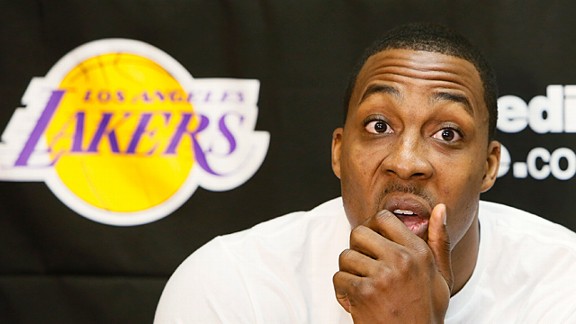 AP Photo/Damian DovarganesMarc Stein tells Mark Schlereth and Ryan Ruocco about Dwight Howard, Andrew Bynum and more.
• ESPN NBA Insider Marc Stein covers his expectations for Dwight Howard's free agency, the values of Andrew Bynum and Greg Oden and more. Stein

• ESPN CBB Insider Jeff Goodman weighs in on the potential return of Greg Oden to the NBA, Oden's health, Dwight Howard's demeanor, Howard's future and more. Goodman

• ESPN Los Angeles' Ramona Shelburne dishes on the Lakers' pitch to keep Dwight Howard, the odds that Howard will remain in Los Angeles and more. Shelburne

• The Dallas Morning News' Tim Cowlishaw talks about what the Mavericks have to offer Dwight Howard, Dirk Nowitzki's mindset regarding Howard, Mark Cuban's style of ownership and more. Cowlishaw

• ESPN Boston's Chris Forsberg shares his thoughts on whether the Celtics will trade Rajon Rondo, the perception of Rondo, Danny Ainge's remarks regarding Boston's offseason and more. Forsberg

PODCASTS
Mike Greenberg and Mike Golic kick off mornings with the top news, guests and drama from the world of sports.