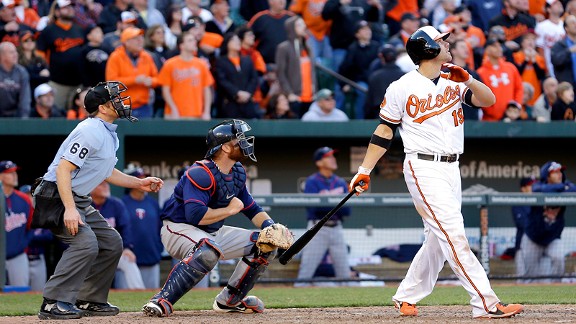 Rob Carr/Getty ImagesBuster Olney tells the guys about the first half of the MLB season, the Biogenesis case and more.
• Pirates OF Andrew McCutchen discusses Pittsburgh's surprising first half, the importance of winning the All-Star Game, the usage of performance-enhancing drugs in MLB and more. McCutchen

• ESPN MLB Insider Buster Olney dishes on the Biogenesis case, whether Alex Rodriguez will play for the Yankees again, the teams that are interested in acquiring Matt Garza, the top players of the first half and more. Olney

• ESPN MLB Insider Tim Kurkjian talks about the potential suspensions of players connected to the Biogenesis clinic, his expectations for Alex Rodriguez, the emergence of Chris Davis and more. Kurkjian

• ESPN MLB Insider Jayson Stark shares his thoughts on the timetable for the possible Biogenesis suspensions, the teams to watch in the second half of the season, Miguel Cabrera's dominance and more. Stark

• Three-time World Series champion Al Leiter weighs in on Miguel Cabrera's success, Yasiel Puig's potential, the Home Run Derby, the usage of performance-enhancing drugs in MLB and more. Leiter

PODCASTS
Mike Greenberg and Mike Golic kick off mornings with the top news, guests and drama from the world of sports.