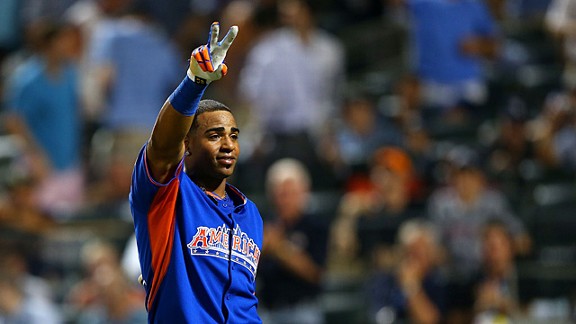 Elsa/Getty ImagesThe guys give their takes on Yoenis Cespedes' performance in the Home Run Derby and much more.
• MLB commissioner Bud Selig talks about the Home Run Derby, the state of baseball, the Biogenesis investigation, drug testing, his tenure and more. Selig

• ESPN MLB Insider Buster Olney dishes on the Home Run Derby, his expectations for the All-Star Game, Bruce Bochy's decision to start Matt Harvey, how Jim Leyland will use Mariano Rivera and more. Olney

• Baseball Hall of Famer Cal Ripken Jr. discusses the Home Run Derby, David Wright, the nature of the All-Star Game, Chris Davis' emergence, the usage of performance-enhancing drugs in MLB, the AL East and more. Ripken Jr.

• Two-time World Series champion Tim McCarver comments on Miguel Cabrera's dominance, the youth movement in baseball, the Biogenesis case, what he is looking forward to at the All-Star Game and more. McCarver

• Six-time World Series champion Willie Randolph weighs in on Mariano Rivera's place in baseball, what to expect from Derek Jeter, Alex Rodriguez's future, big contracts in MLB and more. Randolph

• ESPN Radio's Colin Cowherd gives his take on the usage of performance-enhancing drugs in MLB, the criticism of Johnny Manziel and more. Cowherd


• Greeny and Golic share their thoughts on Yoenis Cespedes's victory in the Home Run Derby, their experience at the event and more. Listen