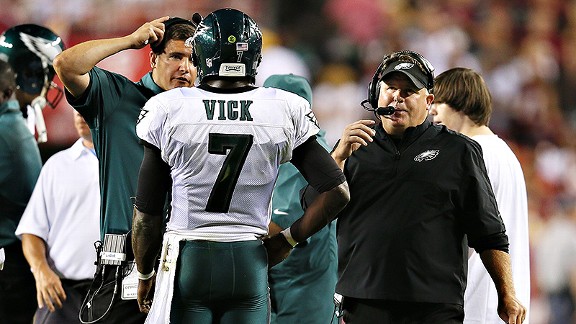 Rob Carr/Getty ImagesJon Gruden tells the guys about the Eagles' new-look offense, Robert Griffin III's health and more.
• Monday Night Football's Jon Gruden discusses the speed of Chip Kelly's offense, Robert Griffin III's return to the Redskins, mobile QBs, Steelers-Bengals and more. Gruden

• ESPN NFL Insider Adam Schefter shares his thoughts on whether the league considered suspending Ndamukong Suh, the Patriots' injuries and more. Schefter

• ESPN NFL analyst Herm Edwards weighs in on Ndamukong Suh's illegal block, Chip Kelly's style of play, what to expect from Week 2 and more. Edwards

• Two-time Super Bowl champion Jimmy Johnson talks about how defenses will attack Chip Kelly's offense, Colin Kaepernick's performance against the Packers, the Lions' handling of Ndamukong Suh and more. Johnson

PODCASTS
You know 'em, you love 'em. Longtime friends and veteran voices, Mike Golic and Trey Wingo, join forces to bring you "Golic and Wingo." Sports, life and the biggest names in the game... Every day. You ain't heard nothin' yet.