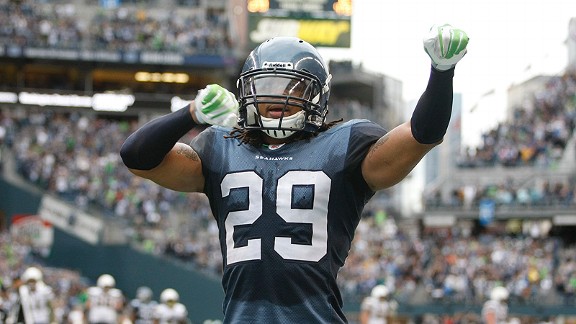 AP Photo/John FroschauerSeahwaks S Earl Thomas III talks about the Seahawks playoff chances and Texas' coaching search.
Thursday, Ryen Russillo and Adnan Virk talk about the Heat's win over the Pacers, Texas' coaching search, someone actually telling the Yankees no, and much more. Listen to the best highlights of the show below!
Seahawks Safety Earl Thomas discusses who he thinks the University of Texas should hire, delves into the issue of drug use in Seattle, the Seahawks chances for a deep post-season run and much more. Listen

ESPN NFL analyst Mark Schlereth talks about which outcomes could surprise him this weekend between the Patriots and Ravens, why the Chiefs defense isn't as great as we thought it was, if Mike Shanahan could be throwing his final games in Washington and much more. Listen

ESPN The Magazine's Chad Millman reveals that Jameis Winston will be the next cover of ESPN The Magazine, if Winston is a flawed hero and why he has the Jags covering the 5 1/2 point spread against the Titans this week. Listen

PTI's Michael Wilbon discusses the last two games between the Pacers and Heat, why he hasn't changed his mind on who he thinks these teams are, and takes us into the Bulls' locker room at how they are holding up with Rose out again. Listen

PODCASTS
Ryen Russillo and Danny Kanell bring their own flavor to the game, mixing some pop culture with the latest happenings.