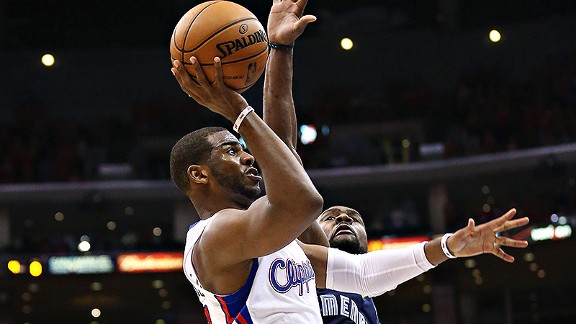 Stephen Dunn/Getty ImagesSVP & Russillo discuss Chris Paul's incredibly clutch performance in Game 2 against the Grizzlies.
Tuesday, Scott Van Pelt and Ryen Russillo review an exciting night in the NBA playoffs, begin previewing NFL draft and more. Listen to the best highlights of the show below!
Scott Van Pelt and Ryen Russillo discuss Chris Paul's masterful performance in Game 2 against the Grizzlies and say this series will have an enormous impact on Paul's reputation going forward. The guys also talk about the Bulls evening their series with the Nets and commend Joakim Noah for his incredible effort playing through injuries in Game 2. Listen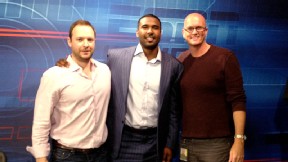 Ray Necci/ESPN RadioNFL prospect EJ Manuel with SVP & Russillo.
Pacers coach Frank Vogel talks about Paul George's fantastic performance in Game 1 of their series against the Hawks. Vogel also dishes on the team's struggles down the stretch of the season, the oddities of the playoff schedule, the mismatches presented by Al Horford and much more. Listen

Former Florida State QB and NFL prospect EJ Manuel dishes on how he's tried to prove himself to NFL coaches and GMs, discusses his rise up the draft boards in recent weeks, explains how the success of last year's rookie QB class gives him confidence about his career and more. Listen

Former South Carolina RB and NFL prospect Marcus Lattimore discusses his anticipation for the NFL draft, his recovery from a pair of brutal knee injuries, the intensity of his rehab process and how he feels he'll be able to be a contributor to an NFL team. Listen

Former Georgia LB and NFL prospect Jarvis Jones talks about his performance at the combine, his health, his unique set of skills and how they will translate at the next level. Jones also discusses his career at Georgia and what his most looking forward to about playing in the NFL. Listen

ESPN MLB Insider Tim Kurkjian chats about the struggles of some of the game's premiere pitchers, the importance of Matt Moore's success for the Rays, the slump the Dodgers have found themselves in lately and how Jason Heyward's health will impact the Braves. Listen

Scott Van Pelt and Ryen Russillo ask each other rapid-fire questions about sports and life in another edition of Six Seconds. Listen

PODCASTS
Ryen Russillo and Danny Kanell bring their own flavor to the game, mixing some pop culture with the latest happenings.