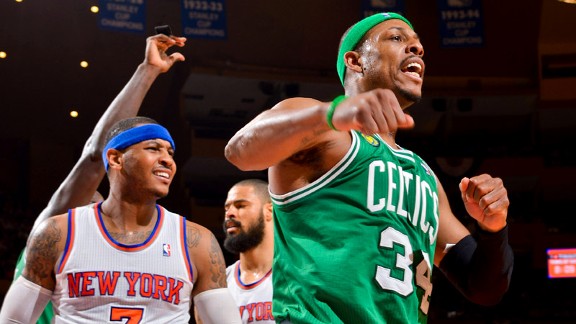 Jesse D. Garrabrant/NBAE/Getty ImagesSVP & Russillo say the Celtics' ability to climb back into their series is a sign of New York's immaturity.
Thursday, Scott Van Pelt and Ryen Russillo talk about the recent struggles of the Knicks and Thunder and much more. Listen to the best highlights of the show below!
SVP & Russillo dish on the Knicks and Thunder both faltering in the playoffs. The guys say the Knicks' struggles and gimmicks are a sign of their immaturity. Scott and Ryen say the Thunder don't have as much pressure on them as the Knicks but there still isn't any excuse to lose to an inferior opponent, even without Russell Westbrook. Listen

The New York Daily News' Frank Isola weighs in on the panic in New York, says Carmelo Anthony's reputation will be extremely tarnished if the Knicks lose this series, talks about the club's decision to wear all black before Game 5 and Mike Woodson's displeasure with that decision. Isola adds that he expects the Knicks to bounce back but if any franchise can come back from a 3-0 deficit it's the Celtics. Listen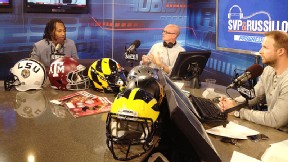 Ray Necci/ESPN RadioFalcons CB Asante Samuel with SVP & Russillo.
ESPNBoston.com's Jackie MacMullan talks about the Celtics' mood following their Game 5 win over the Knicks, their attitude heading into Friday's Game 6, if they plan to change their approach and the future of the franchise after this season. Listen

Falcons CB Asante Samuel talks about his role as a leader on the Falcons defense and Atlanta's decision to focus on defense in this year's draft. Samuel also defends his claim that he's the best cornerback in the league. Listen

ESPN the Magazine's Chad Millman discusses the mag's 15th anniversary, Robert Griffin III's comments about his health and the Cardinals' selection of Tyrann Mathieu. Listen

Rapper and avid Knick fan Phife Dawg dishes on his disappointment regarding the Knicks' consecutive losses, says New York's decision to dress in funeral garb was silly and adds that he hopes the postgame trash talk will light a fire under Carmelo Anthony and more. Listen

One Big Thing - SVP & Russillo revisit the story of Dick Kelly, the former sports information director at Boston College who is battling ALS. The guys are joined by Boston College basketball coach Steve Donahue who talks about his special relationship with Kelly and how the school is trying to help with his struggle. Listen

SVP & Russillo ask each other rapid-fire questions about sports and life in another edition of "6 Seconds." Listen

PODCASTS
Ryen Russillo and Danny Kanell bring their own flavor to the game, mixing some pop culture with the latest happenings.