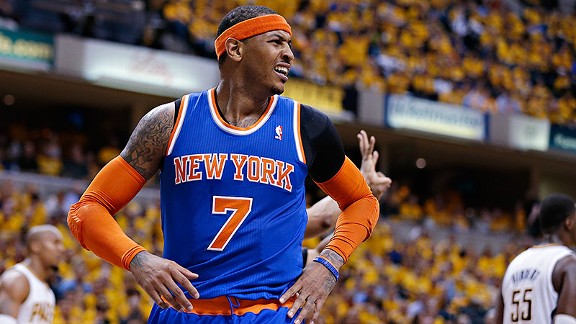 AP Photo/Darron CummingsRyen Russillo and Adnan Virk say Carmelo and the Knicks appear completely baffled by the Pacers.
Wednesday, Ryen Russillo and Adnan Virk discuss the NBA playoffs, an awkward situation between the Giants and Melky Cabrera and much more. Listen to the best highlights of the show below!
Ryen Russillo and Adnan Virk talk about a pivotal Tuesday night in the NBA playoffs, say the Knicks appear to be finished and marvel at the Spurs' ability to bounce back against the Warriors game after game. Listen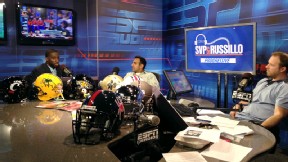 Ray Necci/ESPN RadioPatriots CB Kyle Arrington joins Ryen and Adnan.
ESPN NBA analyst Tim Legler says Paul George's defensive ability has been key for the Pacers, weighs in on the Knicks' offensive slump, discusses the struggles of Thompson and Curry against the Spurs in Game 6 and more. Listen

Clippers forward Caron Butler discusses the end of the team's season, how the squad will approach the offseason, Chris Paul's future in Los Angeles and more. Listen

Patriots CB Kyle Arrington chats about his busy offseason, an interesting arrangement he made with new teammate Adrian Wilson, the recent struggles of the Patriots secondary, what it's like to play for Bill Belichick, the Patriots outlook headed into 2013 and much more. Listen

ESPN MLB Insider Buster Olney talks about the uncomfortable situation between the Giants and Melky Cabrera, the return of Zack Greinke to the Dodgers rotation, the Yankees hot start and Josh Hamilton's struggles out of the gate. Listen

Ryen Russillo and Adnan Virk ask each other rapid-fire questions about sports and life in another edition of 'Six Seconds.' Listen

PODCASTS
Ryen Russillo and Danny Kanell bring their own flavor to the game, mixing some pop culture with the latest happenings.