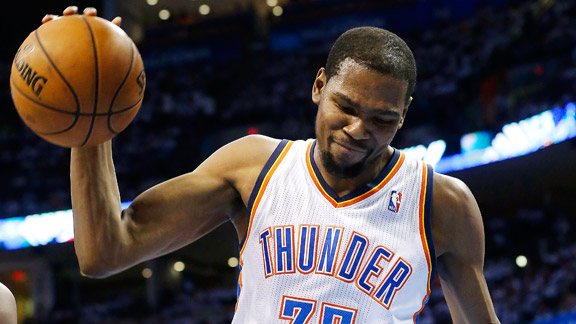 AP Photo/Sue OgrockiAdnan Virk and Chris Broussard say Kevin Durant seemed overwhelmed this postseason.
Thursday, Adnan Virk and Chris Broussard discuss the NBA playoffs, compare Kevin Durant to LeBron James and much more. Listen to the best highlights of the show below!
Adnan Virk and Chris Broussard talk about the Thunder's loss to the Grizzlies and discuss how Kevin Durant seemed overwhelmed by having to carry so much of the load for OKC. They add that Durant now knows what LeBron James must have felt like during his career in Cleveland. Listen

ESPN NBA analyst Kurt Rambis weighs in on the Heat finishing off the Bulls, discusses the adjustments the Knicks must make if they hope to beat the Pacers and says the Thunder simply didn't give Kevin Durant enough support in their series against the Grizzles, which caused Durant to become overly fatigued. Listen

ESPN's Michael Wilbon talks about the elimination of the Bulls and Thunder and where those two franchises stand now. Wilbon also discusses the Knicks' struggles against the Pacers and says New York's season must be classified as a disappointment if and when they finally are eliminated by Indiana. Listen

PODCASTS
Will Cain gives you his unfiltered take on the biggest stories in the sports world.