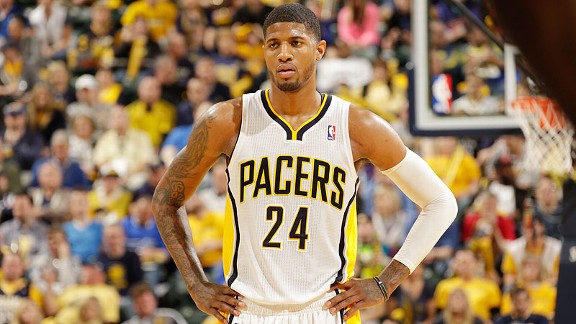 Ron Hoskins/NBAE/Getty ImagesAdnan Virk and Chris Broussard say the Pacers needed a better performance out of Paul George.
Friday, Adnan Virk and Chris Broussard discuss the NBA playoffs, another surgery for Rob Gronkowski and much more. Listen to the best highlights of the show below!
Adnan Virk and Chris Broussard talk about the Knicks' critical over the Pacers and say although the Knicks played a good game, the Pacers failed to step up when they had an opportunity to close out the series. Adnan and Chris say Paul George needs to prove himself as a true superstar when he has opportunities like he had on Thursday. Listen

ESPN's Israel Gutierrez weighs in on whether the Knicks or Pacers would be a tougher match-up for the Heat and says Dwyane Wade's health will be critical for Miami for the remainder of the postseason. Gutierrez also discusses the latest developments in the sale of the Kings. Listen

Adnan Virk and Chris Broussard discuss another surgery on Rob Gronkowski's broken forearm and wonder if Gronkowski's inability to heal from this injury is a red flag for the rest of Gronkowski's career. Listen

ESPNBoston.com's Mike Reiss explains why Rob Gronkowski's fourth surgery is not a surprise and says the team is not concerned with the long-term health of Gronkowski's arm. Reiss also talks about Gronkowski's party habits and says they have nothing to do with the difficult recovery Gronkowski is currently experiencing. Listen

ESPN NHL analyst Barry Melrose talks about big wins for the Bruins and Sharks on Thursday night and compares the end of Wayne Gretzky's career to the end of Michael Jordan's career. Listen

PODCASTS
Ryen Russillo brings his own flavor to the game, mixing some pop culture with the latest happenings.