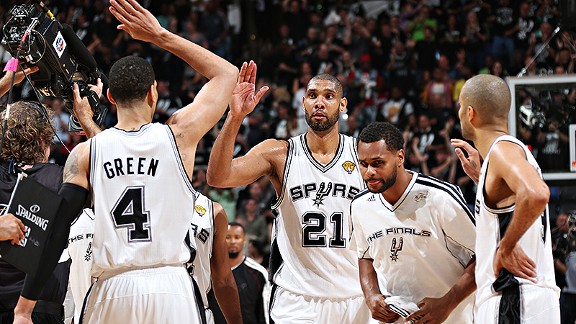 Nathaniel S. Butler/NBAE/Getty ImagesScott Van Pelt calls into the show to give his take of the Spurs' thrashing of the Heat in Game 3.
Wednesday, Ryen Russillo and Adnan Virk discuss Game 3 of the NBA Finals, the brawl between the Dodgers and Diamondbacks and much more. Listen to the best highlights of the show below!
Scott Van Pelt looks at the Spurs drubbing of the Heat and says the next game will tell us everything we need to know about Miami. Plus, he gives a weather update from the U.S. Open and says Thursday's weather could present a problem. Listen

ESPN NBA analyst Kurt Rambis talks about the Spurs' win in Game 3, says LeBron James needs to try to work his game closer to the post, describes the Spurs' defensive scheme against the Heat and weighs in on the impact Tony Parker's injury will have on the Spurs' game plan in Game 4. Listen

ESPN MLB Insider Buster Olney talks about the brawl between the Dodgers and Diamondbacks, which side of the story is more believable and baseball's many unwritten rules that were broken in the fight. Listen

PODCASTS
Ryen Russillo brings his own flavor to the game, mixing some pop culture with the latest happenings.