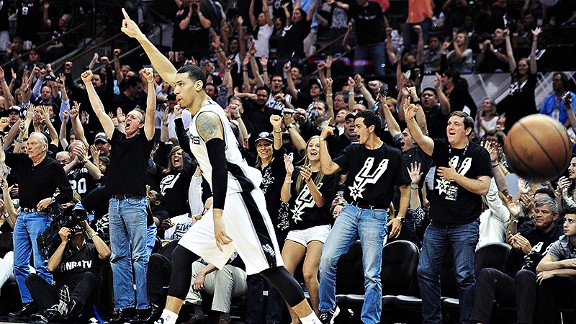 Frederic J. Brown/AFP/Getty ImagesTim Legler talks about why San Antonio's Danny Green has been so effective in the NBA Finals.
Monday, Ryen Russillo and Rece Davis discuss the Spurs' win over the Heat in Game 5, Justin Rose's win at the U.S. Open and much more. Listen to the best highlights of the show below!
ESPN NBA analyst Tim Legler looks at how there is no carryover from one game to the next. Legler also discusses why Danny Green is so open and says he expects Manu Ginobili to be effective again in Game 6. Listen

ESPN NBA Insider Marc Stein discusses the chances the Celtics and Clippers will be able to work out a deal, says Doc Rivers, Kevin Garnett and Paul Pierce want to remain together and chats about the possibility that the Clippers and Lakers will make a trade. Listen

ESPN.com golf writer Michael Collins talks about how Justin Rose won the U.S. Open and why Phil Mickelson lost it. Collins adds that Rose deserves credit for winning, Mickelson shouldn't be blamed for letting yet another U.S. Open slip away. Listen

Scott Van Pelt checks in to talk about Justin Rose's emotional U.S. Open win, says the tournament was a tougher test than most imagined it would be and weighs in on Tiger Woods' performance and where he goes from here. Listen

PODCASTS
Ryen Russillo brings his own flavor to the game, mixing some pop culture with the latest happenings.