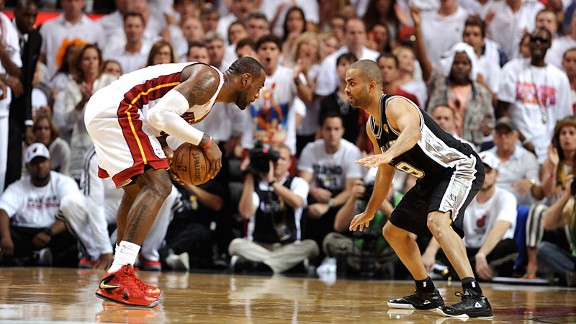 Brendan Smialowski/AFP/Getty ImagesTim Legler and Jalen Rose talk about what they expect to see in Game 7 of the NBA Finals.
Thursday, Ryen Russillo and Danny Kanell preview Game 7 of the NBA Finals, discuss the new talks between the Celtics and Clippers and much more. Listen to the best highlights of the show below!
ESPN NBA analyst Tim Legler says it will be clear very early on if there's emotional carryover from Game 6, talks about the defensive strategy each team will employ, the adjustments he expects to see out of both teams, the importance of Dwyane Wade and more. Listen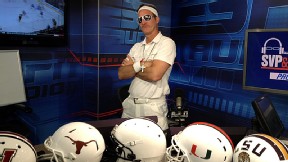 Ray Necci/ESPN RadioDanny Kanell is ready for Game 7.
ESPN NBA analyst Jalen Rose doesn't expect the Spurs to be impacted by the way they lost Game 6, explains why he thinks Duncan and Parker will be effective, says Erik Spoelstra won't hesitate to change his rotations and talks about the energy the Heat will gain from the home crowd. Listen

ESPN's Michael Wilbon says if any team can come back from a crushing loss it's the Spurs, talks about what's on the line for LeBron James' legacy and weighs in on what Dwyane Wade's role will be in Game 7. Listen

Arizona coach Rich Rodriguez talks about the Wildcats' offseason work, discusses the difference between coaching in the Pac-12 and the Big Ten, pinpoints the players who he hopes will step up for his program and more. Listen

PODCASTS
Will Cain gives you his unfiltered take on the biggest stories in the sports world.