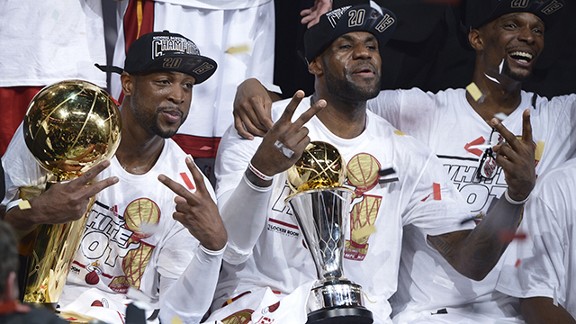 BRENDAN SMIALOWSKI/AFP/Getty ImagesMichael Wallace talks about another championship for the Heat and discusses the future of the Big 3.
Friday, Ryen Russillo and Danny Kanell react to Game 7 of the NBA Finals, discuss the latest news surrounding Aaron Hernandez and much more. Listen to the best highlights of the show below!
ESPN.com Heat writer Michael Wallace talks about LeBron James' offensive efficiency in Game 7, explains why Dwyane Wade was Miami's second best player and says he'd be very surprised if Chris Bosh isn't on the Heat next year. Listen

Ryen Russillo and Danny Kanell discuss the arrest warrant that is expected to be issued for Aaron Hernandez, talk about the possibility that the NFL could suspend Hernandez and comment on the very unusual offseason for the Patriots. Listen

ESPN contributor Bob Ryan says he will always remember Game 6 of the Finals, discusses how the legacies of both the Heat and Spurs were altered by the last two games of the season, weighs in on the future of the Heat, the potential deal between the Clippers and Celtics and more. Listen

ESPN NBA analyst Kurt Rambis says he was impressed with the Spurs' ability to bounce back in Game 7, talks about Gregg Popovich's coaching performance late in the series, explains why he doesn't consider the Heat a dynasty yet and much more. Listen

ESPN's Mike Tirico talks about the Heat's win in Game 7, discusses LeBron James' legacy and says he's tired of the media scrutiny of LeBron and wishes people would just enjoy what they're witnessing. Listen

PODCASTS
Ryen Russillo and Danny Kanell bring their own flavor to the game, mixing some pop culture with the latest happenings.