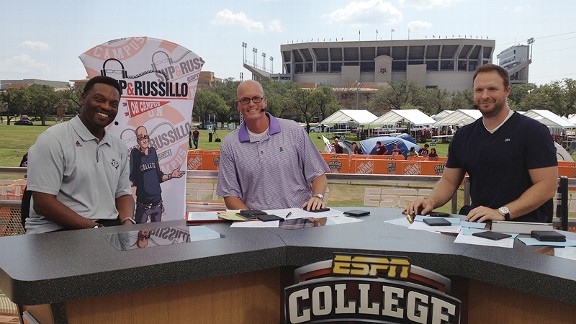 Ray Necci/ESPN RadioTexas A&M coach Kevin Sumlin says his team feels like they have nothing to lose against Alabama.
Friday, Scott Van Pelt and Ryen Russillo preview the showdown between Alabama and Texas A&M, look back on the Patriots' win over the Jets and much more. Listen to the best highlights of the show below!
Texas A&M coach Kevin Sumlin talks about the Aggies' game plan against Alabama, says his team has nothing to lose on Saturday, lends insight into his discussions with Johnny Manziel and says he's assured that Manziel's focus is on school and football. Listen

Texas Tech coach Kliff Kingsbury discusses the Red Raiders' upset win over No. 24 TCU, shares his memories from his time coaching Johnny Manziel last season and more. Listen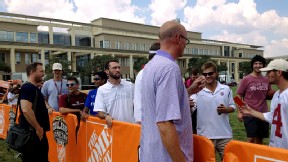 Ray Necci/ESPN RadioScott and Ryen mingling in College Station.
ESPN CFB reporter Travis Haney explains why he thinks Texas A&M will upset Alabama for the second year in a row, says the antics are distracting the public from Johnny Manziel's incredible talent and more. Listen

Sports Illustrated's Andy Staples looks ahead to Saturday's game between Alabama and Texas A&M, discusses the allegations against Oklahoma State and several SEC schools and more. Listen

SVP & Russillo unveil WINNERS! Listen

Rams TE Jared Cook talks about his huge game against the Cardinals Week 1, his increased role in St. Louis' offensive attack, says its time for Sam Bradford to take the next step in his development and comments on the high level of competition in the NFC West. Listen

ESPN NFL analyst Mark Schlereth breaks down Sunday's NFC West showdown between the Seahawks and 49ers, says Robert Griffin III needs to develop a higher comfort level in the pocket and talks about who has the edge when Peyton Manning's Broncos meet Eli's Giants. Listen

Scott and Ryen peer into their crystal ball in an attempt to write Monday's Headlines on Friday. Listen

PODCASTS
Will Cain gives you his unfiltered take on the biggest stories in the sports world.