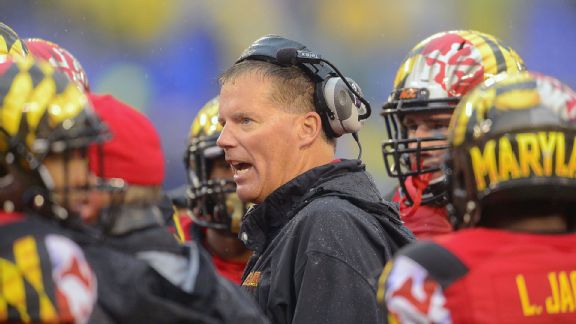 Doug Kapustin/Getty ImagesMaryland coach Randy Edsall talks about the Terps' big game against Florida State on Saturday.
Thursday, Scott Van Pelt and Ryen Russillo weigh in on Bob Stoops' comments about the SEC, keep up with the MLB playoffs and much more. Listen to the best highlights of the show below!
Maryland coach Randy Edsall talks about the Terps' success thus far this season, the improved play on offense and Saturday's big game against Florida State. Listen

Chiefs S Eric Berry talks about the biggest differences between last year and this year in Kansas City, describes what Andy Reid has brought to the organization and says the club has an added emphasis on defense this season. Listen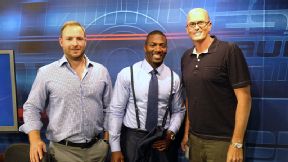 Ray Necci/ESPN Steelers safety Ryan Clark with Scott and Ryen.
Steelers S Ryan Clark dishes on Pittsburgh's 0-4 start, says the club needs to learn how to win, talks about Mike Tomlin's demeanor this year, the team's trip to England in Week 4 and more. Listen

ESPN college football analyst Robert Smith says the environment on Saturday night will not work to Northwestern's advantage against Ohio State, discusses Bob Stoops' comments on the SEC and more. Listen

PTI's Michael Wilbon shares his perspective on Northwestern's matchup with Ohio State this weekend and dishes on Terrell Suggs' comments about Roger Goodell's role in the Super Bowl blackout. Listen

ESPN the Magazine's Chad Millman explains why there's a possibility that Oakland could lose all of its pro sports franchises and talks about the value of having good chemistry in locker rooms. Listen

PODCASTS
Ryen Russillo and Danny Kanell bring their own flavor to the game, mixing some pop culture with the latest happenings.