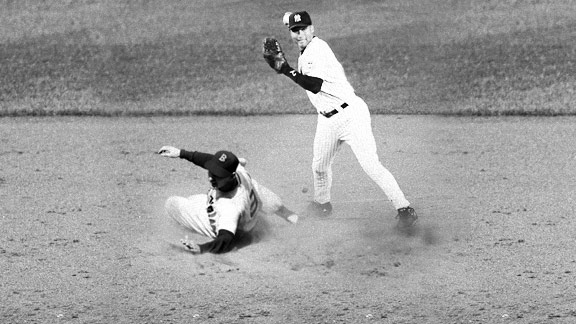 PLAYERS OF THE GAME
R. Jackson
N. Garciaparra
Yankees bomb Sox in Game 1
Editor's note: In early April we asked ESPNBoston.com users to select the All-Time Red Sox team. Between now and Friday we'll be simulating a best-of-seven series between the Red Sox team and the All-Time Yankees team that was selected by ESPNNewYork.com.
The New York Yankees All-Time team jumped out to a 1-0 series lead over the Boston Red Sox All-Time team, taking the opening game 13-7 behind a balanced offensive attack and a solid start from Whitey Ford. Every player in the Yankees' lineup had an RBI, while Ford went seven innings, striking out four and allowing four runs.
The Yankees wasted little time getting on the board against Red Sox starter Cy Young, scoring two runs in the top of the first inning to take a lead that they would never relinquish.
The Yankees opened the game up in the fourth inning, taking a 7-1 lead that was highlighted by Reggie Jackson's two-run homer. The Yankees scored two more time in the fifth to take their biggest lead of the game, 9-1.
Boston scored three runs in the bottom of the fifth to cut the lead to 9-4, but the Red Sox would never get closer than that.
Babe Ruth and Mickey Mantle also homered for the Yankees, who pounded out 13 hits for the game.
Shortstop Nomar Garciaparra was the main source of offense for the Red Sox, collecting four hits (one homer) and driving in four runs. On the mound, Young was chased after three-plus innings, giving up seven hits and five runs.
The Red Sox will turn to Pedro Martinez in Game 2, while the Yankees will counter with Ron Guidry.
2B-Ruth, Gehrig, Garciaparra, TWilliams 2. 3B-AlRodriguez, Lazzeri. HR-Mantle(1), Ruth(1), Jackson(1), Garciaparra(1). K-Jeter 2, Gehrig, Jackson, Lazzeri 4, Ramirez, Foxx, Ortiz, Boggs. BB-Mantle 2, Ruth 2, AlRodriguez 2, JDiMaggio, Pedroia, Ramirez, Foxx 2, Fisk, Boggs. SF-AlRodriguez, Jackson, JDiMaggio. WP-JWood. BALK-WFord, CyYoung. GWRBI: Gehrig Temperature: 61, Field: wet, Sky: threatening, Wind: out to left at 7 MPH, Rain Delays: 26 and 10 minutes.
Play by play
Top of the 1st inning, Yankees batting
-- Jeter grounded out to second
-- Mantle reached on an infield single to the pitcher
-- Ruth doubled deep to left, Mantle to third
-- Gehrig grounded a single up the middle, Mantle scored, Ruth to third
-- AlRodriguez hit a sacrifice fly to center, Ruth scored
-- Jackson popped out to third
Bottom of the 1st inning, Red Sox batting
-- Pedroia grounded out to second
-- Garciaparra lined a single to center
-- TWilliams grounded a double down the third base line, Garciaparra to third
-- Ramirez lined a single to shallow center, Garciaparra scored, TWilliams to third
-- Started raining
-- Foxx grounded into a double play, Lazzeri to Jeter to Gehrig
Top of the 2nd inning, Yankees batting
-- JDiMaggio popped out to first
-- YBerra grounded out to short
-- Lazzeri struck out
-- Game delayed by rain for 26 minutes
Bottom of the 2nd inning, Red Sox batting
-- Ortiz struck out
-- Speaker flied out to center
-- Fisk grounded out to first
Top of the 3rd inning, Yankees batting
-- Jeter grounded a single up the middle
-- CyYoung balked, Jeter to second
-- Mantle walked
-- Ruth grounded into a double play, CyYoung to Boggs to Foxx, Mantle to second
-- Foxx, Mantle to second
-- Gehrig lined a single to shallow center, Mantle scored, Gehrig out at second
Bottom of the 3rd inning, Red Sox batting
-- Boggs grounded out to short
-- Pedroia walked
-- Garciaparra grounded into a double play, Gehrig to Jeter to Gehrig
Top of the 4th inning, Yankees batting
-- AlRodriguez tripled deep to right center
-- Jackson homered deep down the right field line, AlRodriguez scored
-- TiantJr now pitching
-- JDiMaggio walked
-- YBerra grounded out to second, JDiMaggio to second
-- Lazzeri lined a triple to left center, JDiMaggio scored
-- Jeter grounded out to short, Lazzeri scored
-- Mantle flied out to center
Bottom of the 4th inning, Red Sox batting
-- TWilliams flied out to left
-- Game delayed by rain for 10 minutes
-- Ramirez popped out to first
-- Foxx walked
-- Started raining
-- Ortiz grounded out to third
Top of the 5th inning, Yankees batting
-- Ruth walked
-- Gehrig lined a double to right center, Ruth to third
-- AlRodriguez walked
-- Jackson hit a sacrifice fly to left, Ruth scored, Gehrig to third
-- JDiMaggio hit a sacrifice fly to left, Gehrig scored
-- YBerra grounded out to second
Bottom of the 5th inning, Red Sox batting
-- Speaker grounded out to second
-- Fisk reached on an infield single to third
-- Boggs walked, Fisk to second
-- Pedroia popped out to right
-- Garciaparra singled to right center, Fisk scored, Boggs to third
-- WFord balked, Boggs scored, Garciaparra to second
-- TWilliams grounded a double down the first base line, Garciaparra scored
-- Ramirez struck out
Top of the 6th inning, Yankees batting
-- Lazzeri struck out
-- Jeter struck out
-- Mantle walked
-- Ruth homered deep to center, Mantle scored
-- Gehrig flied out to center
Bottom of the 6th inning, Red Sox batting
-- Foxx struck out
-- Ortiz lined a single down the left field line
-- Speaker grounded out to second, Ortiz to second
-- Fisk grounded out to first
Top of the 7th inning, Yankees batting
-- JWood now pitching
-- AlRodriguez grounded a single up the middle
-- Jackson struck out
-- JWood threw a wild pitch, AlRodriguez to second
-- JDiMaggio lined a single up the middle, AlRodriguez to third
-- YBerra grounded to second, forcing JDiMaggio at second, AlRodriguez scored, JDiMaggio out at second, YBerra to first
-- AlRodriguez scored, JDiMaggio out at second, YBerra to first
-- Lazzeri struck out
Bottom of the 7th inning, Red Sox batting
-- Boggs struck out
-- Pedroia popped out to second
-- Garciaparra lined a double to right center
-- TWilliams grounded out to second
Top of the 8th inning, Yankees batting
-- Jeter struck out
-- Mantle homered deep to right center
-- Ruth walked
-- Gehrig struck out
-- AlRodriguez walked, Ruth to second
-- Jackson flied out to left
Bottom of the 8th inning, Red Sox batting
-- Ruffing now pitching
-- Ramirez grounded out to second
-- Foxx walked
-- Ortiz flied out to center
-- Speaker popped out to third
Top of the 9th inning, Yankees batting
-- Schilling now pitching
-- JDiMaggio popped out to second
-- YBerra lined out to first
-- Lazzeri struck out
Bottom of the 9th inning, Red Sox batting
-- Fisk walked
-- Boggs reached on an infield single to short, Fisk to second
-- Pedroia flied out to center
-- Garciaparra homered deep to left center, Fisk scored, Boggs scored
-- Lyle now pitching
-- TWilliams flied out to center
-- Ramirez walked
-- Foxx grounded to short, forcing Ramirez at second