Carlton Fisk bounding down the first-base line, waving his home run fair … Kirby Puckett pounding his fist in celebration as he circles the bases … The ball rolling between Bill Buckner's legs and into history …
The Red Sox and Cardinals continue the World Series on Wednesday night at Fenway Park. Five-year-old Boston children are anxiously hoping for a Red Sox victory so they can die in peace, content that they finally saw their team win after a half-decade of suffering. (Can you imagine their pain, Cubs fans?) In the heart of the country, "The World's Greatest Fans©" are hoping and praying that Michael Wacha makes their team's decision not to re-sign Albert Pujols for $250 million look even wiser.
And in New York, fans are still wondering why Yankee Stadium's gates have been locked this entire month.
Meanwhile, all across the land, neutral baseball fans are anticipating the sort of magical game that includes an Iowa cornfield or exploding light towers. After all, this is Game 6 of the World Series, and Game 6 is special.
Everyone always eagerly awaits a climactic Game 7, but I prefer Game 6. It usually is just as exciting as Game 7 and also comes with the added benefit that if the trailing team wins, we are rewarded with yet another baseball game before winter sets in.
As Jack Buck once told a nation of fans, "And we'll see you tomorrow night!"
Buck said that after Puckett's game-winning home run in the 11th inning of Game 6 of the 1991 World Series. With his Twins trailing Atlanta three games to two, Puck told his teammates, "Jump on. I'm driving this bus!" He then delivered the most thrilling bus-driving performance outside of Sandra Bullock in "Speed." Puckett tripled, scored two runs, drove in three, caught a ball against the plexiglass in left-center and lit up Minnesota with his smile after that home run.
Minnesota native Jack Morris delivered an even more stirring performance the next night when he shut out Atlanta for 10 innings. But Game 6 sometimes is so thrilling that it renders Game 7 an afterthought.
The Red Sox lost the 1975 World Series, but Boston fans will forever savor their Game 6 come-from-behind victory when Fred Lynn crashed into the wall, Bernie Carbo tied the game with a three-run pinch-hit homer in the eighth, Dwight Evans robbed Joe Morgan of a home run in the 11th and Fisk won it with his dance-off homer in the 12th.
Boston fans do not so fondly recall Game 6 of the 1986 World Series, a game so draining that fans on both sides needed the next night's rainout to recover. The Mets won that seventh game; but like 1975, does any memory from Game 7 match the image of Buckner bent over as the ball bounces between his legs in Game 6?
Game 6 often produces powerful, enduring memories like that. Whether they are wonderful or painful depends on for whom you rooted.
Don Denkinger calling Jorge Orta safe at first base … Dusty Baker testing the baseball gods by handing the game ball to Russ Ortiz with a 5-0 lead … The Texas Rangers just one strike from their first world championship … The Texas Rangers again just one strike from their first world championship … The Texas Rangers still looking for their first world championship …
The Cardinals were down to their final strike -- twice -- against the Rangers in that 2011 series. David Freese tripled home the tying run with two out and two strikes in the bottom of the ninth. After a Josh Hamilton home run in the top of the 10th, the Cardinals tied it again when they were down to their final strike in the bottom of the inning. And then Freese won it with a home run in the 11th.
There is not supposed to be cheering in the press box, but that 2011 Game 6 was so exciting, several reporters (myself included) applauded when the Cardinals tied it in the 10th. Not because we were rooting for St. Louis, but because it meant the drama could continue.
And that's what I'll be rooting for Wednesday. I've been on the road for more than a month. I desperately miss my wife. I look forward to eating a meal that doesn't come in a box. But I don't want this to end just yet.
This October has brought game-tying grand slams and game-winning grand slams, sublime rookie pitching performances and multiple 1-0 nail-biters, games ending on obstruction calls and games ending on pickoffs. Like Torii Hunter and the Fenway bullpen fence, this postseason has sent me head over heels.
And I'm prepared for tonight's game to top all that. After all, it is Game 6, and Game 6 is special. And if it does end here, well, let's hope it goes out in style.
Tom Glavine and Atlanta one-hitting Cleveland 1-0 … Dave Winfield doubling down the left-field line in Atlanta … Joe Carter taking Mitch Williams deep in Toronto … The Yankee Stadium crowd chanting "Reg-gie! Reg-gie!" …
CSI: Box Score
Each week, I provide a fragment from an old box score and challenge you to determine what game it is from and why it's significant. I give this one a difficulty rating of 4. Answer below:
Baseball Card of the Week
This card (1969 Topps, No. 164) captures one of the highlights of Tim McCarver's career, when he hit a three-run homer to lift the Cardinals to a Game 3 victory over the Tigers in the 1968 World Series.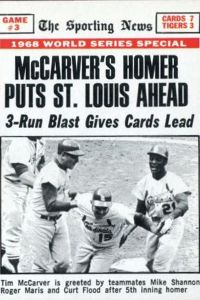 McCarver's World Series career has spanned half a century -- he was the St. Louis catcher in 1964 and will broadcast his final game for Fox this week. While many consider McCarver overly analytical and ponderous, the man deserves applause for such a long, passionate career in the game. (He played in four decades.) And when it comes to World Series broadcasts, I think finding a good replacement for McCarver isn't nearly as crucial as shortening the commercial breaks, reducing the number of in-game interviews and eliminating close-ups of celebrities who happen to appear on a particular network's prime-time schedule.
Box Score Line of the Week
David Ortiz had some big nights while reaching base safely in nine consecutive plate appearances and 15 times in 20 plate appearances overall. Jon Lester, meanwhile, had two superb World Series starts (7 2/3 IP, 5 H, 0 R, 0 ER, 1 BB, 5 K in Game 1, and 7 2/3 IP, 4 H, 1 R, 1 ER, 0 BB, 7 K in Game 5). And St. Louis shortstop Pete Kozma had a rough night in his World Series debut (E-Kozma 2).
Not to mention that reliever Brandon Workman had his first professional at-bat in the ninth inning of Game 3 of the World Series (1 AB, 0 R, 0 H, 0 RBI.)
That was the first time a pitcher had batted in the ninth inning of a World Series game since Sparky Lyle did so in 1977. It also will probably be the last for quite a while -- Workman struck out on three pitches.
But this week's award has to go to St. Louis rookie Kolten Wong for the line he produced as a pinch-runner in Game 4 on Sunday:
PO: Wong (1st base by Uehara).
Wong was distraught after the game, choking back tears as he answered questions from a wall of reporters by his locker. Here's hoping Wong goes on to have a long and successful career that, like Babe Ruth's caught stealing that ended the 1924 World Series, turns his pickoff into a mere footnote.
Yeah, Well, That's Like, That's Just Your Opinion, Man
Cross Your Fingers The World Series Doesn't Get Pushed Back So Deep Into Winter That Game 7 Conflicts With The Super Bowl. This week marked the first time that a "Monday Night Football" game was played in the same city on the same night of a World Series game. (Check it out.) The closest previous occasion was in 1986, when a rainout forced the Red Sox and Mets to play Game 7 on Monday at Shea Stadium while the New York Giants played a home MNF game. Those games were played in the same market, but not even the same state. Monday also was the second year in a row the Seahawks have played the same day in the same city as the World Series. Last year, they played in Detroit on the same Sunday that San Francisco completed its sweep of the Tigers -- Seattle native Tim Lincecum was very excited that day. As a Seattle resident, I not only hope this tradition continues, I also hope it's because the Seahawks schedule a home game for the final weekend of October next year.
Reading This Book About Summer Is A Great Way To Spend The 108 Days Of Winter Until Spring Training. One of my favorite writers is Bill Bryson, the son of a sportswriter who covered the World Series each autumn for the Des Moines Register (back when newspapers without a team in the series did that sort of thing). Bryson is well known for his humorous, highly entertaining and wonderfully insightful travel books, including "A Walk in the Woods" and "In a Sunburnt Country." But for the past decade, he has more or less devoted himself to other subjects, such as science and history. His latest offering is "One Summer: America, 1927" -- an engaging story of the incredible summer of 1927 when Lindbergh flew the Atlantic and Ruth hit 60 home runs for the Yankees. "One Summer" is not nearly as humorous as Bryson's other offerings, but it is a splendid page-turner nonetheless. His account finds some surprising (and disturbing) parallels to modern America, as well as the always fascinating details of Ruth's life. I bought the book in the Detroit airport midway through the Athletics-Tigers division series, and despite a rather full schedule, I'd completely devoured it before the ALCS was over. Highly recommended.
CSI: Box Score Answer
There was one big clue here and that was this line: Orta ph. Yes, this fragment is from Game 6 of the 1985 World Series, the series that split the state of Missouri. The Cardinals took a 1-0 lead into the bottom of the ninth against the Royals, and it might have stayed that way had Don Denkinger called Jorge Orta out rather than safe at first base.
Cardinals fans still get agitated about that call, but one thing they should bear in mind is that Orta was later thrown out at third base. Hmmmm.
Here's hoping that this year's Game 6 ends as memorably -- but not so frustratingly -- for fans.