New fight, new promoter, new network. It's a new start for former middleweight titleholder Daniel Jacobs.
On March 18 at Madison Square Garden in New York, Jacobs not only ended unified middleweight world champion Gennady Golovkin's knockout streak at 23 in a row but he came as close to beating GGG as anyone ever has in the professional ranks.
In fact, there were many at ringside and watching the pay-per-view that night who thought Jacobs did enough to have his hand raised in victory.
Alas, Golovkin got the nod, 115-112, 115-112 and 114-113, but Jacobs, even in defeat had elevated his career.
Hoping to build off that career-making fight, despite the loss, Jacobs left the Premier Boxing Champions organization run by adviser Al Haymon and signed with Matchroom Boxing promoter Eddie Hearn. He is the first American fighter signed by the No. 1 promoter in the United Kingdom. Jacobs also landed an exclusive contract with HBO.
Those deals will commence with a 12-round fight against up-and-comer Luis Arias on Saturday (HBO, 10 p.m. ET/PT) at the Nassau Veterans Memorial Coliseum in Uniondale on New York's Long Island in the main event of Hearn's first stateside promotion.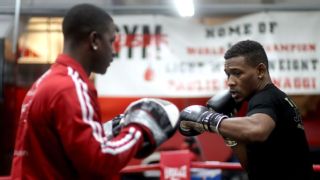 "I think it's a perfect time for me to start this new chapter and to be a lot more active, and, get the promotion from a promoter that is outstanding," Jacobs said. "Listen, Eddie Hearn is not saying these things just to say them. If you think about it, and I'm not trying to toot my own horn, but if I was a promoter, if I was a manager, I would want to have a guy like myself because there are too few guys that have the 'it' factor in boxing, and I think that I represent the sport well like a gentleman inside and outside the sport and if I can have a guy that I can promote like that, it's an easy thing to do."
While the fight with Arias represents the start of a new chapter in Jacobs' career, he has designs on a rematch with Golovkin or a showdown with superstar Canelo Alvarez, but Arias, who has been very mouthy toward Jacobs during the promotion, is the starting point.
Jacobs (32-2, 29 KOs), 30, of Brooklyn, New York, said signing with Hearn was a "no-brainer" and that he believes with HBO's backing he can become a much bigger name.
"He is the most handsome guy out of all of the promoters," Jacobs joked of why he signed with Hearn. Then he got more serious.
"It was a no-brainer. I just wanted to go in that direction," Jacobs said. "When you think of the success that (unified heavyweight world titleholder) Anthony Joshua has had over in the U.K., I think him coming to America and making the same success it would be that much easier because of the experience that he has. If I can get on the train at the first stop with nobody on it, for the ride, I think I am in a great position.
"HBO is backing me as well, so I think it's a dream come true to have the best manager (Keith Connolly), promoter and network, to have the best team with the potential to make me a superstar."
Hearn has been looking at promoting in the United States for the past few years and when the opportunity to sign Jacobs came up he looked at it as the perfect first step.
"Daniel Jacobs, he is the kind of guy that is perfect for a brand and actually why wouldn't you want to be involved with Danny Jacobs," Hearn said. "I look at Danny Jacobs and I say this isn't really difficult. The only thing he needs to do is keep winning. He'll come out of the ring on Saturday (and) I believe he'll be victorious and then he'll have another date in the diary, probably April next year. He can have a little rest with his family, have a nice Christmas and get back to work."
Assuming Jacobs defeats Arias (18-0, 9 KOs), 27, of Milwaukee, he, of course, would like another crack at Golovkin or a fight against Alvarez. However, Golovkin and Alvarez fought to a disputed draw on Sept. 16 and they appear headed to a May 5 rematch.
So Jacobs will bide his time until he can get either of them in the ring, a scenario made easier because now all three of them are with HBO.
"I am a realist and I understand the business of boxing and I know that even though these guys aren't really fearful of me, right now I'm in a lose-lose situation with those guys because I am not technically a champion," Jacobs said. "I am one of the best in the division and the fans do want me to fight those guys. But they know it's not worth it to step in there with a guy like me. I'd rather continue to do my job, climb the ladder, get a title eventually and maybe chase these guys, but to fight me right now? I don't see that happening.
"These guys are looking at it from a business perspective, so I need to go in there and not get frustrated, let my team do their job and I continue to do mine."
Hearn believes that Jacobs is the class of the division outside of GGG and Alvarez, so they won't just sit and wait for a fight with them.
"I think we need to keep moving forward, but there is not sort of desperate, 'We need him or we need that.' We want the Canelo-Golovkin winner and that's the reason why Danny signed with HBO," Hearn said. "So in the meantime if that fight is going to happen in May, Danny will box in April then we want the winner of that fight."
Hearn said one possibility would be the winner of the Dec. 16 HBO fight between middleweight titlist Billy Joe Saunders and former titleholder David Lemieux.
"[What] Danny has to do is just keep winning. That's all that matters. We take care of the rest," Hearn said.
Arias aims to disrupt all the grand plans. He's been talking a big game, even though he has never faced a recognizable opponent.
"I always knew that Daniel Jacobs and I would end up fighting at some point in my life. It wasn't in the amateurs and it ended up being in the pros," said Arias, who has known Jacobs since they were teenagers. "I know a lot about Daniel Jacobs. I know how he fights. ... I do think he's overrated. I just like Danny Jacobs, he has a lot of things in his story but I'm a lot better. I think he's a little overrated and I feel he hasn't completely cemented his name in the game yet."
Jacobs bushed off Arias' talk.
"This guy is talking a good one," he said. "To the ones that really don't know, they will believe it but I will let this guy know what's really going to happen (Saturday) and all of that talk -- he can talk a good one, but at the end of the day, it's about what you do inside the ring.
"How many first-round knockouts do I have? I have about as many first-round knockouts (14) as he has fights, so this is what you do when you fight a so-called bum with no experience -- you knock him out. I have no idea what this guy's talking about, but I understand it, I get it, he's trying to hype this fight and ultimately hype himself up because he doesn't believe all the things he is saying."
In the heavyweight co-feature, Jarrell "Big Baby" Miller (19-0-1, 17 KOs), 29, of Brooklyn will take on former world title challenger Mariusz Wach (33-2, 17 KOs), 37, of Poland, in a 12-round bout. The opener of the tripleheader will feature junior welterweight Cletus "The Hebrew Hammer" Seldin (20-0, 16 KOs), 31, of Brooklyn against Roberto Ortiz (35-1-2, 26 KOs), 31, of Mexico, in a 10-rounder.