BRISBANE, Australia -- While he wouldn't go so far as to say Anthony Mundine was a boxing idol, Jeff Horn admits the polarising Australian veteran was someone he looked up to and thought was "pretty cool" when he first took up the sport as a bullied teenager.
On Friday night the pair will step into the ring at Suncorp Stadium as Horn looks to bounce back from a brutal ninth round stoppage against Terence Crawford in Las Vegas. It was the Queenslander's first loss as a professional and one that saw him relinquish his WBO welterweight championship belt.
Horn says he never dreamed he would be going head-to-head with Mundine, someone whose tapes he spent many hours watching. However, Horn made it clear that Mundine's earlier-than-usual trash talk has fuelled his motivation to taste victory once again.
"He was one of the very first boxers I started looking at when I began my career," Horn told ESPN before a workout at trainer Glenn Rushton's south Brisbane gym. "He is one guy that I looked up to and I thought was pretty cool back in the day. I guess I never thought I'd be getting the opportunity to fight him.
"Having said that, I've tasted that loss now and it really, really hurt. To happen again, especially against Mundine who keeps on talking it up and talking it up, [it would] be really hard to cope with if I lost this one."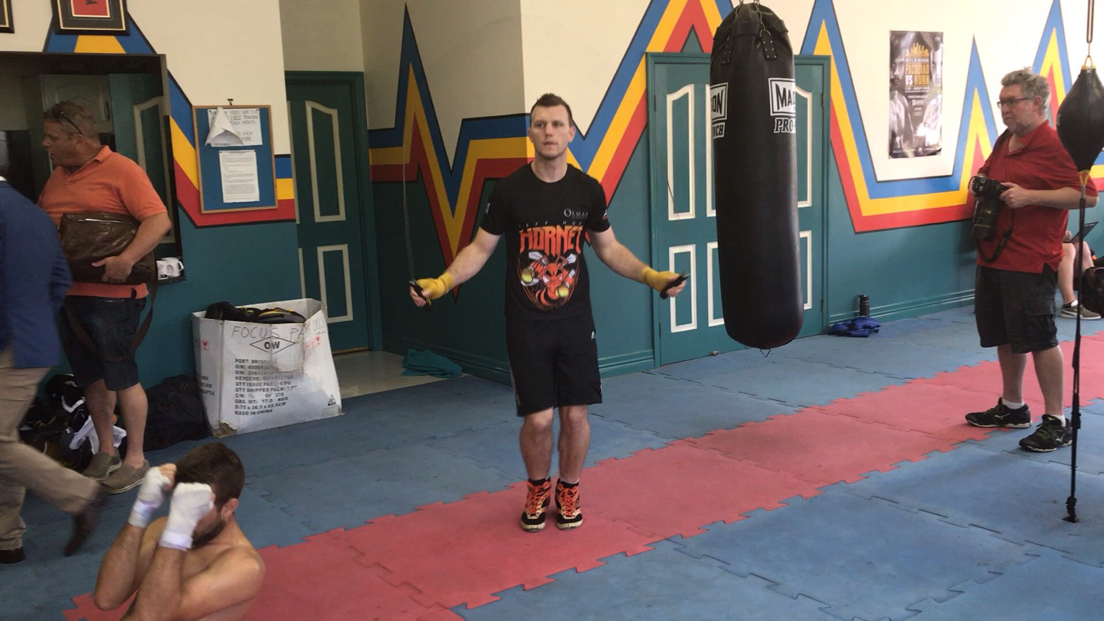 Jeff Horn shows off his skipping technique as he prepares for a workout in Brisbane. The Queenslander will fight Anthony Mundine at Suncorp Stadium on Friday night.
One advantage for Horn is he has already experienced a high-profile fight in front of 50,000 fans at Brisbane's Suncorp Stadium. Horn caused one of modern day boxing's biggest boilovers when he defeated future Hall of Famer Manny Pacquiao in July last year to initially claim the world title. It was a controversial decision but it nevertheless put Horn's name in lights which led to unified champion Crawford agreeing to their June fight date.
There's also a distinct age gap between Horn, 30, and Mundine, 43, but Horn, a former school teacher, was quick to point out his rival is by no means an easy beat.
"It would be great to get the stoppage win in this fight, only because people are expecting me to do it," Horn told ESPN. "But people need to remember that Mundine is still a very crafty boxer and while he may be 43 he's really a 43-year-old in a mid-30 body. He's doing very well for himself and he's still going to be a very tough man to beat."
Horn added a victory on Friday night could be exactly what he needs to regain full confidence as he attempts to make another tilt at a world championship in 2019.
"I wouldn't say that I'm firing on full cylinders of confidence but I still feel I've put in all the work I need in order to put the best performance in on Friday night," he said. "A good win will probably get my confidence back to the top and if I train hard enough I can definitely make it back to world champion."