Select another state:
Select One
Index page
Alabama
Alaska
Arizona
Arkansas
California
Colorado
Connecticut
Delaware
District of Columbia
Florida
Georgia
Hawaii
Idaho
Illinois
Indiana
Iowa
Kansas
Kentucky
Louisiana
Maine
Maryland
Massachusetts
Michigan
Minnesota
Mississippi
Missouri
Montana
Nebraska
Nevada
New Hampshire
New Jersey
New Mexico
New York
North Carolina
North Dakota
Ohio
Oklahoma
Oregon
Pennsylvania
Rhode Island
South Carolina
South Dakota
Tennessee
Texas
Utah
Vermont
Virginia
Washington
West Virginia
Wisconsin
Wyoming
Pennsylvania: No. 1 pro | No. 7 college | No. 6 high school
PENNSYLVANIA'S NFL TEAMS ARE SUPER
By Chris Cotter
Maybe I'm a little biased, well OK, really biased, but in my expert (and I use the term "expert" loosely) opinion, Pennsylvania is No. 1 when it comes to pro football. Sure, that's pretty boastful, but I say this for a number of reasons, none of which being that I happen to have grown up there, although that helped.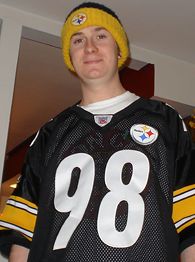 Courtesy of Chris CotterIt didn't take eight Super Bowl appearances to convince Chris that the Steelers and Eagles can play.
First, look at the NFL talent the state has produced, past and present. Do the names Johnny Unitas, George Blanda, Joe Namath, Joe Montana, Jim Kelly, Dan Marino, Tony Dorsett, Mike Ditka, and Jack Ham mean anything to you? No? Well how about Jason Taylor, Lavar Arrington, Kevin Jones, Ty Law, Marc Bulger, Rich Gannon, Marques Colston, and Larry Johnson? Yep, you guessed it, all from Pennsylvania.
And what about the players who served in the trenches for the state's two celebrated franchises? In the interest of space, I'll keep it as exclusive as possible: coaches Chuck Noll, Dick Vermeil, Bill Cowher, Buddy Ryan, and Andy Reid, as well as players Reggie White, Jerome Bettis, Greg Lloyd, Eric Allen, Rocky Bleier, and Rod Woodson embody the spirit of pro football in its truest sense.
Now that we've established that there is no shortage of Hall of Fame talent linked to Pennsylvania, let's talk Super Bowls. Yeah, Philly has a solid zero wins, but they have been to two, and combined with Pittsburgh's unparalleled five wins in six appearances, that's eight Super Bowls out of 40 that have featured at least one Pennsylvania team. Do the math, that's 20 percent. What's more, a PA team has made the playoff race in 18 out of the last 25 years, 72 percent of the time!
But when you really get down to it, it's the character and the history of Pennsylvania's teams that makes the state No. 1. With props and chants such as The Terrible Towel, "Here We Go Steelers," "Fly Eagles Fly," "E-A-G-L-E-S, Eagles," fans take great pride in their respective teams. When the team wins, the people feel a sense of accomplishment. When the team loses, it weighs on everyone for the next week. One thing is certain: Both communities expect their teams to win. Hard work and dedication are the backbones of this state's people, and in kind, their teams.
Stillers, Iggles, I dare you to find another state with as much character, tradition and talent as PA.
Oh yeah, and Kennett High School football rules!
Writer Chris Cotter occasionally blogs at Rockstarforhire.
Your Turn
ESPN.com wants your opinion about where Pennsylvania ranks as an NFL, college or high school football state. Submit your thoughts