Select another state:
Select One
Index page
Alabama
Alaska
Arizona
Arkansas
California
Colorado
Connecticut
Delaware
District of Columbia
Florida
Georgia
Hawaii
Idaho
Illinois
Indiana
Iowa
Kansas
Kentucky
Louisiana
Maine
Maryland
Massachusetts
Michigan
Minnesota
Mississippi
Missouri
Montana
Nebraska
Nevada
New Hampshire
New Jersey
New Mexico
New York
North Carolina
North Dakota
Ohio
Oklahoma
Oregon
Pennsylvania
Rhode Island
South Carolina
South Dakota
Tennessee
Texas
Utah
Vermont
Virginia
Washington
West Virginia
Wisconsin
Wyoming
Washington: No. 21 pro | No. 25 college | No. 21 high school

ON THE SHORES OF LAKE WASHINGTON
By Matt Buchanan
It's been a tough go for my Huskies the last few years. However, we finally turned the corner after two long seasons and beat our cross state rivals, the Cougars. It's always a good season when we beat the Cougs!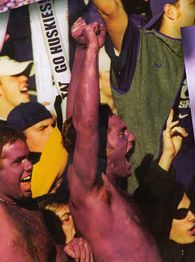 Courtesy of Matt BuchananPurple paint is the way to go at Husky games, according to Matt and his friends.
In my opinion Husky Football is one of the premier football experiences in the country. I have been to venues from the Buckeyes' Ohio Stadium to the Buffaloes' Folsom Field all the way back home to the Seahawk's Quest Field, and I still haven't heard or seen a louder or more scenic venue than Husky Stadium.
As fans drive down Montlake Boulevard on their way to Husky Stadium they can hear the sounds of the Husky Marching Band playing "Bow Down to Washington." They can see the large tailgates that engulf the stadium in an atmosphere that takes you back to your college days.
Twelve o'clock, almost game time. 72,500 fans pack into Husky Stadium waiting for the moment when their beloved Huskies run out onto the field. If fans look to the southeast they can see Mount Rainer and Lake Washington, which comes right up to the east end of the stadium. Union Bay is full of boaters known as the "Husky Navy," which tailgate on the water, an experience unique to Husky fans.
As the Huskies run on the field your heart starts beating fast. The game begins and the crowd is rocking. After a Husky victory the tailgaters continue their festivities long into the night. I can't wait until next season! GO DAWGS!
Your Turn
ESPN.com wants your opinion about where Washington ranks as a pro, college or high school football state. Submit your thoughts