Select another state:
Select One
Index page
Alabama
Alaska
Arizona
Arkansas
California
Colorado
Connecticut
Delaware
District of Columbia
Florida
Georgia
Hawaii
Idaho
Illinois
Indiana
Iowa
Kansas
Kentucky
Louisiana
Maine
Maryland
Massachusetts
Michigan
Minnesota
Mississippi
Missouri
Montana
Nebraska
Nevada
New Hampshire
New Jersey
New Mexico
New York
North Carolina
North Dakota
Ohio
Oklahoma
Oregon
Pennsylvania
Rhode Island
South Carolina
South Dakota
Tennessee
Texas
Utah
Vermont
Virginia
Washington
West Virginia
Wisconsin
Wyoming
Oklahoma: No. 28 pro | No. 8 college | No. 17 high school

OKLAHOMA, RICH IN FOOTBALL
By Darren Hellwege
Football is a rich part of Oklahoma and always has been. The first commissioner of the National Football League was Oklahoma's Jim Thorpe. Few college programs can match the legacy of Sooner football, with the longest winning streak in college football history, seven national championships and five Heisman winners.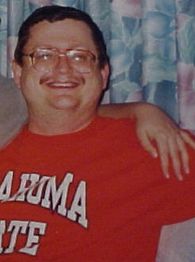 Courtesy of Darren HellwegeHellwege decorates his house with orange streamers, and he decorates himself with orange Oklahoma State clothing.
Perhaps just as telling, though, is the excellence of Oklahoma State. It's the smaller school in a state with a population much smaller than most of those at the top of the list, yet Oklahoma State's not only a successful program with tremendous facilities (thanks in no small part to the largest gift ever given to any university's athletic department) but it can truly claim the title "Tailback U" with two of the top half-dozen or so college running backs ever in Barry Sanders and Thurman Thomas, plus greats like Terry Miller, Tatum Bell and countless others.
My alma mater, the University of Central Oklahoma Bronchos (sic) is a Division II power, and many other smaller universities have a rich history, as does frequent junior college national champion Northeastern Oklahoma A&M.
High school teams from Oklahoma are often among the tops in the nation and have produced greats from the Selmon brothers (Lee Roy, Lucious and Dewey) to Troy Aikman. On paper, Oklahoma is an outstanding football state.
But where the greatness of this state's connection to the game is best displayed is in the hearts of Oklahomans. When a new minister moves to the state, they learn one rule pretty quickly ... if the Dallas Cowboys play a noon kickoff, better have the sermon done by 11:45.
But where the Okies' love for football is most impressive is on Saturday. While University of Oklahoma president George Cross was speaking tongue in cheek when he said he wanted "a university our football team can be proud of," this state is as crazed for college football as any other.
A game between the two main schools is known simply as "bedlam," and it's taken very, very seriously. After the Cowboys beat the Sooners for the first time since 1976, a Perry businessman had the score, 12-0, embossed on the company letterhead.
I remember my house decorated with orange streamers even as our next-door neighbor played for the Crimson and Cream of OU. Anyone doubting how seriously this is taken should catch "Hate Night" in which long-standing sports radio king Al Eschbach gives 3 hours for OSU fans to rip the Sooners, and OU fans to dust off their favorite Aggie jokes.
All in good fun.
And while Baja Oklahoma (you may call it "Texas") has its Friday Night Lights, Oklahoma takes a back seat to nobody for loyalty to "our boys" when high school football comes along. Whether it's a national powerhouse in suburban Jenks packing a large stadium or tiny Cashion (population 652) entertaining over a thousand for games with the Wildcats' top rivals, football is a key part of life in Oklahoma.
Your Turn
ESPN.com wants your opinion about where Oklahoma ranks as a pro, college or high school football state. Submit your thoughts