Select another state:
Select One
Index page
Alabama
Alaska
Arizona
Arkansas
California
Colorado
Connecticut
Delaware
District of Columbia
Florida
Georgia
Hawaii
Idaho
Illinois
Indiana
Iowa
Kansas
Kentucky
Louisiana
Maine
Maryland
Massachusetts
Michigan
Minnesota
Mississippi
Missouri
Montana
Nebraska
Nevada
New Hampshire
New Jersey
New Mexico
New York
North Carolina
North Dakota
Ohio
Oklahoma
Oregon
Pennsylvania
Rhode Island
South Carolina
South Dakota
Tennessee
Texas
Utah
Vermont
Virginia
Washington
West Virginia
Wisconsin
Wyoming
Montana: No. 50 pro | No. 42 college | No. 46 high school
MONTANA, HOME OF CHAMPIONS
By John Risken
The University of Montana Grizzlies have been to the I-AA playoffs for 14 straight years, a record. During that time, UM has played in the national championship game five times (1995, 1996, 2000, 2001 and 2004), winning the title in 1995 and 2001.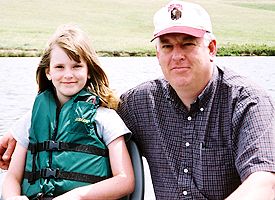 Courtesy of John RiskenWeekends for John Risken often include family, fishing and Montana football.
UM has led I-AA in attendance the past two seasons, with averages of 23,532 over six home games in '05, and 22,600 over nine home games this past season. Not bad for Missoula, a town of about 62,000.
After speaking with the Bureau of Business and Economic Research at the University of Montana, it can be said, conservatively, that each UM home game is worth approximately $2.6 million to the local economy.
The UM crowd, stadium, atmosphere and setting are the envy of programs across the country, regardless of size. I suggest you visit with the ESPN crew that was here last month for the UMass semifinal game or with Matt Dougherty of sportsnetwork.com.
Also, Carroll College in Helena won NAIA national football championships in 2002, 2003, 2004 and 2005. Four national championships in a row. That's six national championships for Montana since 1995.
Not bad for a state of fewer than 1 million people.
TRUE FOOTBALL DYNASTY
By Steve Binfet
I was dumbfounded that Montana was ranked 49th. To me it showed what little people knew about the quality of football that is played in this great state, and how passionate all the schools' fans are from high school to college.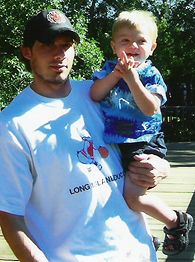 Courtesy of Steve BinfetFor Steve Binfet, nothing is better than football in Montana.
2006 was the first year since 1999 that a Montana school wasn't playing for a national title. Look it up if you don't believe me. What other state can say that? None that I can think of. Carroll College won an unprecedented four straight NAIA national titles from 2002-05. My beloved University of Montana Grizzlies won the I-AA (I can't call it the NCAA Division I Football Championship Subdivision; it's just not right) in 2001 and played in the title game in 2000 and 2004.
This year we had three playoff games being played on the same Saturday in three different cities in Montana. Now you have to realize that we have a population of around 900,000 people in this state, and to have three sold-out stadiums watching playoff games on one day is unreal.
Not only do you have all those fans in the seats watching these games, but they are rooting for a ton of Montana kids. Almost every college football team in Montana is composed of a high percentage of in-state players.
The Griz are the last true football dynasty in the nation. They've made a record 14 consecutive playoff appearances and have won two national titles since 1995. They've led the nation in attendance at beautiful Washington-Grizzly Stadium the past two years, and have won eight straight Big Sky Conference titles. An impressive streak for any school at any level.
A side note on Washington-Grizzly Stadium: when it's full, like it is every home game, it would be the seventh largest city in the state. It was also ranked by Sports Illustrated one of the 10 best places to watch a college football game. It is the crown jewel of all the stadiums in I-AA.
I can't write this and not mention the Montana State Bobcats, who have had a rebirth under coach Mike Kramer. They opened this season with a great win over Colorado, and beat a good Furman team in Bobcat Stadium in the first round of the playoffs. MSU has three national titles at three different levels in their history, with the last one coming in 1984. They are starting to build something special there, and people around the Big Sky Conference are starting to realize that the Big Sky Championship not only runs through Missoula but also Bozeman.
All of this leads me to the Brawl of the Wild, the Montana-Montana State game, one of the longest and fiercest rivalries in all of college football that no one has ever heard about. I'd invite anyone who doesn't live in this state to come here that week and experience the passion and intensity of these two schools. The best week of the year in my book. It divides everybody in the state, including family members.
Just an absolutely amazing week with always a competitive hard-hitting game. I really do think this years game was the most physical Big Sky Conference game I've ever seen.
So to those who don't even give Montana a thought when it comes to football because we don't have an NFL team or a I-A college team, you have no idea what you're missing. I say you can have your NFL team full of overpaid prima donnas, and you can have your Ohio State-Michigan game and every other rivalry in college football because nothing beats sitting in Washington-Grizzly Stadium with 23,000 other rabid fans watching the Brawl of the Wild.
Watching young men born and raised in the last best place on earth competing and playing at an unbelievably high level who are just trying to bring respect to the most underrated state when it comes to football.
Your Turn
ESPN.com wants your opinion about where Montana ranks as a pro, college or high school football state. Submit your thoughts