Fans' elation at the NCAA tournament championship game and Opening Day was muted this week by the death of Angels pitcher Nick Adenhart.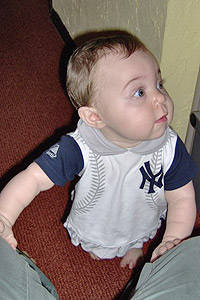 Photo of the week: CaboGrosso8486An 0-2 start didn't get this Yankees fan down.
Click through the posts below to respond directly to the bloggers.
Our favorite college hoops blogs of the week
EthanGoforth: Tyler Hansbrough
And is there any player, this year, in college basketball that you watch and just wonder how does he do it, more than Tyler Hansbrough? You just have to appreciate his play. You can't help it. We've been witness to, possibly, one of the greatest college players of all-time and for most of us, we haven't appreciated him for what he is.
leslie81475: Top 10 things to take away from the NCAA tournament
1. When you stay in school, good things happen. The UNC guys that made the decision to come back to win a National Championship need to be applauded. Kudos to the Florida boys for starting the trend.
Vincey666: NCAA 2009-2010 Teams to Watch For
Congrats to the Tar Heels for winning the tournament this year. I know not all of the recruits have signed yet, and we are not certain which player is going to enter the draft, but it is never too early to look ahead to next season. Here are the top 10 teams to watch out for.
pantalga: Final Five
As far as excitement ranks, I would not put [this year's NCAA tournament] up in the ranks with the 2000-01 Duke run, the Syracuse Orange led by freshmen phenom Carmelo Anthony taking the title as a 3 seed in 2003, or the overtime victory taken by Kansas from Memphis just last year.
Our favorite MLB blogs of the week
macman76: Nick Adenhart's untimely end
This is a splash of water to the face, a wakeup call to every baseball fan and nonfan. Sometimes we get so absorbed in a game that we forget human emotions. Today I am not thinking about the stat sheet, the projections, or the boxscores, I am thinking a what kind of man Nick was.
DBach17: Pastime predictions
Snow is falling in Chicago and the Bears are ready to take on ... oh, wait, it's April? Just another typical start to the Cubs/Sox season, with a snow-out on Opening Day at the Cell.
andymilligan3: MLB stock up, stock down
Stock up Emilio Bonifacio- Showing world-class baserunning with 3 steals and an inside park home run already. Mike Cameron - Getting on base by drawing walks and stealing bases. If this is a trend and not a fluke, he can show the world the skill set everyone has always believed was there.
PADR321: Braves-Phillies series in review
I'm going to steal an idea from a Philly writer and compare the quality of a win or loss based on this: I will grade the win/loss on a scale of 1-3 with 1 being close game to 3 being a blowout. If they win, it's considered a Lidge; if they lose, it's considered a Wagner.
ultimatecanefan: Six years to destiny: Are the Marlins for real?
The Marlins really could surprise people this year. They have made the playoffs twice in their history (1997, 2003). Both times they were the NL wild-card team. Both times they won the World Series.
Yankswillbunu: 2009 MLB season predictions
NLDS: Dodgers over Mets in 5
NLDS: Phillies over Cubs in 4
ALDS: Yankees over Twins in 4
ALDS: Rays over Angels in 4
NLCS: Dodgers over Phillies in 6
ALCS: Rays over Yankees in 6
WS: Dodgers over Rays in 6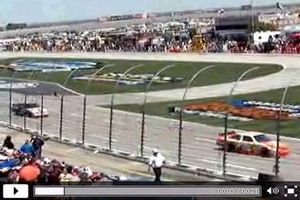 Need a wake-up call? 0US00NERS0U's Texas Motor Speedway footage is loud. More fan videos
DaQuadfatha: NL pitchers you should know
From the better-late-than-never category, here are the top NL pitchers to know about for 2009-10. (Yes, I know, I know, the season's already started but you try raising four 13-year-olds while looking for a full-time job and see how much time you have for blogging!)
TOMMY HANSON, RPH, ATL: You've heard of the "Not Ready for Prime-Time Players?" Well Prime-time isn't ready for Hanson. Delaying a promising career, the Braves are letting Hanson get his feet wet at AAA, but anyone and everyone knows he's ready to go now.
Our favorite NFL blogs of the week
bojones21: Put the field on roids
My solution to the NFL's concerns about injuries are this: Widen the playing field by 2.5 yards on each side, to start. Maybe even 5 yards on each side. This will create more space, more open field, more action and less big collisions. If you watch the Canadian Football League, you'll see a lot more space, and a lot less injuries.
JDPatsfan45: Larry Fitzgerald
The three things that make him so great are some of the abilities you dream of having for your team: 1. He can jump and make that catch over any defender and hold onto the ball. 2. He can run like the wind. If you watched Super Bowl 43, you know what I mean. 3. His route running is superb.
Our favorite NBA blog of the week
CodeNameRain: The NBA is dying
I remember people used to tune in to NBA games with such anticipation and happiness during the late '80s (even though I wasn't alive) through the mid '90s. It was, to an extent, more popular than NFL football in the '90s and certainly more exciting to watch than baseball.
Most-commented stories April 5-11
Michigan State Spartans at North Carolina Tar Heels
Los Angeles Lakers at Portland Trail Blazers
Denver Nuggets at Los Angeles Lakers
Los Angeles Lakers at Sacramento Kings
New York Yankees at Baltimore Orioles
2009 NFL Draft conversation: Lions
2009 NFL Draft conversation: Seahawks
Chicago Cubs at Milwaukee Brewers
Los Angeles Clippers at Los Angeles Lakers
Bruins hold on for another week
Mel Kiper's 2009 NFL mock draft
2009 NFL Draft conversation: Browns
Source: Angels pitcher killed in crash
Burress: 'I know the sheriff'
Tampa Bay Rays at Boston Red Sox
Chicago Cubs at Houston Astros
2009 NFL Draft conversation: Raiders
2009 NFL Draft conversation: Steelers
Chicago Cubs at Houston Astros
Washington Wizards at Cleveland Cavaliers
Questions? Comments? Expensive Yankees tickets you need to sell? Send a note to CommunityEds.
Profiles | Groups | Videos | Conversations | Message boards | SportsNation | Widgets