Welcome to The Pulse, the place to find out what the sports world is thinking. Every day on ESPN.com, SportsNation registers its opinion on a wide range of topics by casting votes and offering opinions. We'll collect the daily highlights and create a running file throughout the week to measure The Pulse of SportsNation on a wide variety of issues. Check this page every day for an update of what the 'Nation is saying.

Friday's Big Question
1. Do you care about the most recent Tour de France doping scandal?
Jan Ullrich won't get a chance to win his first Tour this year.
The Tour de France was rocked Friday by one of its biggest doping scandals ever after a group of top riders -- including the top three returning finishers -- were implicated in a Spanish doping investigation and banned from this year's Tour.
Ivan Basso, Jan Ullrich and Francisco Mancebo finished behind Lance Armstrong in 2005 but will not ride this year after their names appeared on a list of cyclists alleged to have used performance enhancing drugs. The banned riders will not be replaced, leaving the Tour with a lack of big names, but SportsNation is still showing interest in the world's most famous bike race.
Major League Baseball has endured the same kind of problem in the United States as many top players stand under a cloud of steroid suspicion and the 'Nation believes the problem is nearly equal for the two sports, though SN clearly feels cyclists have more to gain by using than baseball players.
As for seven-time Tour de France champion Armstrong, who never tested positive but has been the object of constant scrutiny and speculation, the implication of his former peers is not enough to convince SportsNation he ever used performance boosters. Two-thirds of SN still do not believe Armstrong was ever involved in doping.
What was your interest level in the Tour de France before this doping scandal?
63.7% Very interested
23.4% Somewhat interested
12.8% Not interested at all
What is your interest level now?
51.9% Very interested
30.3% Somewhat interested
17.8% Not interested at all
Which banned rider was a bigger contender to win this year's race?
62.3% Ivan Basso
36.8% Jan Ullrich
0.9% Francisco Mancebo

Which sport do you believe has a bigger problem with performance enhancing drugs?
50.2% Cycling
49.8% Baseball
In which sport do you believe you would gain a bigger competitive edge by using performance-enhancers?
81.4% Cycling
18.6% Baseball
Do you believe Lance Armstrong ever used performance enhancing drugs during any of his seven Tour de France wins?
66.3% No
33.7% Yes
Ivan Basso won the Giro d'Italia but isn't celebrating now.
The scandal is going to make it even more wide-open than it was already going to be already. Cycling fanatics will love it, fair weather fans won't care because there's no name recognition.
Andrew (Toronto)


The next Tour de France scandal is here. Seems weird, though, that this always happens AFTER a great champ has retired.
Flemming (Copenhagen, Denmark)
Banning Ullrich and Basso isn't terrible. It's exactly what should be done given their cheating. Considering that they were the clear favorites this year, maybe this will send the message that cycling isn't screwing around.
Matt (Memphis, TN)


Chaos in Le Tour. The steroids scandal is nothing compared to this in terms of overall sport impact.
Christian (High Point, NC)


Bigger than steroids in baseball if you ask me. I mean, more than 25 percent of the riders in the biggest competition in the sport have been banned. I doubt there's ever been a time when one in four players in the World Series has been on steroids.
Kevin (Manassas)
Steroids and blood doping are not the same thing, one's for endurance and one's for fast-twitch strength. But both are performance enhancers and cheaters are cheaters. Baseball takes a bigger hit here in the States because it's the National Pastime, but it's still a big problem for both.
Dave (Connecticut)
If everyone's cheating, isn't importance of each case reduced? Meaning, if we found out Lance WAS doping but everyone else was too, does it really matter?
Matt (DC)


You still can't convince me Lance was a doper. Did he EVER test positive?
Ron (Washington)
Armstrong was never proven to use banned substances, so his victories against are all the more impressive since they obviously came against some dirty riders.
William B. (Shreveport, La.)
With all of his main competitors involved in the doping scandal, it makes it much more difficult for me to believe that Lance won all those Tours au naturale.
Dan (Paris)
Thursday's Big Questions
1. What do you make of the NBA draft?
Randy Foye began with a Celtics cap but finished with a T-wolves hat.
After a flurry of trades and a chorus of boos from New York Knicks fans, the NBA draft has come and gone and it is now time to take a closer look at exactly what transpired.


A total of 15 trades went down at Madison Square Garden and the team involved in six of them, the Portland Trailblazers, has been judged by SportsNation to have had the best draft of all after getting four players, including LaMarcus Aldridge and Brandon Roy. The Chicago Bulls, who swapped the No. 2 pick to the Blazers for the No. 4 and ended up with Tyrus Thomas, are a distant second.
The biggest story of the night, though, might have been the puzzling decisions made by Isiah Thomas and the Knicks. Thomas followed the Larry Brown debacle by selecting Renaldo Balkman, the player SN feels was the biggest reach in the draft, with the 20th overall pick.
Needless to say, the Knicks fans in the building were less than pleased. That pick was followed by the selection of Mardy Collins and No. 29 and led the 'Nation to give Zeke and his team an 'F' for the draft.
SN does not think Isiah will ever again be involved in an NBA draft but sees a much brighter future for new Charlotte Bobcat Adam Morrison. The man with the floppy hair and the mustache gets the nod as next season's Rookie of the Year.
Of the teams that received grades of A+, A or A- from ESPN.com's Chad Ford, which do you think had the best draft?
48% Portland
20% Chicago
18% Memphis
5.0% Cleveland
4% Utah
3% Toronto
2% New Orleans
1% Detroit
Who was the biggest reach of the first round?
54% Renaldo Balkman at No. 20
28% Mouhamed Saer Sene at No. 10
10% Shelden Williams at No. 5
7.0% J.J. Redick at No. 11
2.0% Shawne Williams at No. 17
What grade would you give the Knicks for their draft? (Renaldo Balkman, Mardy Collins)
49% F
31% D
19% C
2% B
1% A
Was Wednesday the last time Isiah Thomas will be involved in an NBA draft?
78% Yes
22% No
Who will be the Rookie of the Year next season?
32% Adam Morrison, Bobcats
22% Brandon Roy, Trail Blazers
14% Randy Foye, Timberwolves
9% Tyrus Thomas, Bulls
9% Rudy Gay, Grizzlies
6% Other
4% LaMarcus Aldridge, Trail Blazers
3% Shelden Williams, Hawks
2% Andrea Bargnani, Raptors
Blazers basically got four first-rounders. Wow.
Rob (Warwick)
Blazers had a great draft! Roy could be ROY if he gets enough PT and Aldridge should be a really nice player in a year or two.
Tim (ATL)


Aldridge and Roy have the potential to make Portland a good team a couple of years from now but I do not think they will have an impact until they finish the overhaul of the roster.
Luke (Nashville)


I think the Bulls had a good draft picking up Thomas and Carney. Gives them depth plus they could move a couple players like Deng or Chandler for other pieces.
Scott (Boston)

Will Adam Morrison rise above the rookie competition?
You know, I'm not even a Knicks fan and I'm starting to feel sorry for them. I even yelled 'noooo' when I heard Balkman's name called. I'd never even heard of him until he was drafted.
Messiah (NY)


Isiah's pick was the worst in NY first-round draft history since the Jets took Kyle Brady.
John (Buffalo)


Seriously, I thought the ONE thing Isiah understood was the draft. He did pick Marcus Camby and T-Mac, and last year was great for the Knicks. But this? This just killed me.
Vik (Fort Myers, FL)
Balkman will be ROY, average almost a triple-double, Isiah will be Coach of the Year. And then the world will end.
Nick (Rutgers)


How can you judge Balkman so soon? The Knicks do not need another selfish scorer, they need an athletic rebounder and good defender, and that's what they got. Isiah's past draft picks are pretty good. Give it time.
Kevin (Manassas)
Morrison will the the Rookie of the Year, no doubt. He might be the only player in this draft with the mental toughness to play for MJ.
Dave (Connecticut)
The 'stache alone should win Morrison some awards. But for some reason I also like Shelden Williams. And Tyrus Thomas.
Rich (Michigan City)
Brandon Roy should get a chance to run the team in Portland and put up ROY-type numbers. He wins it.
Will (Topeka, Kansas)
Randy Foye will be Rookie of the Year, no doubt. He can do it all. Way to pass him up, Hawks.
Ryan (Buckhead)
Wednesday's Big Question
1. What will happen in the World Cup quarterfinals?
Will Beckham bend it again?
Four years ago the World Cup was filled with upsets and surprise teams. The 2006 encarnation features virtually all of the top soccer powers in the world. It won't be an easy road for any of them to reach the finals which should make for an exciting conclusion to an already fascinating and controversial tournament.


SportsNation has weighed in on the favorites to win each quarterfinal matchup and the championship.


Which team will win Friday's quarterfinal between Argentina and Germany?
55.0% Germany
45.0% Argentina
Which team will win Friday's quarterfinal between Italy and Ukraine?
86.8% Italy
13.2% Ukraine
Which team will win Saturday's quarterfinal between England and Portugal?
68.1% England
31.9% Portugal
Which team will win Saturday's quarterfinal between Brazil and France?
87.2% Brazil
12.8% France
Which team will win the World Cup?
46.7% Brazil
16.0% Germany
13.6% Argentina
9.9% England
6.7% Italy
3.4% France
2.5% Portugal
1.2% Ukraine


Nearly all of the talk in SportsNation surrounds the much hyped Brazil-France matchup.


Brazil-63 France-0
Justin (Blacksburg)


Brazil better be careful because they've given up great scoring opportunities to every team they've faced, and now they've got a team poised and experienced enough to finish those chances. I'm rooting for the upset here.
Greg (Baton Rouge)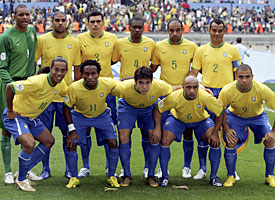 Brazil is SportsNation's pick to win it all.
Six former World Cup champs enter the tournament, all six survive to the quarterfinals. Yaaaaaaawwwwwwnnn.
Matt (Fairfax)


I find it interesting how quickly all the Ronaldo haters disappeared now that he's tied for second in the tournament in scoring and set the all-time mark.
Drew (Canada)


I don't think it matters that it's France at all. Brazil will punish anyone and everyone. When you are three deep of stars at each position, forget about it.
Jake (VA Beach)


Brazil wants payback for 1998 and will probably get it. But the French do have a chance. Defense alone may not win championships but it helps a lot. The French defense is rock solid and Brazil's is suspect.
Moe (Divonne)


I can't see the Brits getting past the Portugal team. They simply aren't good enough.
Donal (Boston)


Everyone on Portugal has a yellow card. They are going to be too timid. England wins.
Scott (Burlington, MA)

Tuesday's Big Questions
1. How good is David Ortiz in the clutch?
2. What will happen at the NBA draft?
Would you pitch to David Ortiz?
On Saturday, Boston slugger David Ortiz lifted the Red Sox to a win against the Phillies with a walkoff home run. On Monday, after a day to think about things as rain washed out play on Sunday, the Phillies tempted fate again.
With runners on first and second and the game tied in the 12th inning, the Phillies elected to pitch to Ortiz, who responded with another game-winning hit. It was Ortiz's 10th walkoff RBI since 2003, the most in baseball. But forget the national pastime; SportsNation voters think Ortiz is the most clutch athlete in all of sports.
Who is the most ''clutch'' athlete in sports?
30% David Ortiz
27% Tom Brady
18% Tiger Woods
14% Robert Horry
11% Derek Jeter
Look, for a little bit I bought into the sabermetrician philosophy of clutch-hitting being a myth. Now, I'm convinced the statisticians simply have not figured out how to quantify what is obviously a real phenomenon, and simply say it does not exist as an effort to cover their failure at devising a formula.
Ephraim (Maple Shade, N.J.)
Ho hum, Big Papi delivers again. He is the one who should be nicknamed "The Mailman," because it seem he always delivers.
DC (Altoona, Pa.)
It's not too surprising that Ortiz has 10 game-winning hits since 2003, but Orlando Cabrera has seven!
Mat (Scottsdale, Ariz.)
I've officially run out of superlatives for David Ortiz.
John (Portland, Maine)
Do you walk David Ortiz and face Manny Ramirez, or do pitch to Ortiz? Apparently you let him win the game. That pitch was down too, nice piece of hitting.
Chris (Connecticut)
It just boggles the mind that teams continue to pitch to Big Papi in late/extra innings. When will they learn he's an absolute monster in clutch situations?
Joel (Las Vegas)
Who will end up as the top pick in the NBA draft?
Just because this year's NBA draft doesn't have a consensus No. 1 pick in the mold of LeBron James doesn't mean the fashion on display by top picks in New York will be the only interesting part of the process. With as many as five or six players seemingly legitimate options for Toronto with the No. 1 overall pick, draft speculation continues to heat up as the hours tick down toward David Stern advancing to the podium.
SportsNation is far from sold on Italian big man Andrea Bargnani, ranking him as both the riskiest potential top pick and the last guy they'd take with the pick. But the verdict is less clear on former Gonzaga star Adam Morrison. While voters tab him as the second-riskiest pick, he's also the top choice of voters if they controlled the No. 1 pick.
Which player would you take with the No. 1 pick in the NBA draft?
33% Adam Morrison
22% Tyrus Thomas
21% LaMarcus Aldridge
14% Brandon Roy
10% Andrea Bargnani
Which player would be the riskiest No. 1 pick in the NBA draft?
36% Andrea Bargnani
21% Adam Morrison
20% Tyrus Thomas
13% Rudy Gay
9% LaMarcus Aldridge
Doesn't it seems like any of the top eight guys could go with either the second pick or the eighth pick? Has it ever been like that before (maybe the infamous Kwame draft?)
Matt (Fairfax, Va.)
The Bulls have made the playoffs the last two years, and they have the No. 2 and No. 16 picks this year, and whatever pick the Knicks give 'em next year. If they're going to return to the NBA Finals, it will be in the next few years.
Matt (Chicago)
How far does J.J. Redick fall? Is he going to be sitting there with a terrible look on his face in the mold of Matt Leinart and Aaron Rodgers?
Charles (Pittsburgh)
I think there is more speculation around the No. 2 pick, just like the NFL Draft. Depending on who goes first, it could shake up a lot. Do the Bulls trade out for Marion, KG, etc., do they sit and take Thomas, does MJ trade up to take Thomas, and if so, do the Bulls draft Roy and then what do they do with Gordon? Interesting!!!
Jake (Virginia Beach, Va.)
All I care about is who are the Celtics taking? They need a PG. If Ainge takes Rondo, I will be having a Celtics fan protest.
Chris (Connecticut)
Forget about Isiah; we finally get to see the train wreck that is Michael Jordan in the front office make a draft pick after his long hiatus.
Jason (East Lansing, Mich.)
---
Monday's Big Questions
1. Who should be the winners at the ESPYS?
Lance has seven Tour de France titles. Is a third ESPY in the cards?
The ESPYS are quickly approaching and it's time for the voting to begin. There are 39 categories to be decided and SportsNation is already offering up opinions.
There seems to be little consensus early on in any of the major categories, though many agree that Roger Federer belongs not only in the Best Male Tennis Player category but also among the Best Male Athlete candidates. As for the Best Male and Female Athlete, Best Team and Best Coach/Manager voting, there seems to be wide-ranging support for nearly all the candidates.
Voting totals will not be made public until the show airs Sunday, July 16 at 9 p.m. ET on ESPN, but the 'Nation got things started Monday morning with some lively debate.
Who should win the ESPY for Best Male Athlete?
Shaun Alexander: Running Back
Lance Armstrong: Cyclist
LeBron James: NBA Forward
Albert Pujols: First Baseman
Vince Young: Quarterback
Who should win the ESPY for Best Female Athlete?
Annika Sorenstam: Pro Golfer
Sheryl Swoopes: WNBA Forward
Hanna Teter: Snowboarder
Melanie Troxel: Drag Racer
Which team should win the ESPY for Best Team?
Chicago White Sox: World Series Champions
Maryland Lady Terrapins: NCAA Women's Basketball Champions
Miami Heat: NBA Champions
Pittsburgh Steelers: Super Bowl Champions
Texas Longhorns: Rose Bowl Champions
Who should win the ESPY for Best Coach/Manager?
Bill Cowher: Steelers coach
Billy Donovan: Florida Men's Basketball Coach
Ozzie Guillen: White Sox Manager
Jim Larranaga: George Mason Men's Basketball coach
Pat Riley: Heat Coach
What's the definition of athlete here? No one but Lance could have done what he did.
Jake (VA Beach)
Nobody combines size, strength, speed, and agility like Lebron. He is literally the best "athlete" in sports.
Chris (Lexington, KY)
Phil Mickelson or Roger Federer should be there over Vince Young.
Bob (Georgia)
How is Albert Pujols on that list? Don't you have to be human to qualify?
Brian (Madison, WI)
Annika is the best female golfer in history and I'll give her any award for which she's nominated!!
Tim (ATL)
Heat are the best team. No one expected them to win when the playoffs started but look at what Wade and the team did.
Mike (NYC)
Gotta go with the White Sox. Only one loss in the playoffs. How can you argue with that?
Julius (Lansing, MI)
Ozzie Guillen took a team no one thought had a chance and won the whole thing, but you have to think recent events hurt his chances.
Ryan (Boston)
Cowher is Best Coach. Inspiring his team to do what they did throughout the playoffs with a young QB like Big Ben and the respect he showed the Bus.
Mike (NYC)
Gotta love that minor league manager's tirade over the weekend. Classic. I vote for an ESPY for him in his own category.
Mike (Philly)
USC couldn't touch Vince Young in the Rose Bowl.
Which contest should win the ESPY for Best Game?
Agassi vs. Blake: U.S Open
Braves vs. Astros: Game 4, NLDS
USC vs. Texas: BCS Championship
Which play should win the ESPY for Best Play?
Aaron Rowand: Nose For The Team
David Wright: One-Handed Catch
Nathan Vasher: NFL's Longest TD
Reggie Bush: Return TD vs. UW
Tyrone Prothro: Crimson Tide Catch
Blake vs. Agassi. Had me watching tennis at 1 a.m.? Had to be amazing.
Josh (Lansing, MI)
I don't like either the Astros or Braves but that was a great game! Very exciting!
Jose (Puerto Rico)
USC vs. Texas. This category shouldn't even be close.
DC (Altoona, PA)
If anyone says they've seen a better catch than Prothro's they're lying.
JB (Denver, CO)
Prothro's catch was so incredible we might never see something like that again. The other plays could all be repeated but I don't think Prothro's catch could be.
Mike (Dallas, TX)
Vasher, because it was the last play of the half. A lot of players would have downed it and went into the locker room.
Dan (Bmore)
I have no idea which play that was by Reggie Bush but I'm sure it was absolutely sick and I'd know it if I saw it. They should just take his highlight reel from draft day and give the whole thing an award.
Matt (Fairfax)
David Wright's one-handed catch. Man was a human highlight in the field. Plus, if you receive the Web Gem of the Year you should be golden.
Jake (Va. Beach)
Aaron Rowand should win the Best Play award simply for his pain tolerance and the fact that he looked like such a bad dude walking off the field.
Tyler (Minnesota)
---
Missed an edition of The Pulse? Click here to check out the archive!