Welcome to The Pulse, the place to find out what the sports world is thinking. Every day on ESPN.com, SportsNation registers its opinion on a wide range of topics by casting votes and offering opinions. We'll collect the daily highlights and create a running file throughout the week to measure The Pulse of SportsNation on a wide variety of issues. Check this page every day for an update of what the 'Nation is saying.

Friday's Big Questions
1. How do you feel about Team USA's loss?
2. What to make of Andre Agassi's final U.S. Open run?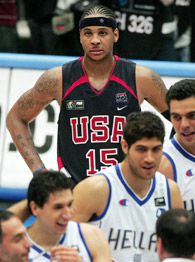 Carmelo Anthony and Team USA are stunned and searching for answers.
USA basketball suffered another disappointing setback Friday at the FIBA World Championship, a 101-95 defeat at the hands of Greece in the semifinals. Team USA has a chance to salvage the bronze medal against Argentina but the damage has already been done.
Many thought this was the team that would end America's recent basketball struggles at the international level and the failure to win the gold medal is sticking in the craw of SportsNation. A majority think the US will defeat Argentina to win the bronze but SN points to many areas where directing manager Jerry Colangelo, coach Mike Krzyzewski and the players could have done better.
Be it lack of defense, a bad game plan or a poorly selected roster, The 'Nation has plenty of reasons Team USA failed again a few about what needs to be done to correct the problems.
Will Team USA defeat Argentina to win the bronze medal at the FIBA World Championship?
Yes
No
USA basketball has lacked the little things and teamwork for some time now.The NBA has marketed individual talent for so long that the importance of team play has long since faded. A mish-mash of talent cannot compete on a high level with a real team.
Chimp (Oshkosh, WI)


This is no surprise. The NBA does not play basketball. David Stern has created a lesser variant that prizes entertainment above basic skills and strategy.
Paul (Boston)


Every season in the NBA it is the team that plays best together and not necessarily the team with the most talent that wins. Why are we shocked when teams that define "team basketball" beat our individuals?
JD (Chicago)


A college coach for NBA players? First, we need a basketball academy stateside. Next, we need to teach fundamentals: passing, shooting and defense. Finally, stop sending an All-Star team. We need to develop the top amateur players from the age of 16 and make them our national team for international competition.
Dennis (Albany, NY)


Coach K's professed plan -- "tough" defense and letting the players go on offense -- failed. The team gave up 101 points and was unable to stop the pick-and-roll. His four big men -- Bosh, Miller, Brand, and Howard -- played a collective 30 minutes. The real question is why this should be a surprise. He's used the same strategy at Duke for the past decade, and consistently under-performed with superior talent.
Jim (New York)


Why not just send college kids? Is it that important to be No. 1? Let the college kids have the international tourneys and it will only help American basketball and the NBA down the line.
Ron (Park Forest, IL)


Two words for you: Kobe Bryant. You will see the gold when Kobe plays. He is the best player in the world, not Wade or LeBron, who are both excellent players but not at Kobe's level as the media likes to dream. Viva, Kobe!!!
Joe (Sioux City)


We need Michael Redd. We didn't have any outside shooting. I still don't understand why Colangelo failed to select any more 3-point shooters. And we can't defend anybody, whether it be zone or man-to-man. We need Kobe badly!!!!!
Doug (West Lafayette, IN)
The rest of the world has their best players out there and we don't. Let's see them beat Kobe, T-Mac, Garnett, Duncan, Shaq, LeBron, 'Melo and then Wade and J-Kidd.
D Jack (Detroit)


They simply lost to the better team on this particular day. Greece played an exceptional game. They executed the pick-and-roll. The United States had opportunities but this game should be viewed for what Greece did and not what the United States did not do.
Jon (Lubbock, TX)


I don't see why this is a big deal anymore. The U.S. had its time with the Dream Team and it's just a different era now. So what? This is good for international competition.
Steve (Columbus)

Agassi is enjoying the twilight of his U.S. Open career.
Andre Agassi continued a sentimental run through his final U.S. Open with a thrilling five-set win over Marcos Baghdatis on Thursday to land a spot in the third round.
Should Agassi beat Benjamin Becker in that match he will likely face off against Andy Roddick in a dream matchup of Americans, one that would no doubt have Flushing Meadows rocking.
But does Agassi have enough left in his 36-year-old tank to make a run all the way to the title? SportsNation says no, but that doesn't mean the citizens of SN will stop rooting for Andre in his U.S. Open swan song.
Can Andre Agassi win the U.S. Open?
61% No
39% Yes
Agassi refusing to go away quietly! Gotta love it!!
Brian (Albany, NY)


While I love that Agassi won, I feel bad that the other guy had to fight through that cramping. He pulled off some great stuff on half a thigh.
Christian (High Point, NC)
Thought I was going to get to bed early when he Agassi went up 4-0 in the fourth. Then he proceeded to lose seven of the next eight games. Agassi is done. All he did was defend and wait for Baghdatis to make mistakes. Can't win the U.S. Open on defense.
Sarge (Overland Park, KS)


Maybe it's just me being old, but this Agassi run looks a lot like Jimmy Connors' farewell a few years ago.
Jason (Scarsdale, NY)


One more long match and Agassi is done. No way his legs can hold up for a title run. Just too many young guns out there.
Walter (Michigan)


This is a great story and all, but it will come crashing down when Andre can't return Roddick's serves in the fourth round. Not that I don't want Agassi to win. The deck's just stacked against him.
Thomas (Chicago)
Andre Agassi underwent one of the greatest transformations -- personally and athletically -- of any athlete of his generation. He's awesome. But he's also too old to win the U.S. Open. Just soak up every point because he's going to be gone very soon.
JK (INDY)
I'm not a tennis fan, but watching the crowd get behind Agassi last night -- and seeing Baghdatis seemingly enjoying the scene between games -- was pretty darn cool!
Daniel (Champaign, IL)
---
Thursday's Big Questions
1. What are your bold NFL predictions?
2. What are your bold college football predictions?
Monday marked a sad day for SportsNation as Dan Shanoff moderated his final Morning Quickie chat ever. Tears were undoubtedly shed across The 'Nation as the daily doses of analysis, humor and irreverence came to a close.
And among all the heartfelt tributes to Dan and the Quickie there was time to talk about the upcoming football season. Members of SportsNation offered up their boldest, most outrageous predictions for both the NFL and college seasons in true MQ style. What better way to send the Quickie chat into the sunset.
---
SN's boldest NFL predictions?
Packers. Playoffs. Why not us?
Christian (High Point, NC)


Colts versus Bengals on Friday night is an AFC Championship game preview.
Curtis (Indy)

Can Art Shell bring respectability and playoff football back to Oakland?
My boldest prediction has the Oakland Raiders finishing with a wild card spot. Art Shell has this team playing hard in the preseason. Many have predicted this team to be one of the worst in the league but I'm not so sure about that.
R. Keane (Old Southington, CT)


Gonna be a Homer here, but I think the Skins will prove their preseason was a fluke and fight for the division title.
Nick (DC)


Tom Brady wins MVP, Pats Win another SB.
Bob (Boston)


Vikings will be feast or famine. They're 11-5 if Johnson never gets hurt and the D really has improved or 5-11 if things go as expected. I say famine.
EMoe (Divonne, France)


My Kansas City Chiefs will finally get an average, top-15 defense, but now their offense will drop with Herm running the ball on 3rd and 7. D'oh!
Willy (NJ)


Jeff George will throw more TDs than Aaron Brooks. Write that down.
Derek (Lincoln)
Fred Taylor plays all 16 games. (I will now accept my award for "Prediction That is Least Likely to be Right").
Jon (Malvern)


Edgerrin James runs for 2,000 yards in Arizona, leading the Cardinals all the way to the NFC title game, only to lose to the Cowboys.
Clinton (Indianapolis)


Eli & Peyton get into a slapfight during halftime of Manning Bowl. Cooper steps in to break it up, Archie ends up grounding all three.
Ephraim R. (Maple Shade, NJ):


Auburn makes it to the national championship game with one loss and ends up winning the big enchilada.
Joe (Huntsville, AL)


WVU goes undefeated and doesn't get the National Title game invite due to their easy schedule.
Mat (Scottsdale, AZ)


KU wins the Big 12 North. Nebraska is waaaaay overrated.
Jeff (KC)


Notre Dame loses one of its first four games and Weis makes a million hidden excuses, just like he did last year!
Matt (DC)


Florida State will crush Miami and go undefeated and beat West Virginia in the National Championship. Then Bowden will retire and Rich Rodriguez will leave West Virginia to coach Florida State.
Kevin (Manassas)
Even after the loss of Randy Walker this year, Northwestern is still able to end up with a winning record and play in the Motor City Bowl. Sophomore running back Terrell Sutton is going to have a solid year.
JK (INDY)
Chad Henne and Drew Stanton tie for the Heisman. Bold enough for you?
Tom (West Bloomfield, MI)


USC will face stiff, stiff penalties for playing fast and loose with the NCAA rules it will happen sometime this year since all of their glamour players have left.
Luke (Nashville)
---
Wednesday's Big Questions
1. Which team wins the Super Bowl?
2. Is Ryan Howard the National League MVP?
Peyton Manning
After two days spent breaking down the conferences SportsNation offered up its Super Bowl predictions on Wednesday. If SN's wide variety of matchups and winners is any indication the race is wide open.
And as Major League Baseball heads down the home stretch The 'Nation debated the MVP credentials of second-year Phillies slugger Ryan Howard, who has tied the Philadelphia single-season home run record and helped put the Phils back into the NL wild card race.
The Morning Quickie is just days away from extinction so we continue our ode to Dan Shanoff and his regulars with SportsNation's comments on the above subjects.
---
Which team wins the Super Bowl?
Colts over the Bears. The Colts edge by the Bengals and the Bears upset the Seahawks to make it there before the Colts' offense proves to much in a 24-13 win.
Curtis (Indy)


Steelers over G-Men. The Steelers lost nothing significant from last year's roster but I pick the Giants because it would be funny to see Eli beat Peyton to the big game.
Ted (Pittsburgh)

Are Bill Parcells and the Cowboys headed back to the big game?
I'll go with the Most. Media. Friendly. Super. Bowl. Ever: Patriots over Cowboys. Bledsoe against his former teammates and his golden boy replacement, Belichick vs. Parcells, the student vs. the master, and a WR who shall not be named.
Matt (Fairfax)


Mrs. Plum, in the kitchen, with the lead pipe. That means Seattle beats Denver in a shootout between old AFC West rivals.
Ben (Denver)


I so badly want to say the Redskins but have two words for you: Mark Brunell. 'Nuff said. I'm going to go with the Colts. This is the year Longneck gets it done, with some help from Adam V.
Chris (CT)


Big Blue! Giants over the Chargers. Eli Manning goes Carson Palmer in his third year, the D breaks every sack record in the book with four games against Bledsoe and Brunell, then they burn through the NFC playoffs on the back of Tiki.
Ephraim R. (Maple Shade, NJ)


Bit of a stretch, but Ravens and Panthers in the Super Bowl. Ravens win a 10-6 nailbiter. Defense rules in the NFL.
Matt (DC)


Super Bowl champ: Denver Broncos over the Carolina Panthers, 28-24. Javon Walker is your Super Bowl MVP. If Plummer has a season similar to last year, the previous statements will all come true.
Sledge (Birmingham, AL)
Carolina Panthers. They have a solid team. Steve Smith has some help this year in Keyshawn, Foster will be a stud, Jake is Jake and their D is solid.
Jon (Malvern)


I'm a Steelers fan, so this is hard: Cincinnati will win the Super Bowl. Cincy 35, Tampa Bay 20. Palmer and the Johnsons will turn every defense they face into meal. No choking from the Bengals will lead them past the Colts in the AFC title game.
Rafael (Blacksburg)


Who plays: Cowboys and Raiders. Who wins: Raiders. Jeff George licking the Lombardi trophy with his tongue while he's interviewed as the MVP, Moss mooning the crowd and the world. Goodell resigns 30 days later. Hell freezes over 72 hours afterward.
Bobby (NYC)

Is Ryan Howard the MVP?
Howard has MVP numbers with 48 HRs and 125 RBI.
IF the Phils win the wild card Ryan Howard has to get heavy consideration. He may end up with better numbers than Pujols if he keeps this torrid stretch going.
Nick (DC)


Why is someone the MVP only if their team gets to the playoffs? You can still be the most valuable player even if your teammates stink.
Rocco (DC)


Deciding the MVP based on whether or not a team makes the playoffs is just dumb. Especially when the WC is going to be decided by two games or less. If the Phils somehow finish one game back of the Reds, that means Howard isn't actually that good of a player? Get real.
Matt (DC)


Can you seriously tell me there's a player in the Natrional League who means more to his team than Ryan Howard? He carries that offense, especially now that Abreu's gone.
Jake (Philly)


Howard's not the MVP. Not simply because he's had a hot second half. I would say you have to give it to Beltran. Or I do I dare say give it to the Johnson kid in Florida? Lowest ERA in the majors? Come on, why isn't he getting that recognition?
bobby (NYC)
Let's not forget Howard is an OLD soph at 27. Granted, he is doing amazing things, but it's not like he's that young in comparison to other rookies.
Jake (VA Beach)
I still think Carlos Beltran is the front runner even if the Phillies get the wild card. But Howard is right on his tail.
PJ (NY)


I hate the Mets, but it would be a travesty if Beltran didn't win it. He is getting punished because his team has played well all year?
Mark (NJ)
---
Tuesday's Big Questions
1. Which teams will win the AFC divisions?
2. Who/what will be the X-Factors in the AFC?
Tom Brady
As the Morning Quickie continues the countdown to its Friday finale, the voices of SportsNation continued their look at the upcoming NFL season with an AFC preview.
The Quickie regulars debated whether Miami can overtake New England in the East, how things will play out between Pittsburgh and Cleveland in the North, whether anyone in the South can challenge Indianapolis and why or why not the Chiefs are the best team out West.
Check out which teams The 'Nation thinks will come out on top and which players will have the biggest impact on the AFC races.
---
Which team will win the AFC East?
Patriots are the team to beat. Their schedule is the easiest it's been in years and Miami is still a work in progress.
Moe (Divonne)


The Nick-tator is taking over the AFC. Dolphins are definitely the team to beat. Culpepper has looked real good, Ronnie Brown is on the verge of becoming a stud, Chambers is All-Pro and the defense has been Saban-ated
Sean (Miami)

Will Nick Saban push Miami over the top?
Forget the Dolphins. Ridiculously trendy pick. Why? Saban? Are you that in love with this guy that you can't see the lack of talent across the board? You seriously believe they are superior to the Pats? Wow. This blows me away.
Scott (Boston)


The Pats, because they have Tom Brady and Bill Belichick and the other teams don't.
John (Portland, ME)


You have to give the Dolphins some respect. They're a good team in a bad division.
Shaun (New York)


J-E-T-S, JETS, JETS, JETS! Pennington stays healthy all season and Mangini works that Belichick magic.
Christian (High Point, NC)


AFC East X-Factor?
Adam Vinatieri. Will subtracting him from the Patriots put a chink in Belichick and Brady's armor?
Matt (DC)


I'll go with Ronnie Brown. We all know what Daunte can do and this will be Brown's chance to show he can carry the load. And if he does, that takes pressure off Daunte which could make the Dolphins a legit playoff contender.
Dennis (DC)
Move over Belichick. The new genius is in Miami y se llama Nick Saban.
Mike (DC)


Tom Brady's health. If he stays intact they are a contender. If not, I'm not sure if Matt Cassel can fill in.
Jonathan (Buffalo)


Has to be modern medicine. How would teams like the Dolphins and Jets be looking without miraculous offseason rehabs?
Scott (Silver Spring)

Which team will win the AFC North?
Will Carson Palmer's surgically repaired knee hold up?
The Steelers are still the team to beat. The best defense in the league and a more experienced Willie Parker should be enough to win the division!
Mike (Saginaw)


Bengals. Carson. Chad. Ball-hawking defense. Marvin. Who-dey?
John (Georgetown, KY)


Have go with the Ravens. The addition of Steve McNair, a healthy Jamal Lewis and a nasty D (going back to the 4-3 to keep blockers off of Ray Ray). All the makings of a darkhorse squad.
Brian (Ft. Lauderdale)


Definitely the most fun division in the league to watch. Every game is going to be physical and the winner of that division is going to the Super Bowl
Eli (Cleveland)


AFC North X-Factor?
X-factor is McNair in Baltimore. If he can stay healthy they could challenge Cincy or Pittsburgh for that division or the WC. Neither team is without problems itself and the Ravens simply needed offense.
Jake (VA Beach)


Gotta be the running backs. Can Jamal Lewis return to form? Will Willie Parker turn into a one-year wonder? Will Chris Perry continue to improve? Will rookie Jerome Harrison make noise in Cleveland?
Douglas (UMass)


WRs Mark Clayton and Derrick Mason in Baltimore. With Boller out and McNair in their numbers will shoot up and they'll keep defenses honest.
Mark (Montauk)


X-factor: Will any Bengals get arrested during the season?
Tom (Ann Arbor)


I think it's gotta be the various QB health issues on playoff bound teams: Palmer, Roethlisberger, McNair. If one of them gets injured, you can kiss his team's playoff hopes goodbye.
Jake (Va Beach)

Which team will win the AFC South?
Can Joseph Addai pick up the slack in Indy?
Colts. Addai is going to fill in nicely for James, you still have the best passing game in the NFL and the defense is quite capable of holding down offenses. Plus, you have the best clutch kicker in the game in Vinatieri.
Mike (Grand Rapids, MI)


I hate to say it but it's the Colts. They play in the easiest division and will have home field in the playoffs.
Jeff (KC)


Before Greg Jones went down yesterday I would have said the Jaguars, but LaBrandon Toefield just doesn't cut it as the starting RB when Fragile Fred Taylor inevitably gets hurt.
Mike (DC)


Doesn't matter what anyone says, the Jags and everyone else lack the horses to dethrone the Colts. Even a Colts team that lost Edge.
Jason (Michigan)


Tennessee. Volek can bomb it, Collins can bomb it, they stole away some of the Colts' D and oh, yeah, they have that Vince Young guy, too.
Clinton (Indianapolis)


AFC South X-Factor?
The runners in Indy. How long will it take Addai to become adept at recognizing blitzes? Due to inexperienced blocking will Peyton get happy feet again?
Tom (West Bloomfield, MI)


Fred Taylor could be a huge X-factor. If he stays healthy the Jags might look an awful lot like last year's Steelers: QB good enough for a big play here and there, WR/QB combo (Matt Jones) as an offensive X-factor, solid running game, shut-down defense.
Mike (DC)


X-factor in Houston is not Mario Williams (one defender does not a champion make). It's the new coach. Does Kubiak have any of his own tricks to make that team better or are they just an imitation of the Denver Shanahans?
Toasty (Hartford)


I don't think they will improve as dramatically as the Dolphins, but the Titans will get around 8-9 wins this year and could mess up someone's playoff hopes.
Louis (Montreal)

Which team will win the AFC West?
Is Herm Edwards the missing piece for KC?
The team I keep coming back to is the Chiefs. They have a solid quarterback, good offensive weapons, decent special teams and match up well in their division. The defense is getting better. They aren't perfect, but top to bottom I don't see a better AFC team.
Tom* (Parkville, MD)


The Chiefs. Herm Edwards, a full-time LJ and an improved defense make them scary.
Brendan (Boston)


Broncos basically have the same team. All of the other contenders from last year lost key players. I would say Denver.
Jay (Baltimore)


Broncos. Finally another guy to catch the ball, you know they're gonna get 1,000 rushing yards out of somebody, Champ is lockdown and if the front seven produces like last year, watch out.
Sledge (Birmingham, AL)


I'll say the Chargers. I'm sure we're all familiar with their unusual schedule from last year, and they're a quality team. I'm saying 12-4 and a division win.
Ephraim R. (Maple Shade, NJ)


AFC West X-Factor?
If we're talking about the Chiefs,and we're talking about an X-factor, don't we have to mention Dante Hall. He'll return at least three kickoffs for TDs this year.
Jason (East Lansing)


Philip Rivers is a huge X-factor for the Chargers. He has to play like Brees and not Leaf. LT and Gates cannot be as effective if they have no one to pass them the ball. Yes, LT can run but he is huge in the receiving game also.
Tim (Indy)


AFC X-Factor will be Jay Cutler. I can see him taking over for Plummer and rallying the Broncos in the second half of the year to be the team that no one wants to face in the playoffs.
Phil (Cleveland)
---
Monday's Big Questions
1. Which teams will win the NFC divisions?
2. Who/what will be the X-Factors in the NFC?
Terrell Owens
As the Morning Quickie chat counts down to it's finale on Thursday, August 31, we wanted to dedicate this week's Pulse to the voice of SportsNation.
On Monday, the Quickie regulars looked at the NFC and sounded off on division winners and x-factors. Has there ever been a bigger x-factor than Terrell Owens? Can Mike Martz revive the offense in Detroit? Will the Saints use Reggie Bush on every play?


Read what Matt (DC), Jake (VA Beach), Christian (High Point, NC) and the rest of the Quickie gang had to say about the upcoming season.
---
Which team will win the NFC East?
Have you seen the catches Terry Glenn has made? They don't even need Terrell Owens. With a solid defense and a decent running game, I like the Cowboys.
Matt (DC)


Giants. I think they are the most solid of any of the teams there. They have the QB, RB, WR. And their defense is pretty good.
Jonathan (Buffalo)

Can Joe Gibbs get the Redskins back on track?
Cowboys. Bill Parcells is the main reason. Drew Bledsoe can be steady enough to avoid all the pitfalls that Mark Brunell, Peyton Manning, and Donovan McNabb will trip up on.
Christian (High Point, NC)


My pick is the Redskins. 1) I'm a homer, but 2) preseason doesn't matter. Joe Gibbs is a great coach and with Williams and Saunders they have two coaches that will get this thing on the right track period.
Chris (CT)


The Redskins will win the division. They have a great offensive line and depth at RB even with Clinton Portis not at 100 percent. They have great receivers, and I don't care what everyone says, Al Saunders will have the offense looking good. And their defense is very respectable as well.
Kevin (Manassas)


G-men. The best team from last year will improve and they have positional stability that the rest of the East just doesn't have.
Ephraim R. (Maple Shade, NJ)


NFC East X-Factor?
Gotta be Terrell Owens. Do I even have to explain why?
Matt (DC)


Are the offensive lines in Dallas and Washington good enough to keep Bledsoe and Brunell healthy?
Dennis (DC)


Eli is the x-factor in the NFC East. If he's the early '05 Eli, the Giants will be tough to beat. I think he'll be more like the late '05 Eli, and might not even complete 50 percent.
Mike (DC)


Clinton Portis. If his injury lingers, and they can't run a power offense, they're done. If the injury is a non-factor, they can run all they want and not make Brunell try to win it.
Hende (OH)


All the former Hurricanes on the Redskins will be the x-factor in the NFC East. Clinton Portis, Santana Moss, Sean Taylor, Rocky McIntosh. Those players bring a winning attitude and swagger on both sides of the ball.
Sean (Miami)


Which team will win the NFC North?
Is there anything left in Brett Favre's tank?
Packers. They lost five games by three points or fewer last season. They've improved their defense, and their RBs are healthy. Favre should be better disciplined this year (because of these last two). And the division stinks. Only major concern is whether the offensive line can gel.
Christian (High Point, NC)


Vikings by default. What a horrible division. Yuck.
Erik (St. Pete)


Chicago. Everyone else in the division stinks. Brad Johnson is not the answer to the Bears defense.
Cliff (Philly)


For some reason I'm picking the Lions. I think Martz has the perfect situation with that offensive firepower and I think Ernie Sims is this year's Lofa Tatupu or Shawne Merriman. I like the Lions to win the division and then lose their first playoff game.
Matt (Fairfax)


NFC North X-Factor?
Chester Taylor is the x-factor. If he shines he'll be the best offseason pick up by far.
Erik (St. Pete)


Mike Martz. Can he get anything out of the Lions offense? If so, they might be a surprise team.
Dennis (Austin)


Ahman Green. If he returns to old form, the Packers might be a legit contender for the division title.
Matt (Hoboken)


The Vikings offensive lline. The Vikes had issues with the line last year, both with the passing and running game during the early part of the season. If the line performs well the Vikes will win the division.
Kev Wash (Richmond, VA)


Running backs across the division. The battle in Chicago, who the heck runs in GB, can Kevin Jones be '04 KJ, and will Chester Taylor carry a full load for the Vikes?
Jake (Va Beach)


Which team will win the NFC South?
Will Steve Smith's hamstring be a liability?
The Panthers have to be considered the front-runner for the division, as they're the most complete on both sides of the ball.
Christian (High Point, NC)


Gotta go with Tampa Bay. They are still a top flight defense, have a good QB earning his dues in Chris Simms, a healthy Cadillac, and a winning coach in Jon Gruden.
Nick (DC)


I'm not sure if GOD himself could carry the Saints to a division title. And no, Reggie Bush is not God.
Cliff (Philly)


Carolina looks G-O-O-D.
Jack (Toronto)


Wide open division. Anyone except NO has a legit chance, but you have to go with Carolina. The drug investigation might be a story to follow with them.
Dennis (Austin)


NFC South X-Factor?
Steve Smith's hammy.
Ryan (Jersey)


Carolina RBs. Can DeShaun Foster stay healthy or is rookie DeAngelo Williams going to get all the carries? If they both stay healthy and produce, the Panthers could have a very potent offense.
Luke (Nashville)


Are the Saints smart enough to utilize Reggie Bush on approximately 94 percent of their plays?
Matt (Fairfax)


Matt Schaub . . . the best chance for Atlanta to win.
Jeff (KC)


Which team will win the NFC West?
Can Shaun Alexander survive the Madden Curse?
Seattle. When you have a balding Matt Hasselbeck and *Sweet* Shaun Alexander you should be all set.
Chris (CT)


Isn't that division just Seattle and Friends?
KB (Baltimore)


San Fran . . . ah hahaha . . . almost got through it without laughing. Uh . . . I'll take Seattle.
Jack (Toronto)


Tempted to say Seattle, but I think the chip on their shoulder from the Super Bowl will negatively impact their performance. Rams are a year away, and San Francisco is a decade away. That leaves ... dare I say it? ARIZONA!
Christian (High Point, NC)


As much as I'd like to nominate Arizona, just to cheese off the whiny "refs-cost-us-the-Superbowl" Hawks fans, it will of course be Seattle.
Tom (West Bloomfield, MI)


NFC West X-Factor?
Arizona's offensive line is one of the biggest x-factors in the league. They will determine if they are a pretender or a contender.
Nick (DC)


The Madden Curse. Can it ruin the Seahawks in THAT division?
Tim (Indy)


Kurt Warner. If he can get those WR's the ball, it opens up the running game and the Cards are very, very scary on offense.
Ryan (Buckhead)
---
Missed an edition of The Pulse? Click here to check out the archive!