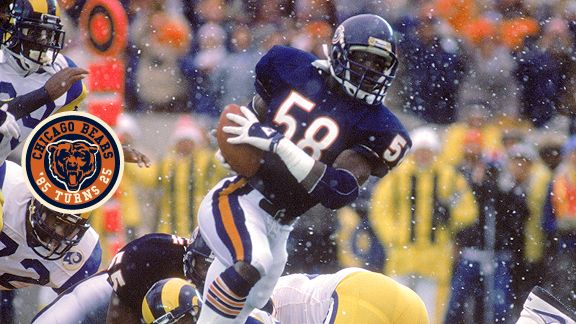 Jonathan Daniel/Getty Images
A return for the ages
Wilber Marshall's touchdown against the Rams was an enduring memory for '85 Bears
Editor's note: ESPNChicago.com is celebrating the 25th anniversary of the Chicago Bears' dominant 1985 season and victory in Super Bowl XX. We'll have weekly features on each game from '85, video interviews with key figures, photo galleries and more.
He says his memory isn't great, all that head-banging all those years. But when it starts flowing, it hardly stops for Wilber Marshall, the recollections of the 1985 NFC Championship Game lightening the mood and bringing him back to the city that has barely seen him since.
"

I felt like I was in a dream. We were in the 46 defense, we had a coverage blitz on from the middle and we were coming with it. ... It popped out and I just picked it up. It was just destiny. Everything was working that year. Every week we expected something crazy to happen, and it usually did.

" -- Wilber Marshall
"Chicago was the world to me," said the former linebacker many considered the best athlete on a richly talented defense.
He was just 23, in only his second year in the league, and already reinventing the outside linebacker position in Buddy Ryan's unique system. Marshall still thinks that innovation is what keeps him from being mentioned in the same company as Hall of Fame outside linebackers such as Lawrence Taylor, what has kept him pretty much out of the Hall of Fame discussion.
"I'm not saying I'm better than them, but I think I'm better at what I did," Marshall said. "I played behind the line most of the time, which is why I don't have as many sacks. But I have more interceptions. I'm hard to categorize."
And also hard to miss, particularly late in the Bears' 24-0 victory over the Los Angeles Rams when Marshall scooped up a fumble by quarterback Dieter Brock and streaked 52 yards for the touchdown as snow began to flutter down over Soldier Field in a scene for the ages.
"I felt like I was in a dream," Marshall said. "We were in the 46 defense; we had a coverage blitz on from the middle; and we were coming with it. I did a loop inside [tackle Steve] McMichael, and the ball just popped out. They said it was Richard [Dent], but he got on top of him and Fridge actually caused it. It popped out, and I just picked it up.
"It was just destiny. Everything was working that year. Every week we expected something crazy to happen, and it usually did."
Marshall ticks off plays and formations and schemes and stunts as if the game had been this past Sunday, not 25 years ago.
"It's ingrained in my head," he said. "Everything was orchestrated, nothing was freelanced. We had to take this test every Friday, and not just on our position. We had to know who and what was going on behind us. Buddy wouldn't let us play unless we knew all the coverages and every formation."
The season before, Ryan, who famously disliked rookies anyway, kept Marshall on his toes but out of the starting lineup.
"He drilled me," Marshall said of Ryan. "When I told him I wanted to play, he said, 'No way, you're a rookie.' I had to be intelligent enough to figure out how to get on the field. Then, when [defensive end] Al Harris sat out [the '85 season in a contract dispute], that was my chance and I convinced him I could do it."
Ryan was intent on using Marshall in coverage, a move that led directly to the defensive coordinator's near fistfight with coach Mike Ditka at halftime of the Bears' loss in Miami.
But Marshall, who played some tight end early in his career at Florida, turned in a season that Chicago Tribune beat writer Don Pierson said was worthy of team MVP honors -- "absolutely sensational."
"[Ryan] would say to me, 'This is what I want out of you today, Wilber,'" Marshall recalled. "He'd say, 'I need this many tackles. I need a couple of big plays. You can't grade out an A unless you do this.'"
And so he did it to the tune of six sacks (fourth on the team), four interceptions (tied for third behind corner Les Frazier and safeties Dave Duerson and Gary Fencik) and 78 tackles (third behind Fencik and Mike Singletary).
"No question about it, Wilber was Hall of Fame-caliber," Ryan said. "He was one of the only linebackers who could blitz, sack the quarterback and make interceptions. He could bump and run with wideouts. He was gifted."
Ryan became so protective of his special linebacker that he allowed him to skip weight training sessions to preserve his body, which Marshall said infuriated trainers and, at times, Ditka. It is perhaps sadly ironic now, as it is hard to imagine how much worse shape Marshall could be in today.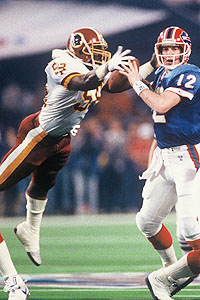 Rogers Photo Archive/Getty ImagesThe '85 Bears core didn't play in another Super Bowl after Wilber Marshall's exit, but Marshall did with the Redskins.
At 48, Marshall lives in suburban Washington, D.C., still struggling with the physical reminders of a 12-year NFL career that included stints with the Bears, Redskins, Oilers, Cardinals and Jets and left him permanently disabled.
According to Marshall, he needs both knees and both shoulders replaced and has carpal tunnel and nerve impairment in both arms as well as spinal damage, which has led to problems with his neck and his tailbone and has resulted in debilitating headaches.
"I get spasms in my neck and can't sleep at night, which is worse than my knees," Marshall explained. "They give me shots, but because of the head blows and the pressure [in the spine], my vertebrae are pushed together tight. And because of [pain in] my tailbone, I can't sit for more than an hour at a time."
He is planning to have both knees replaced and is disturbed by what he calls the misconception that he is avoiding the surgery so he can remain on disability.
"I have to have an osteotomy first because of [old] fractures on both sides of my knees, which requires them to break my leg in two places. My doctors told me several months ago that at the current weight I was at [about 300 pounds], I'd have to have it again in four to five years. Why would I want to do that?"
So with the help of pain medication, he is doing the only exercise he says he can endure -- swimming, occasional work on a stationary bike and slow, measured walks early each morning -- which has helped him to lose about 40 pounds, still approximately 35 pounds above his playing weight.
"I used to play golf, but my shoulder is so bad that, after nine holes, I'd fall apart," he said.
But perhaps his biggest concern, particularly after losing his father to Alzheimer's, is his memory impairment.
"At times I don't remember things," he said. "My daughters [ages 19 and 21, both students at Florida, his alma mater] will say, 'Dad, you already told me that.' My dad had Alzheimer's. Is it that, or is it from the blows? That scares me more than anything. My dad didn't remember anything for 15 years. I'd rather not be on this earth than go through what he went through.
"I'm just a wreck. I wouldn't have played if I didn't love the game, but I don't want to be one of those guys who go through all these medical things." Just as debilitating, it seems, is Marshall's lingering financial dispute with the Bears -- a dispute the team says does not exist and one that is not currently in litigation, but which Marshall says has kept him from appearing at team reunions.
"I hope Bears fans will forgive me for not being at the reunions," Marshall said. "I want people to know I'm not bitter toward everybody in Chicago. I loved the team, I loved the fans. They treated me like the king of England, and I played my heart out for them. But the reason I haven't been there is to fight for my life. I don't want to be run over."
Marshall would win another Super Bowl with the Redskins in '91 and was named to the Pro Bowl after the '86, '87 and '92 seasons. But Marshall's departure from Chicago after the '87 season (the Bears, who did not match Washington's five-year, $6 million offer, were awarded the Redskins' two first-round draft picks in the next two drafts) will forever be considered one of the reasons the Bears did not return to another Super Bowl in that era.
"If the defense stayed together and Walter [Payton, who retired after the '87 season] had stayed, I'm pretty sure we would've made another run," Marshall said.
Marshall's unique role in Chicago's defense never fit in as well on the Redskins.
"Once he left here, he was never the same player," said Hall of Famer Dan Hampton. "Not to belittle at all what Wilber did. … He was a monster man who could blitz, cover and, at his size, as a 230-pound linebacker rather than a safety, it made it all the more impressive. But when he left, he had to play a more conventional linebacker, so he wasn't as traumatic.
"But when you look back at the '84 defense, it was murder. We set the league record in sacks [with 72] that has never been approached, and Wilber and Todd Bell were as amazing as any two defensive players in the game that year."
His teammates nicknamed Marshall "Pit Bull."
"I loved playing with Wilber," said Frazier, now the coach of the Minnesota Vikings. "We were playing the Colts that championship season and someone cheap-shotted him, and he said, 'Les, I'm going to get him, you watch, I'm going to get that guy.'
"We were lining up for a field goal, and Wilber just absolutely cleaned his clock. They had to take him out on a stretcher. I wanted to be in a foxhole with him.
"He was a tremendous athlete, and we missed him and his talent. Who knows if he would have stayed and we had a healthy quarterback, what would have happened?" Frazier's lasting impression of Marshall was the same as most Bears' fans -- the fumble return against the Rams in the closing seconds of the '85 NFC Championship Game. It was a play with no impact on a 24-0 victory but sent the Bears to the Super Bowl against a backdrop seemingly created by George Halas himself.
"When people ask me 'What play do you remember most?'" Frazier said, "I think of that play, when the snow began to fall."
Melissa Isaacson is a columnist for ESPNChicago.com.