Bears' Super Bowl champs turn 25
Is anniversary worth celebrating, or should Shufflin' Crew stay in the background?
CHICAGO -- You might say that Emery Moorehead was the Nils Lofgren of the 1985 Chicago Bears.
Who's Nils Lofgren, you ask? Precisely the point.
While Moorehead was a fine tight end and a solid contributor to the Super Bowl XX champions, he could better relate to Lofgren -- a veteran guitarist with the E Street Band -- than he could to Bruce Springsteen.
Yet 25 years after the Bears' glory days, Moorehead says he does not go a week without being recognized.
"If I'm in the city," Moorehead said, "I can just about guarantee you I'll get, 'Hey, Emery. Wait. Who are you? Oh yeah. Hey Emery.' "
"

I don't think that team will ever be forgotten. Those players endeared themselves to the city because they epitomized the city, the city of big shoulders, the Grabowskis.

" -- Mike Ditka
But how long will that familiarity endure -- and, more importantly, the affection that goes along with it?
Dan Hampton wonders. And yes, it burns more than a little.
As the '85 fan base grows older -- you'd now have to be about 30 or older to have any clear memories of that season -- Hampton takes note of a perceptible backlash toward a team that once enjoyed only unconditional love in Chicago.
"There's a school of thought that, 'The '85 Bears have already cashed in all their chips. What are they still doing here?'" Hampton said.
"We're the 800-pound memory that seems to loom over this franchise until they win another Super Bowl. But in an abstract way, I don't know why it's not viewed as a positive thing."
The Hall of Fame defensive end brings up the remake of the "Super Bowl Shuffle," which reassembled members of the Shufflin' Crew for a commercial during this year's Super Bowl telecast.
"There was such a strong backlash, and 'What were they trying to do?'" Hampton said. "Last time I checked, most people are not going to bite the hand of someone offering them cash ... I was just really put off by the whole thing."
There is not a preponderance of evidence to document what Hampton calls a "puzzling adversarial view from the organization." He said it is more a feeling, "a strong smell in the room."
According to the Bears, there are 19 alumni from the '85 team currently living in or around the Chicago area, and a "constant stream of requests" for the Super Bowl champs, according to Brian McCaskey, the Bears' senior director of business development.
"We've always focused on the current team, we have to," McCaskey said. "But we also have to acknowledge the past great teams, as well, and there's room for both."
"What's the old saying?" he asked. "They love you when you're young, they love you when you're old, but in the middle they find reasons to tear you down."
The question first arose four years ago: Would the aura of the '85 champs be dimmed if the '06 Bears broke through and defeated the Indianapolis Colts in Super Bowl XLI?
Maybe that loss to the Colts is the whole point, Super Bowl-winning coach Mike Ditka said.
"You know why things last?" Ditka asked. "Because there's nothing to replace them. We had a refreshing group of guys, characters who had character; they played with emotion and they played great, great football. Whether they played in that era or now, that would be a great football team who could compete with anyone.
"They endure because no one has done anything since, nothing anyone could relate to. Anyone who says 'enough with these guys' is ridiculous, stupid. I can't get enough of those guys. You want to do something better, you'll be back on the table. Until then, we're there."
Leslie Frazier, a starting cornerback on the '85 Bears and now defensive coordinator for the Minnesota Vikings, was a defensive backs coach under Tony Dungy when the Colts beat the Bears 29-17.
"During all the lead-up to that game, I wondered if the Bears won if it would eclipse what we had done, and if people in Chicago would still hold the '85 team in such reverence," Frazier said. "And honestly, I'm not sure [a Bears win] would have surpassed that team in a lot of people's minds.
"As good as that 2006 team was, it didn't have the personality that '85 team had, and those things kind of outweigh the '06 season, even if they had won."
Forget the personalities. The nicknames alone were Hall of Fame, from Sweetness to the Fridge, from the Punky QB to Danimal, from Mongo to Samurai Mike, and of course Butthead.
The '85 Bears are still recognized and discussed on Maui beaches, in European tourist spots and on the Great Wall of China.
"There are so many examples, it's a blur," Hampton said. "I had a great friend who used to go to Acapulco 30 years ago, and when people would ask where he was from, he'd say Chicago, and they'd say 'bang, bang' and laugh.
"About 15 years ago we went, and when we said we were from Chicago, it was the Fridge and Mike Ditka. The identity went from Al Capone to the Bears. ... People in Somalia know Ditka, Payton and the Fridge better than any player on the Bears today. Are people mad about that? I don't know."
The '85 team was blessed, not just with stunning talent and blinding personality, but with good timing. They hit their peak prior to free agency, which bred familiarity among fans and enabled the Bears to assemble that much ability on one team.
[+] Enlarge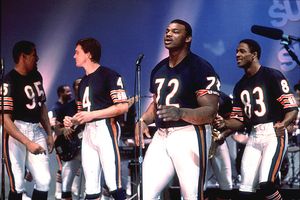 Paul Natkin/NFLWhile people loved the original Super Bowl Shuffle, the remake last year drew some criticism.
The fact that those Bears won just one Super Bowl -- despite a great season in '84 and 14-2, 11-4 and 12-4 records in the three seasons after the title -- only seems to add to the mystique of the '85 club. Few would dispute it belongs in the conversation about what's the best team, and certainly the best defense, of all time.
"I was actually just talking to Steve McMichael about that the other day," former offensive tackle Keith Van Horne said. "Yes, the defense was awesome, but we led the league in rushing four years in a row [from '83-86] and everyone knew we were running the ball.
"There was only one other team in NFL history to do that, and it was in a different era [the Bears, from '39-42]. And we were second one year [in '89] and third another year [in '88]. We also led the league in possession, and those are the things people don't really talk about."
While the Bears enjoyed plenty of exposure in the early days of ESPN and MTV -- and in the case of quarterback Jim McMahon and his famous backside, a little extra exposure in New Orleans during the Super Bowl festivities -- it could go only so far before the commercial use of high-speed Internet, camera phones and multiple sports cable stations. But that's where John Madden, partnering with Pat Summerall on CBS, filled the void as much as any one announcer could.
"It was the perfect storm, and John Madden was no question a part of the phenomenon," Hampton said. "He tells the story about their producer telling them after the third or fourth game of the year, 'We're going to stay with the Bears all year.'"
Madden also shared the story about having dinner with boyhood friend and Rams coach John Robinson at Gibson's in Chicago the night before the NFC Championship Game that postseason.
When the bill came, it suddenly got quiet.
"They're a pretty good team, aren't they?' " Robinson asked.
"We've done 11 games," Madden said, "and Pat and I can't remember a team scoring on their defense."
"Well," Robinson replied, "they haven't played us yet."
"Afterwards," Hampton said, "Madden said he couldn't run down the steps fast enough to say, 'Well, I guess you hadn't played them yet.'"
Madden was seemingly another in a cast of characters that turned the Bears of the '80s into a cultural happening. Still, cynics would argue, how many references to "Da Bears" and "Da Coach" can people endure?
"I heard people recently ridiculing George Wendt and 'Da Bears' routine [popularized on Saturday Night Live, where it first aired in 1991]," Hampton said. "Now how many smart-ass people have never said 'Da Bears?'"
But beyond that, there was no question that the city itself was one of the biggest components in vaulting the '85 Bears to the level of fame they enjoyed -- both because there had not been a championship won by a Chicago team since the Bears did it in '63, and also because Chicago was, is and likely forever will be, a Bears town.
Summerall spent considerable time in Chicago that season because of his obligations to True Value Hardware. "And I remember that I had the feeling that the city just adopted that team, had taken it further than was normal," he said.
"I don't think I ever saw a team adopted by a town like that."
Frazier recalled a conversation he had with Moorehead, who grew up in Evanston, in which Moorehead tried to put the Bears idolatry into perspective. "I vividly remember us sitting in the training room in my second or third year, and Emery telling me, 'Leslie, if we win the Super Bowl, I'm telling you, we will be kings in this city for a long, long time,'" Frazier said. "And he was right.
"The tradition, the history, the love of football. They wrap their arms around their team, and guys still make their homes in Chicago and still derive some income from that championship season."
For those who criticize modern-day athletes as mercenaries, there has to be a soft spot for players who came to Chicago, bled for Chicago and made Chicago their permanent home.
"If people want to see us, we're going to be there," Moorehead said. "We all have to make a living. We're still out there working every day among the people. These athletes today isolate themselves. They make their money and then go back to where they came from."
Of course, there have been numerous opportunities in Chicago for the '85 players, as there have been for many former athletes -- from broadcasting work, to the restaurant business, to real estate, to finance.
"People want to go where there are the best opportunities to be successful, and the Chicago business community has always recognized pro athletes and winners," said Moorehead, a longtime sales associate for a suburban real estate company.
"A lot of our guys have very nice jobs, and I won't mention names, but some guys are still driving dealer cars to this day. Now who else do you know still doing that?"
The Bears of the mid-'80s, said former linebacker Otis Wilson, connected with fans in a unique way.
"You look at players today and so many are disconnected from the community and somewhat disconnected from the fans," Wilson said. "There's a line drawn for some reason. Why, I don't know.
"When we were playing, there was a community togetherness and we were synonymous with Chicago. We partied in Chicago, we signed autographs, we did events, we were in the community doing stuff."
And still are. Wilson's foundation targets the development of youth in the inner city. Super Bowl MVP Richard Dent's Make a Dent Foundation has donated hundreds of thousands of dollars to local and national organizations dedicated to children. Among other charities, Ditka has long raised money for Misericordia, a residential program in Chicago for developmentally disabled youth, as well as his Gridiron Greats Assistance Fund, which assists former NFL players in dire need.
"How about the coach still living here?" Hampton said. "That's pretty good. He didn't retire to Miami or Phoenix like a lot of others. He stays and slugs it out here in the winter."
"Everyone's here," Wilson said. "I'm going to see Richard [Dent] tomorrow, I see Hampton all the time, Emery Moorehead, Dennis McKinnon, [Matt] Suhey, [Gary] Fencik and on and on. Everyone's doing something different but we're still here. You can touch a person, see them on television, see them out all the time. There's always that connection."
Yes, but is that bond fraying?
"We've had a great run, and I don't think we're going to lose our place until another team with a Bears uniform wins a Super Bowl," said Fencik, a former safety.
"But it's 25 years later. I walk down the street and there are people 25 years old, and they have no idea about the '85 team or who I am. Time just moves on."
"I get the backlash," Van Horne said. "I'm sure they're sick of it, I'm sure the current players are sick of it. The public saw the 'Super Bowl Shuffle' [remake] as a money grab, and a certain part of it was 'enough already.' I get that. But that's their problem.
"I was just thinking the other day how grateful I am, and at times amazed that it's still like that and that we still have the opportunity to make money for appearances. A lot of times people will recognize you and say, 'Thank you for '85' -- and that's always gratifying. Heck, how can you be anything but grateful that people still want your autograph for something you did 25 years ago?
"If [the current players] are tired of that, you know what? Go win a Super Bowl."
Hampton said he and his teammates want nothing more than for the Bears to win another Super Bowl.
"When the Giants won it three years ago, you didn't see Lawrence Taylor saying, 'No one is going to remember Bill Parcells,'" he said. "When the Blackhawks won, you saw the Bobby Hulls and the Stan Mikitas right there, and that's what you'd see from the Richard Dents and the Steve Michaels and all of us.
"It's not about us competing against them. We're all supposed to be trying to make the Chicago Bears something to be proud of."
Hampton said he still remembers when former Bears greats would visit Halas Hall when he played.
"[Dick] Butkus and [Ed] O'Bradovich talked about how special it was to be part of the '63 team," Hampton recalled, "and McMichael and I looked at each other and said, 'That's what we want, what we want to build here.'
"We like the fact that they went to the Super Bowl [in '07], but closing the deal is closing the deal and we still have to wait for that."
But even when that does occur, said Ditka, nothing can take away the rarified place the '85 Bears occupy in Chicago.
"I don't think that team will ever be forgotten," Ditka said. "Those players endeared themselves to the city because they epitomized the city, the city of big shoulders, the Grabowskis. The reason I called them that was because of their lunch-bucket mentality, picking up and going to work, getting the job done and going home. And when it was time to play, time to practice, time to have fun, they did that first-class also.
"For anyone who can find anything negative, I can find you 10 things positive -- people who talk to me all the time about what a great group of guys we had, saying, 'They don't play football like that anymore.' You want to change it, there's only one thing to do, and that's win.
"Win the Super Bowl and people will have a new hero in town, and I mean that. But until they do, they'll settle for the old heroes."
Melissa Isaacson is a columnist for ESPNChicago.com.