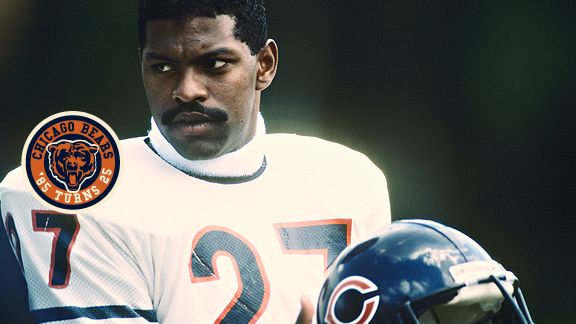 Al Messerschmidt/Getty Images
Coming back into focus
With help of family and fellow '85 Bears, Richardson trying to put his life back together Ditka on Singletary
Editor's note: ESPNChicago.com is celebrating the 25th anniversary of the Chicago Bears' dominant 1985 season and victory in Super Bowl XX. We'll have weekly features on each game from '85, video interviews with key figures, photo galleries and more.
CHICAGO -- He wore a T-shirt and Bermuda shorts and looked more like someone's younger brother than one of the guests of honor.
In fact, so unexpected was the appearance of former Chicago Bears cornerback Mike Richardson at Mike Ditka's Celebrity Golf Classic, which reunited the 1985 Super Bowl champs on Aug. 27, that even some of his former teammates did not believe it was him at first.
"When I came out of the hotel and saw Mike Richardson," said former teammate Dennis Gentry, "there was so much joy. Seeing him again was unbelievable."
To a man, there were hugs, more than one grabbing Richardson by the shoulders to get a better look, as if seeing how much he had grown.
"He still looks like a baby," Richard Dent remarked.
[+] Enlarge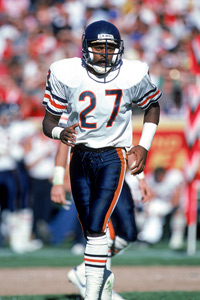 George Rose/Getty ImagesA second-round draft choice out of Arizona State in 1983, Mike Richardson played seven seasons for the Bears and was a starter for the 1985 team.
Bears fans wondered what had happened to Richardson when he failed to show up at previous reunions, the curiosity heightened when newspaper accounts listed his whereabouts as unknown. Rumors circulated that he was homeless or, worse, that he was dead.
But there he was, and Dent was right. If not exactly baby-faced, Richardson certainly looked much younger than his 49 years, seemingly shy and slightly awkward as he stood alone waiting for Dent to be interviewed, golfers and media bypassing him to speak to his more widely recognized teammates.
It was, to be sure, a starkly different picture from the one that appeared in the Orange County [Calif.] Register last month, which showed Richardson, with a gray-tinged mustache and beard and dressed in an orange prison jumpsuit, escorted by sheriff's deputy into Superior Court Judge M. Marc Kelly's courtroom.
Richardson was released from custody on Aug. 2 and a 13-year prison sentence cut short by almost 10 and a half years after an Orange County appellate court found that he had not violated terms of probation after a 2008 conviction for sales of narcotics.
It was Richardson's 21st conviction on drug-related charges and his fifth felony in 16 years.
Rock bottom
Richardson, a second-round draft choice out of Arizona State in 1983, played seven seasons for the Bears and was a starter for the '85 team. He was "L.A. Mike," rapping, "Please don't try to beat my hustle, 'cause I'm just here to do the Super Bowl Shuffle" on the legendary video.
He intercepted four passes for 174 yards that season, including one for 90 yards and a touchdown. The next season, he had a career-high seven interceptions and was named second-team All-Pro.
He played his final NFL season in San Francisco in 1989, and it wasn't long after that he began a dramatic decline. Three years later, in March 1992, Richardson was found guilty on two felony counts -- the most serious of which was the sale or transport of a controlled substance -- and sentenced to four years in state prison.
According to court transcripts, Richardson's public defender, Huy Nguyen, referred to Richardson's "deep dependence on drugs that started when he was 13 years old."
The court made reference to the fact that he grew up in a loving family with six sisters who went on to productive and successful adult lives. But Richardson also grew up in the tough Compton area of Los Angeles, where crack cocaine usage reached epidemic proportions in the late '80s and early '90s. Clearly that is where his problems began and where they picked up again after football.
"I just lost focus," Richardson said. "At some point, the party has to stop, and my party didn't stop. And if the party is 24 hours around the clock, eventually you're going to get in trouble. Unfortunately, I had to experience some pain to change, and that's really a motivator. Sometimes, if the fire gets hot enough, you have to get away from the place where you get burned, and it takes some people longer than others to change. I just thank God for who I am today. I'm definitely a different person today."
Ditka, who kept in periodic touch, said that leaving the place where he got burned seemed especially tough for Richardson.
"There's not a bad bone in his body," Ditka said. "What happens with a kid, you're caught up in all the crap and you don't think sometimes and you don't get rid of your past, your [friends], and all they do is bring you down."
Richardson laughed about how Ditka scared him when he was a player. But it is clear that it was Ditka, as much as anyone, who stuck by him.
"As a head coach, he had the chance at any time to remove me from the team or encourage me to do better, and he did both things," Richardson said. "He removed me and encouraged me, and sometimes it takes until years later to appreciate and respect that."
"

At some point, the party has to stop, and my party didn't stop. And if the party is 24 hours around the clock, eventually you're going to get in trouble. Unfortunately, I had to experience some pain to change, and that's really a motivator.

" -- Mike Richardson
The Bears left Richardson unprotected under the old Plan B free agency. He was cut after the preseason by the Oakland Raiders, then signed with San Francisco, which waived him after one season. But Ditka, Richardson said, did not forget him.
"Later on in life, when I had my personal problems, he was one of the first people to call and encourage me," Richardson said. "He said he had some issues with his family, and I just appreciate him sharing his own experiences and failures because that's not the easiest thing to do."
Although Richardson spent much of his 30s and 40s bouncing in and out of rehab and jail -- he had two four-year terms in state prison -- it was not until police found 28 grams of rock cocaine and 10 grams of methamphetamines in his car after a routine traffic stop in September 2006 that he faced his most serious jail time. The maximum sentence called for 13 years. Deputy District Attorney Eric Scarbrough asked for eight.
Richardson's friends and family came to court. Three of his sisters provided letters of support, and another, Mary Richardson-Lowry -- an attorney with Chicago's international law firm Mayer Brown LLP, the former Chicago building commissioner and current president of the Chicago Board of Education -- flew in to speak on his behalf.
According to the court transcripts, Richardson-Lowry told the court of her days as a law student, when the judge she was clerking for died and her brother supported her financially and gave her a place to stay as she studied for the bar.
"That had been the role he has taken with other family members," Richardson-Lowry said in court. "That has been the approach he has taken with respect to friends. That has been the approach he has taken with respect to teammates when they have fallen on hard times or have found themselves on a path that was contrary to their interest, and contrary to societal interest."
She told the court that her brother had "lost his way," that his life took a downward turn after both of their parents died and he had not been there to support them when they were ill. She said that society would not be served by his incarceration and asked that he once again be given a chance in a rehab program.
"There is no question he is an addict," she said, "but there is a line between those who are addicted and have no promise, no hope, no direction, no opportunity, no foundation and those who are not. He is the exception to the rule. … When he is present, he is an exemplary person."
Ditka sent a handwritten letter to the judge and offered to pay for Richardson's treatment. Dent and former teammate Tyrone Keys, a backup defensive lineman on the Super Bowl team, also wrote letters on Richardson's behalf.
"I will help in any way necessary to try and find a way to help him through this tough time," Ditka wrote. "I believe his life is worth trying to save."
Dent's letter was equally passionate.
"I know that Mike is troubled, but a good man to his soul," he wrote. "I would deeply beg the court to give Mike one last chance."
Richardson said he wasn't sure Ditka would respond to his request.
"That's part of the gamble when you reach out and ask for help, the rejection part," he said. "Not everybody is going to help you when you're not doing too well. The judge at the time really respected Mike, so that letter he wrote helped me probably more than anything."
Chicago attorney Timothy Wright, a boyhood friend of Richardson's who went on to serve as special counsel to Mayor Harold Washington and director of domestic policy for President Bill Clinton, also flew in to speak to the court.
And Kelly spoke personally to Dave Duerson, a former classmate of his at Notre Dame and Richardson's roommate on the Bears, and to "a lifelong childhood friend" of the judge's, Tom Holmoe, a former 49ers teammate of Richardson's.
Kelly was an athlete himself, a popular four-year, walk-on member of the Fighting Irish basketball team in the late '70s and early '80s, where among his teammates was John Paxson. The judge's comments that day were both encouraging and stern.
He made mention of Richardson's "blown chances" in the past in walking out of rehab. Richardson's public defender argued that none of the programs he was in provided sufficient motivation and control in keeping him there.
"If I take a chance on you this time, what is to say that I am not going to end up in the same predicament as the last three judges that have put you in a treatment program?" Kelly asked Richardson.
"I just feel," Richardson responded, "like I am at that fork in the road. I feel like I am, for the first time, 100 percent committed to the actual process of change."
Kelly lectured Richardson that most people in his position did not have the support he had.
"Why you put yourself in this position again is a terrible testament to the power of drugs," Kelly said. "Because it is clear to this court that you are a good-hearted individual. You have just gone terribly astray in your personal life because of the drugs."
Finally, Kelly concluded.
"You reached heights in your career, in your life," the judge said. "You attained goals that few people in the world can ever attain. You were a Super Bowl champion. You tasted greatness. You have it inside of you. … You have shown it in the community and your willingness to give back. … But the drugs are going to crush it all. And it has already crushed a substantial portion of your life."
Convinced Richardson was a person worth saving, Kelly gave Richardson a year in jail, suspending his 13-year sentence pending his completion of another rehab program, and placed him on five years' probation.
"Whether this is infinite wisdom or not, I am going to take a chance on you," Kelly said. "You have too much to offer in society to let you rot away in prison."
Eight months later, in December 2008, Richardson was back in prison.
Accusing him of associating with another known drug offender and failing to register as a drug offender himself, the Orange County District Attorney's Office reinstated Richardson's 13-year sentence.
It appeared to be rock bottom.
Moving forward
"It's been a lot of years since I've seen the guys, and any time you're away from people you really care about and who love you, you have mixed emotions," Richardson said days after the Bears' golf outing. "Part of the time I wanted to cry, part of the time I wanted to laugh and part, I just wanted to hug everybody because you never know when you're going to see them again."
He had not seen most of them since Walter Payton's funeral in 1999. Ditka helped finance his trip to Chicago this time.
Richardson said he visited with his sister Mary while in town. And he left Chicago, he said, with only positive feelings after seeing his teammates.
"I'm always glad to see people smiling, healthy and doing well," he said. "I embrace and love the fact that the majority of guys are doing what you're supposed to do -- enjoying life, owning a nice car and a nice house, being a good father and husband. That's what life is about, and it's always good to be around quality, good people. I don't have any regrets or anything. I just loved being around them."
His teammates concurred.
"We're his teammates," Gentry said. "No matter where we work or where we're at, we're teammates."
Dent, who was drafted in the eighth round in Richardson's draft class, has rarely lost touch.
"Mike, he's one of my best buddies," Dent said. "We all came in the league at 20, 21 years old, and it was just a natural bond, a friendship from draft day on. It's generally one or two guys you become really close with. He was one of those guys.
"It was really nice seeing him, and seeing him come back this way."
The father of a 12-year-old son and an 11-year-old daughter, Richardson is working with the Salvation Army, conducting football training for kids ages 12 to 18 in Santa Ana, Calif.
"I think I walked away from football prematurely," he said. "I still feel like I'm 20 years old myself, and I think there's still something I can give back to sports and football."
Asked whether he considers himself an addict, Richardson responded, "I guess I don't take it to that extent. But being a better person, father, neighbor, is a day-to-day process. I can't clap my hands at what I did years ago or yesterday and make it go away, but I can be the best person I can on a daily basis."
In June of this year, the 4th District Court of Appeal ruled that the terms of Richardson's probation were too vague and reversed his 13-year sentence after he had served a year and eight months in prison.
On Aug. 1, once again in Kelly's courtroom, Richardson was released from custody.
"I decided to change a few years ago," Richardson said. "I think I was wrongfully prosecuted at that time, but the accumulation of things prior to that time got me into that position."
Richardson paused.
"I can't dodge the fact that I put myself in the position to go to jail," he said. "I'm not trying to blame anyone else for my mistakes. I just thank God I have the mentality I have today, and I can move forward.
"I feel very lucky."
Melissa Isaacson is a columnist for ESPNChicago.com.