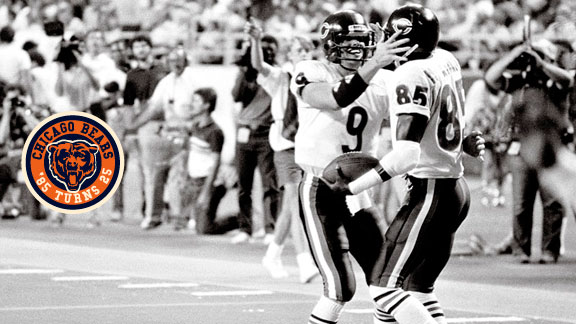 Jonathan Daniel/Getty Images
McMahon's heroics stuff of legend
After leaving hospital bed, Punky QB throws 3 TDs in comeback victory over Vikings '85 Turns 25 - Jim McMahon
Editor's note: ESPNChicago.com is celebrating the 25th anniversary of the Chicago Bears' dominant 1985 season and victory in Super Bowl XX. We'll have weekly features on each game from '85, video interviews with key figures, photo galleries and more.
It was Steve Fuller's first start of the season, and with 124 yards passing on 13 completions of 18 attempts midway through the third quarter, he felt pretty good about the way things were going, despite the score.
But Fuller also knew his role. And he knew Jim McMahon.
[+] Enlarge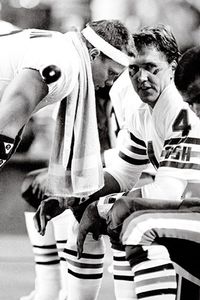 Jonathan Daniel/Getty ImagesSteve Fuller felt confident he could lead the Bears to victory against the Vikings, but he also knew Jim McMahon wouldn't be denied.
McMahon had been released from Lake Forest Hospital only two days earlier after spending two nights in and out of traction for muscle spasms in his upper back. The day before the Bears' Thursday night game in Minneapolis in Week 3 of that 1985 season, an infection took hold in his right leg.
But when McMahon jogged onto the field at 7:22 of the third quarter after the Vikings had scored on a 9-yard pass from Tommy Kramer to Mike Jones to take a 17-9 lead, Fuller was not surprised.
"He was banged up for sure," said Fuller, who would start five games that 1985 season. "But that was Jim.
"Jim played with a certain kind of abandonment in a way where those kinds of things were more typical than atypical, so you had to be ready."
For anything.
McMahon's first, second and seventh passes went for touchdowns over the next seven minutes to lead the Bears to a 33-24 victory in what remains one of the most dramatic performances in team history. Twenty-five years later, his teammates recall the game with the same measure of awe as Bears fans viewing at home.
"It was an amazing thing to watch," Fuller said before adding with a laugh, "I had an excellent vantage point certainly.
"It was one of those things that was just magic, something you see once every 10 or 20 years in professional sports. Certainly I would have liked to be doing it myself, but it was definitely enjoyable to watch."
TV cameras caught McMahon, helmet on, standing shoulder to shoulder with coach Mike Ditka on the sideline, like a kid begging to be put into a Pop Warner game.
"He was driving me crazy; 'Put me in, put me in,'" Ditka recalled. "I said, 'You didn't practice all week, you're hurt, it's a short week. I think we can win the game with the team we have out there.' But after I found out we couldn't, you can say what you want, but he made the plays and energized the football team."
"

It was one of those things that was just magic, something you see once every 10 or 20 years in professional sports. Certainly I would have liked to be doing it myself, but it was definitely enjoyable to watch.

" -- Steve Fuller
Elsewhere on the sideline, injured guard Kurt Becker witnessed the scene and sidled over to center Jay Hilgenberg to give him the play by play of McMahon working Ditka.
"We knew Jim was hurting," Hilgenberg said. "He showed up late for the team meeting [before the game]; he wasn't even in the game plan. I know I didn't expect him to play. But it felt like we needed something to happen, and when he came in, it did."
McMahon stumbled as he got his first snap from Hilgenberg and took a deep drop.
"Two linebackers blitzed up the middle," Hilgenberg recalled. "I knew I had to take one of them and Walter [Payton] had to take the other, but they came so late and so fast it surprised me, and I wasn't sure which one I was supposed to take. So I just picked one, Walter got the one who came free and we threw the TD pass."
A streaking Willie Gault beat right corner Willie Teal up the middle, and McMahon hit the Bears' fleet wide receiver in perfect stride at the Vikings' 32, where Gault took it easily the rest of the way for a 70-yard touchdown. Upfield, McMahon head-butted right tackle Keith Van Horne in celebration.
"I know Jim," Gault said, "so when he wanted to come in the game, I knew he was ready. And I just knew the first play was a play I possibly could get the ball. I was just prepared, I ran fast and hard, he threw the ball, there was a great block by Walter, and it was one of those things where it was an avalanche from that point on."
An interception and 14-yard return by Wilber Marshall -- one of three picks on the day by the Bears' defense, along with two fumble recoveries, one by Marshall -- gave the Bears the ball back on the Minnesota 25-yard line. And on the first play from scrimmage, McMahon rolled left on a play-action, finding Dennis McKinnon between two defenders at the goal line for a 25-yard scoring strike and a 23-17 lead after Kevin Butler's conversion.
"It felt like as soon as we scored that first touchdown pass, then came another one," Hilgenberg said. "It was amazing, just a total switch of momentum, and the crowd was completely out of it. We may as well have been playing in Chicago at that point."
McMahon came close to connecting with Gault on another deep pass on the first play of the Bears' next series, which would have made it three touchdowns in a row. Instead, with less than two minutes to play in the third quarter, McMahon engineered a six-play, 68-yard scoring drive in 1:16 in which he would once again scramble before heaving a 43-yard touchdown pass to McKinnon for a 30-17 Bears lead.
At halftime, McKinnon, who had caught nine passes for two touchdowns over the first two games of the season, had not seen a ball thrown his way.
"I said to Ditka, 'I'm trying to figure out what's going on. I haven't had a ball thrown to me all day. I think it's time for a change. We need a spark,'" McKinnon said. "Jim was able to find me every game, I know I'm open and I'm like, 'What's [Fuller] looking at?'
As O.J. Simpson and Joe Namath called the game for ABC that night along with Frank Gifford, the events on the field transcended the events on the field itself.
"We felt we could win before," Butler said, "but with Jim in there, everything felt unscripted, like something crazy was going to happen."
The Vikings would keep it interesting, with Kramer connecting on a 57-yard touchdown pass to Anthony Carter to close the gap to 30-24, 5:30 into the fourth quarter. But the Bears answered again on the next series as McMahon hit McKinnon down the right sideline for a 46-yard completion, and he scrambled for 18 yards to set up a 31-yard field goal from Butler for their final margin of victory.
The Bears were 3-0, but it had not come as easily as it might have looked.
"The season had gotten off to a slow start when we got behind Tampa Bay [the Bears trailed 28-17 at halftime of the opener], and then we beat the Patriots [20-7] in the second week, but we didn't dominate," said Butler, the rookie phenom who had 15 points, including four field goals, in the victory over the Vikings. "So here we were, in a nationally televised game, way behind, nothing working and Jim pestering Mike to get in the game.
"Jim was of the strong belief he did not need to practice, that it was better for him to heal and be 100 percent come game time. And Mike, like every other coach who I ever played for, said, 'If you want to play, you've got to practice at some point. You can't just walk in and perform.' But at that stage of the game, Mike was looking for something different, looking for a spark. Jim just wanted to prove he could play and do big things."
But that big?
"We knew McMahon was a player and that he gave us the best chance to win," tight end Emery Moorehead said, "but I don't think he or anyone else knew it would happen that quick, that fast. That game, when he did that, put us on the map as an offense. It showed people that this Bears team is more than just Walter Payton."
Still, while the offense might have distinguished itself that day as the Bears worked their way into the national consciousness, that was not necessarily the way everyone on the team saw it.
"Those first few games, the defense was behind and not at its peak, and the offense played extremely well," left tackle Jim Covert said. "I think people forget that. We had to come from behind three or four times, and that was one of those days.
"But when Jim came in, he was such an inspiration and such a winner, you knew he was going to make something happen, and that's what we wanted to do, just get him out there and make something happen."
McMahon checked back into the hospital the next afternoon, and stayed for two more days of rest and observation of his infected leg. And today, he downplays his heroics.
"I've been hit in the head so many times, it's hard to remember that far back," he said. "I don't remember specific games; you just remember hanging out with these guys."
The guys remember as well, one incredible Thursday night in Minnesota.
"No question that game gave us a lot of confidence; it really did," Hilgenberg said. "That was one when everybody started thinking, 'OK, we may have something special here.' Momentum doesn't really carry over, but just the confidence we had as a whole team that we could overcome anything carried over the next game and the rest of season."
Melissa Isaacson is a columnist for ESPNChicago.com.