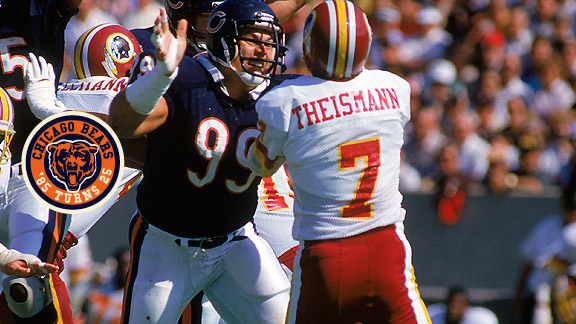 Jonathan Daniel/Getty Images
No place to hide
From Theismann to Montana to White, quarterbacks took a beating from '85 Bears
The way Steve McMichael tells it, his relationship with Joe Theismann carries all the enthusiasm of a typical '85 Bears war story. Except this story was set in New Orleans in 2002, the site of a battle between New England and St. Louis at Super Bowl XXXVI. Or more precisely, at the Hyatt bar next to the Superdome.
McMichael, a past Super Bowl champion, was in New Orleans doing appearances, he explained. "So after one of them, the wife and myself go to the bar to get a drink and there's a lady standing there, and we strike up a conversation because we're friendly like that," he said.
"A little while later, up comes Joe Theismann. It's his wife, we come to find out. He walks up, says 'Hey baby,' looks over, realizes it's me and grabs her and says 'Come on, we've got to go.'"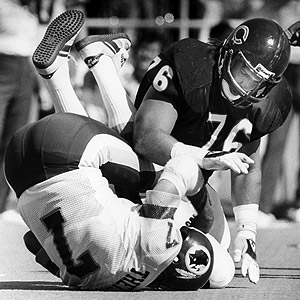 Jonathan Daniel/Getty ImagesSteve McMichael sacks Joe Theismann, one of four on the day for the Redskins quarterback, during the Bears 45-10 victory on Sept. 29, 1985.
McMichael cracked a smile. The former Bears tackle reasoned that if Theismann was not suffering a traumatic flashback to the fourth game of the '85 season, it was because the Redskins quarterback was knocked around so badly in Chicago's 45-10 victory at Soldier Field on that late September Sunday that he couldn't remember it.
Theismann is understandably reluctant to go along with McMichael's notion or the idea that he was physically intimidated by the four sacks and two interceptions he threw in a game in which Washington led 10-0 at one point.
"You could beat me up, and I'd be back to play next day," Theismann said. "I loved playing too much. No, what hurt more in that game to me was pride, not my body."
Theismann might take solace in knowing he was but one in a virtual parade of quarterbacks that season to be roughed up by the purveyors of the Bears vaunted 46 defense.
"All of the quarterbacks posed a threat, and the reality is we didn't care what they were doing, we were focused on what we were doing, and we just wanted to go out and complete our mission," former Bears linebacker Otis Wilson said. "And it kind of worked out pretty good for us."
Every week, it seemed.
Two weeks after the victory over the Redskins, the Bears sacked Joe Montana seven times.
Against Green Bay on Monday Night Football, a game in which William Perry burst into the nation's consciousness and the end zone with his first career touchdown, quarterbacks Jim Zorn and Randy Wright were sacked a combined five times, and the Packers committed five turnovers in the Bears 23-7 victory.
"

Their intention was to take us out. If you had that kind of physical talent and a scheme that allowed you to take shots at the quarterback, if you didn't take us out legally, you'd be crazy.

" -- Joe Theismann
The following week in a 27-9 win over the Vikings, the Bears intercepted Tommy Kramer three times, Wade Wilson twice and recorded five sacks. Detroit quarterback Eric Hipple was pummeled in the 10th game of the season, a 24-3 Bears victory. He was sacked four times, intercepted twice and managed just 73 yards passing.
The next time they played the Lions that season, the Bears rang up six sacks and forced seven turnovers.
Then there was Dallas. The Bears knocked Cowboys quarterback Danny White out of the game not once, but twice in the Bears 44-0 victory over Mike Ditka's former mentor Tom Landry in Game 11. It was the Cowboys worst defeat in team history, and White remembers it well.
"The first was a shot to my ribs on a hit by [Gary] Fencik, and I ended up having a cracked rib," White recalled. "But I went back in and then Otis Wilson sacked me and landed on my head and bent my head down into my chest, and it sprained all the muscles down my back.
"The next morning I woke up and from my butt up to the top of my neck, it was like it was all fused together between my rib and my back. I was so sore. I felt like I was 90 years old."
The Bears were on a roll, shutting out Atlanta 36-0 the following week, holding the Falcons to minus-22 net yards passing and smothering quarterback David Archer. Against the Jets, The Bears defense had five sacks and three forced fumbles.
Another notable quarterback mugging: the 21-0 playoff victory over the Giants in which New York quarterback Phil Simms was battered to the tune of seven sacks.
"They're all still alive," McMichael cracked of the trail of quarterbacks. "But they're still scared to death."
Wilson rattled off the names, pausing only at the name of Dan Marino, the one quarterback to beat the Bears that season.
"Because of their professionalism and how competitive they were, I don't think they were intimidated, but they certainly kept their eyes open," Wilson said of the quarterbacks. "They knew if they held onto that football, they were going to eat it. We tried to get there as quick as we could and most of the time, we did.
"All of them knew if they didn't come to play, they were going to get their butts handed to them."
Wilson bristled at any suggestion that they tried to knock quarterbacks out of the game.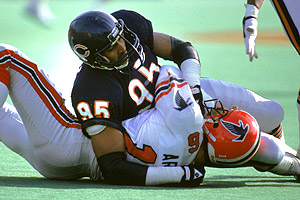 Jonathan Daniel/Getty ImagesRichard Dent smothers Atlanta quarterback David Archer during a 36-0 victory on Nov. 24, 1985. The Falcons were held to minus-22 net yards passing.
"We never had that intention, God's honest truth," he said. "We always went in there to do our job because we knew we had good athletes. We knew we had a good system. We had an aggressive system. [Defensive coordinator] Buddy [Ryan] would always say, 'Let's go get 'em,' and that's what we did."
Theismann had enormous and talented offensive line, known as the Hogs, that did not help him against the Bears. But he didn't buy Wilson's claims.
"That's baloney," he said. "Their intention was to take us out. If you had that kind of physical talent and a scheme that allowed you to take shots at the quarterback, if you didn't take us out legally, you'd be crazy. It seemed like the sole purpose of that defense was to make the quarterback's life as miserable as possible."
White laughed at the idea of a humane Bears' defender, too.
"I can tell you that if a defensive lineman tells you he didn't mean to hurt the quarterback, you'd have to define hurt," White said with a pained chuckle. "Maybe they didn't mean to permanently disable you, but knock you out of a game, absolutely. That's their job, to get the backup to come in and create as much chaos for the offense as they could."
Theismann said the 46 was only half of it.
"It's one thing to run a 46 scheme, it's another thing to have the personnel for it," he said. "They had a perfect linebacking corps, the perfect front, perfect safeties, and I couldn't even tell you the names of their corners because you didn't have time to throw it."
Theismann said the worst part was never knowing where the pressure was going to come from.
"And you never want to be in that situation," he said. "It made them unique. The way the 46 was set up, it's difficult to get help. And they had interchangeable parts in the interior (with linebacker Wilber Marshall able to drop back to safety and strong safety Dave Duerson able to move up and cover at linebacker) which made it very difficult conceptually to handle it."
White lauded the Bears' ability to disguise the unblocked players on the blitz.
"It was the only time in my career I can say that my primary objective was getting rid of ball and not reading the defense," he said. "You didn't have time to make a decision. You dealt with one read. And if your receivers didn't get out of press coverage immediately, there was no place to run the ball.
"It just completely took a quarterback out of his normal thought process. It's the only time I can honestly say that happened and it happened play after play after play with that team."
Theismann recalled the limited success he had in the Bears 23-19, first-round playoff victory over the Skins the year before.
"We wound up running the shotgun, and especially in the Bears game that next year I would have loved to have used it," he said. "At least it would have given us a fighting chance. But in our first preseason game in Oakland in '85, one got snapped over my head, and Joe Gibbs shelved the shotgun. I had no chance under center against the Bears."
It should be pointed out that in that Bears victory over Washington in '85, Chicago's offense scored 31 points in the second quarter, 45 unanswered points in all.Willie Gault returned a 99-yard kickoff for a touchdown and Jim McMahon threw three touchdown passes (one to Walter Payton) and caught another (from Payton).
But Theismann, who still holds the NFL record for shortest punt (1 yard), which he kicked ("more sideways than longways") after Redskins kicker Jeff Hayes left the game with a leg injury on the kickoff Gault returned for a touchdown, remembers the momentum the Bears defense generated.
"That was the beginning for them figuring out, I think, just how good they were," said Theismann, who called Pittsburgh's Steel Curtain and the Bears 46 the two best defenses he had ever played against in his 12-year career. "They just got a sense, if we can do this to an offensive line that good, what are we going to do to a lot of other people?"
Melissa Isaacson is a columnist for ESPNChicago.com.