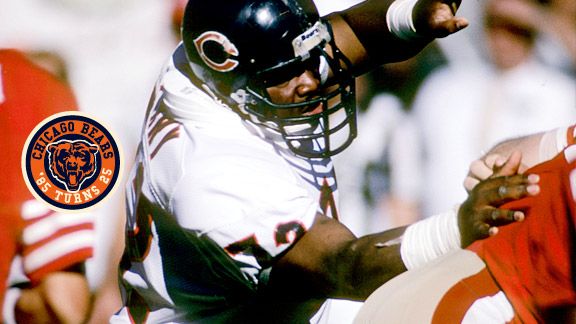 Al Messerschmidt/Getty Images
Birth of a phenomenon
Legend of "The Fridge" was born during a satisfying win over defending champ 49ers
Reprinted from "Bigger Than The Game," by Michael Weinreb, by arrangement with Gotham Books, a member of Penguin Group (USA) Inc., Copyright (c) 2010.
Something was happening in Chicago that fall, something weird and dynamic and compelling, the origins of which could be traced back to the Thursday night in Minnesota when a woozy and petulant Jim McMahon nagged his way into a football game. It wasn't just that the Bears were winning, week after week after week (though, considering their fans had endured two decades of routine futility, that was strange enough). It was that the Bears were winning with such naked audacity; it was that they actually appeared to be reveling in their own very public dysfunction. They were quickly becoming an affirmation of the new American ideal: a motley group of individualists who embraced capitalism and celebrity, who embodied nothing so much as immoderation and self-regard.
[+] Enlarge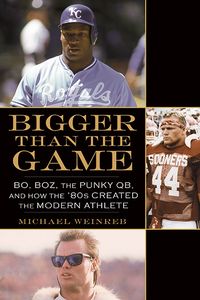 Gotham BooksMichael Weinreb's book details the creation of the modern athlete and how players became bigger than the game.
On Oct. 13, the Bears played the San Francisco 49ers, the defending Super Bowl champions, the team that had humiliated them 23-0 in the NFC Championship the year before. Chicago had endured that game without McMahon, whose season had ended a few weeks earlier when he lacerated his kidney in a violent win over the Oakland Raiders, but now the Bears had their quarterback again, and their coach harbored an almost juvenile obsession with revenge, and that singular preoccupation birthed one of the oddest celebrity sensations of the decade.
The 49ers were led by Bill Walsh, a gray-haired intellectual whose offensive innovations emphasized finesse and short passing and who had already been credited with revolutionizing the sport. And the Bears? Their coach was Mike Ditka, a foulmouthed and mustachioed and gum-spitting former tight end from Aliquippa, Pa. Ditka, who could not stop thinking about the bitter end of that NFC Championship game the year before, when Walsh had chosen to insert a 280-pound lineman named Guy McIntyre into the backfield to block for his running backs, just for laughs (he called it the "Angus" formation). Ditka had spent much of the spring formulating his response, choosing to draft a 300-and-something-pounder out of Clemson University with the team's first-round pick. The young man's name was William Perry, a defensive lineman, and at a time when 280-pounders were still considered behemoths, Perry's girth was off the charts. Ditka compared him to Gene "Big Daddy" Lipscomb, the 6-foot-6 giant who had become an All-Pro for the Colts before dying of a heroin overdose at age 31. "His belly did not roll out of his pants," Sports Illustrated's William Nack wrote of Lipscomb. "He was hard and trim, and the fastest interior lineman in the league."
Of Perry, none of these things could be said. He was a much better athlete than he appeared to be, but he was a risk, and Ditka admitted as much. Immediately upon his arrival in Chicago, Perry became a walking fat joke. He was a shy kid with a gap-toothed grin who had grown up in a small town in South Carolina, and he took it in stride, embracing the mythology of his girth, even embracing several nicknames -- the most prominent of which was The Refrigerator, coined after a college friend watched this very large man attempt to board a very small elevator. On the day he was drafted, he said, "I was big, even when I was little." Said Ditka: "I'm very excited. ... I don't think we'll ever forget this." And then the coach couldn't resist -- he made his own joke, about Perry looking good in a Bears uniform ... or two uniforms, whatever it took.
Ditka's defensive coordinator, Buddy Ryan, did not find this funny at all. Ryan was stout and curmudgeonly and had little patience for frivolity within the confines of the game. He was a native of a tiny town in Oklahoma who served in the Korean War and had devised a fierce blitz-heavy (and often risky) defensive scheme known as the "46." "Buddy liked playing the prison warden," said Chet Coppock, a longtime Chicago broadcaster.
When Perry showed up two weeks late for training camp after a holdout (weighing somewhere in the vicinity of 330 pounds), when he sweated out 13 pounds on his second day of practice and then collapsed from muscle cramps, Ryan felt he had seen enough. There was already a burgeoning tension between Ditka and Ryan; both seemed to revel in conflict. That afternoon, Ryan called Perry "a wasted draft choice and a waste of money," then went on a local radio show and said, "He's an overweight kid and a helluva nice kid. But you know, I got twin boys at home who are nice kids, and I don't want 'em playing for me."
[+] Enlarge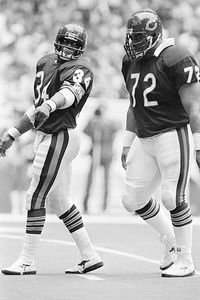 Jonathan Daniel/Getty ImagesWalter Payton directs William Perry in the backfield during the Bears' victory over the Cowboys in 1985.
Perry's weight peaked in college at approximately 390. His mother, Inez, a school dietician, was 5-11, 230. His father, a housepainter, was 5-9, 240. He was the 10th of 12 children, weighed 13½ pounds at birth, matured to 250 pounds as a sixth grader, wore double-wide trousers in high school, ate cereal out of mixing bowls, learned to bake his own cakes in junior high school, devoured buckets of Kentucky Fried Chicken for lunch, and drank Coors Light (two cases at a time, the story went) because the cans crushed easily. He considered beer "diet food," because he could sweat it out the next day at practice; this was one example of Fridge Logic, an endearing combination of naïveté and Southern folk wisdom. His teammates called him Biscuit; they also called him Mudslide. He stood 6 feet, 2 inches tall, had a 23-inch neck and a 48-inch waist, wore a size 61 sport coat, and could dunk a basketball from a standing jump. All of this convinced Ditka that if Ryan wasn't going to use him on defense, then Ditka could use him on offense.
The Bears were the better team this time around. They led San Francisco 26-10 by the time Ditka sent The Refrigerator into the huddle, with little more than a minute remaining in the game. Gimme da ball, The Fridge said. Chicago had possession near midfield, and twice in a row, Perry took a handoff and plunged into the center of the line, gaining 2 yards each time by sheer force of momentum. "That's like a sumo guy," one of the network announcers said, except it wasn't quite so elegant. Perry seemed confused by what to do after the ball actually wound up in his hands; he dropped to the grass like a wounded buffalo. But the execution didn't particularly matter at this point. It was obvious that this was Ditka's revenge, a coarse rejoinder to Walsh, the man who had been labeled an offensive genius, the man who had won a Super Bowl by coordinating his offense in almost balletic fashion. Here were the Chicago Bears winning by utilizing the ancient formula of smashing their opponents in the face. "Neanderthal football," New York Giants coach Bill Parcells would call it, and what could be more utterly prehistoric than propelling a massive body headlong into a pile in order to drive an oblong spheroid several inches forward?
It all fed into a perception that Ditka encouraged, that his team somehow embodied, the working-class spirit of Chicago itself. Later in the season, Ditka referred to his team as "Grabowskis," as the embodiment of Chicago's ethnic blue-collar ethos. It was typical of Ditka, who thrived in the role of underdog, of the furious outsider, but had managed to gather a team that now burst headlong into celebrity.