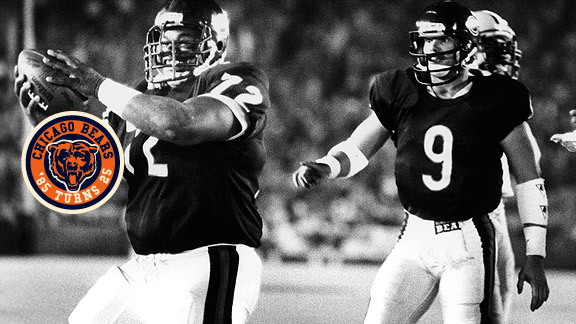 Jonathan Daniel/Getty Images
World, meet 'The Fridge'
With a 1-yard TD plunge on national TV, a marketing phenomenon began Bears: '85 Turns 25 - Turn On The Fridge
He's a grandfather now, if you can believe it. Grandpa Fridge, though William Perry's grandchildren keep it simple and just call him "Granddad."
Someday maybe he will regale them with tales of the day he went from the biggest thing in the NFL to the biggest thing on Madison Avenue. But chances are, he'll keep it simple, too.
[+] Enlarge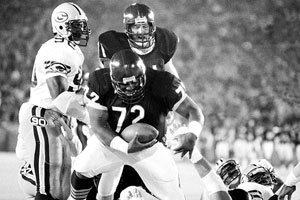 Jonathan Daniel/Getty ImagesWilliam Perry burst onto the national scene with this touchdown run against the Green Bay Packers on "Monday Night Football" on Oct. 21, 1985.
"Still today, it comes and it goes," Perry, 47, said by phone from his home in Aiken, S.C., of the global recognition he has received from his days as the Bears' 300-plus-pound rookie defensive tackle who thrilled and astonished fans and foes when he crossed the line of scrimmage.
"You still have fun with it. You just enjoy when people bring it back up. Then you move on."
It was that affable and down-to-earth charm, still evident despite health problems -- specifically, his struggles the past year and a half with the debilitating Guillain-Barré syndrome -- that endeared Perry to his teammates and fended off any potential jealousy as he became a folk hero to millions and a millionaire endorser.
"When you're talking about entertainment, there has never been anything like that in the NFL, not before and not since," said former Bears defensive tackle Steve McMichael. "And we're not just talking about NFL fans. The world got to know William Perry, the Fridge."
It began with just two carries for 4 yards by Perry as Bears coach Mike Ditka exacted a little payback against Bill Walsh and the 49ers in the last two handoffs of a 26-10 victory in Week 6 of the 1985 regular season in San Francisco.
"People can say what they want to," Ditka said recently, passively disputing the notion that the Perry experiment was his answer to Walsh's using 265-pound guard Guy McIntyre in the backfield as a blocker in the 49ers' 23-0 rout of the Bears in the '84 NFC Championship game. "But it was a pretty good damn idea to use him the way we did."
Perry's real coming-out party came the next week, in a "Monday Night Football" showdown with the Green Bay Packers.
Lined up at fullback in place of Matt Suhey, Perry made his biggest statement against the Packers, knocking linebacker George Cumby into the end zone as he blew open holes for two Walter Payton touchdowns. The memory seared in everyone's brains, however, was when Perry scored his first NFL touchdown on a 1-yard plunge over the goal line, the winning score in the 23-7 drubbing over the Bears' hated rivals from the north.
"The play was called over me," said the Bears' 6-foot-6, 281-pound offensive tackle, Keith Van Horne. "I was blocking, and I got propelled forward more than I was anticipating. It was quite a jolt. I was trying to get him to give me the ball so I could slam it."
Instead, Perry's joyful spike in the end zone became an iconic moment in itself.
"Walter just said, 'Congratulations, you made your first touchdown,'" Perry recalled. "It was just one of them things we all enjoyed."
And just like that, the Fridge was a sensation.
"

The offers for appearances, endorsements, commercials and signings were unlike anything we had ever experienced. They came in so fast and furious, we just sat there with our legs up on the desk, picking and choosing which offers we'd take advantage of and which phone calls we'd return.

" -- Jim Steiner, Perry's former agent
"It exploded," said Jim Steiner, Perry's agent at the time. "The next day, the phone was ringing off the hook with hundreds of requests for William. The first one we satisfied was McDonald's, I believe."
Major deals followed with Coke, Pontiac and NFL Properties, which had the licensing rights for Refrigerator trinkets.
"The offers for appearances, endorsements, commercials and signings were unlike anything we had ever experienced," Steiner said. "They came in so fast and furious, we just sat there with our legs up on the desk, picking and choosing which offers we'd take advantage of and which phone calls we'd return."
On the night after the win over the Packers, Perry appeared on "Late Night with David Letterman."
"My job with the Bears changed dramatically when Perry got that touchdown," recalled then-Bears public relations director Ken Valdiserri. "That's when all hell broke loose."
Already faced with the challenge of facilitating the media requests for a team chock full of captivating personalities, not to mention its larger-than-life head coach, Valdiserri's job and that of his assistant, Bryan Harlan, would soon careen off into the new arena of sports marketing.
But first, there was the matter of handling all things Refrigerator.
"Morning shows, late night, peripheral media outlets, national outlets, news side," Valdiserri ticked off some of those who came calling. "'NFL Today' basically just camped out at Bears headquarters."
Perry entrusted Steiner to sift through the mound of offers.
"Our thought at the time was that we'd better take advantage of as many of these as possible because we felt it would be a short-term type of thing," Steiner said. "It just felt that way to us. So we hopped aboard and started making deals with discretion but expeditiously. "
At 22 years old, the 10th of 12 children from Aiken, S.C., Perry seemed to take the sudden fame in stride.
"I didn't realize there was going to be that much attention involved just with me in the backfield," Perry said. "But there was, and it just took off, and I couldn't say any more about it. Everybody enjoyed it and had fun with it."
Bears fullback Suhey would appear to be the one with the biggest reason to resent Perry, considering that Perry's road to stardom began by replacing him as Payton's blocker.
[+] Enlarge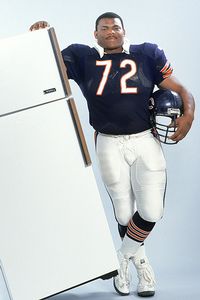 Bill Smith/Getty ImagesWilliam Perry embraced his "Refrigerator" persona and turned his sudden fame into millions in endorsements.
"I wasn't thrilled to be taken out in some of the key situations," Suhey admitted. "However, I did recognize that it had its time and place and that it was a very effective way of blocking. He was a big guy and a great, great athlete with great feet. Everybody recognized that, and it was a neat thing for our team. It was really fun to watch."
Part of Ditka's motivation in using Perry on offense was simply to get his first-round draft pick -- a pick he had fought for -- on the field.
"I didn't plan on making him a national hero," Ditka quipped at the time.
Perry landed in defensive coordinator Buddy Ryan's doghouse almost immediately after reporting late to camp after a contract holdout, then failing to finish his first practice because he was out of shape. Ryan called him a "wasted draft pick," and Perry found it hard to find the field behind McMichael and Dan Hampton at tackle.
In fact, Perry didn't make his first appearance on defense until Week 8 -- sacking Vikings quarterback Tommy Kramer on his first play of the game -- before eventually displacing Mike Hartenstine, with Hampton then moving to end.
By then, Perry's celebrity had taken hold: An all-female cheerleading squad calling themselves "The Refrigerettes," formed with a minimum 200-pound weight requirement.
Valdiserri and Harlan coached Perry a bit on how to handle the immense media attention.
"But he was who he was," Valdiserri said. "With that constant gap-toothed smile, his fun-loving nature, he never took it seriously."
Perry was the same when asked to do his first bit of acting on commercial sets.
"He was a natural with it," Steiner said. "He had an innocent presence about him on camera. Everyone thought he was this cute, adorable guy, and his personality was such that everyone loved him."
Perry said he does not remember ever feeling nervous.
"That was fun doing commercials, doing appearances," Perry said. "It was enjoyable; I liked doing it. I just relaxed and had fun with it."
While Steiner added office staff to accompany Perry to every commercial shoot and appearance, Perry's first wife, Sherry, also kept a close eye on him, Steiner said. She insisted on final approval if her husband was going to be photographed with women, even in casual shots, preferring that it not happen at all, he said.
Meanwhile, Steiner said he grappled with the danger of giving the American public too much Fridge too soon.
"That was the issue," he said. "Do we take advantage of all these things and risk that he would be overexposed, or do we pick and choose and turn down things, hoping his market value increases? Our thinking was to take advantage of everything and not worry about overexposure. But none of the companies cared."
And the Bears simply rolled with it, with Ditka and Perry even doing a Pontiac spot together.
"Everybody enjoyed it; everybody had fun with it," Perry said. "They joined in with me, and we had laughs about it."
Steiner, who also represented Hampton, McMichael and Maurice Douglass, said Fridge's success benefited everyone.
"Everybody was doing something on the marketing, endorsement side," Steiner said. "In some respects, they were riding on [Perry's] coattails. Things occurred for William that helped the whole marketing effort for everybody else."
But none of it would have mattered had Perry appeared fame-hungry.
"He handled it all in a self-deprecating, innocent, 'I just do what they tell me' kind of way," Hampton said. "Everyone handled it in an ideal way. Walter could have thought 'He's stealing my limelight.' Suhey could have said, 'Wait a minute, I'm the fullback.' The offensive linemen could have said, 'He's going to get one of us hurt if he hits us in the back.' But everyone just went with it for the good of the team, and once we saw that it worked, it was our secret weapon and everyone got goofy about it.
"It was so much fun watching [offensive linemen] Hilgy [Jay Hilgenberg] and [Jimbo] Covert coming off the field after he got that touchdown. I never saw them with crazier smiles than that. There was none of 'Hey, he's interfering with this or that.' None of it. It was a very selfless team in that respect, whatever helped us win."
Van Horne said it wasn't difficult to enjoy Perry's success.
"Fridge was a nice guy, happy-go-lucky, unassuming. He didn't walk around like he was some whatever," he said. "And he was a hell of an athlete. At his size, he was quick. People seem to forget that."
Perry's teammates already knew of his dunking ability (from a standing position) in basketball. They knew he was quick and had great coordination.
"If you go back and watch [Perry's 4-yard touchdown reception] in Green Bay [on Nov. 3, 1985]," Hampton said, "he runs like he's coming out of the blocks, dips his shoulder and runs to the corner post like a kid who knows exactly what to do. I never ran a pattern, but I could tell he had done that all his life."
Perry said he only carried the ball a few times in high school, but he amazed his teammates with a different skill the week before the Super Bowl, when the team practiced in Champaign, Ill.
"I think it was Thursday of that week after practice, and all of a sudden we decided to see how far everybody could throw the ball," Hampton recalled. "I threw it like 20 yards. McMichael threw it like 50, McMahon, 60. Payton and [Richard] Dent threw it like 70. Then Fridge gets up and throws the thing 90 yards. It blew everybody away, and it was a tight spiral like it was shot out of a cannon. Unbelievable."
In the Super Bowl, Perry was called on again, this time blocking once for a McMahon touchdown; eating the ball, so to speak, on a failed halfback option and, finally, scoring from the 1-yard line.
"Coach made the call, and that's what happened," Perry said. "I couldn't say too much more about it. I was doing what he told me to do and everything. I don't feel bad about it. It was just all fun and games."
The assumption afterward was that Payton was unhappy that he did not score. Valdiserri, who was with Payton immediately after the game, said much of Payton's frustration was simply because, with the Patriots keying on him, he did not have a better game, rushing for 61 yards on 22 carries with a fumble.
"That bothered him more than anything else," Valdiserri said.
But no one suggested that Payton resented Perry.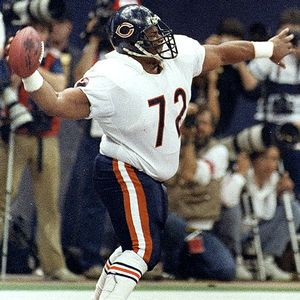 AP Photo/Amy SancettaWilliam Perry spikes the ball after scoring a touchdown in Super Bowl XX.
"I think Walter was fine with it, I really do," Suhey said. "He thought it was a lot of fun, another factor that caused people to really like the Bears and the way we played. To go straight ahead and block like that? The whole team got a kick out of it.
"[Perry] was respected and was respectful of guys, especially the older guys. His good fortune, it was just the way things were going that year, and a lot of guys enjoyed that and a lot of guys benefited. But we saw it through to fruition and won the Super Bowl. God love us, if we had done some of the things we did and not won? Whew."
Perry said he hopes to be able to join his teammates for the upcoming 25th anniversary celebration of the Super Bowl, "Glory Day -- Legends of the Chicago Bears' Gridiron Greats," Nov. 5 at the Arie Crown Theater. But he doesn't know how he will feel.
Perry spent more than a month at Aiken Regional Medical Centers this spring and continues to recover from Guillain-Barré, a potentially fatal disease of the body's immune system that can cause prolonged disability and, in Perry's case, has affected his ability to walk and talk and has caused hearing loss. Questions for the phone interview were relayed by his wife, Valerie.
"To be honest," childhood friend Charlie Timmerman said, "I didn't know if he was going to make it. It was a terrible thing."
Perry had not yet been diagnosed when Ditka saw him at an autograph session in Chicago this past February, 150 pounds below his normal weight in the mid-300s and requiring a wheelchair to get around.
Ditka has since helped Perry with medical expenses through the Gridiron Greats Assistance Fund, and friends echo Perry, saying he is in good spirits.
"He was always in a good mood," Timmerman said with a laugh. "There were times in the hospital that he really didn't know who a lot of people were. But he still had good spirits. And now he looks great and is doing really, really well. A few months ago, his words were slow, but not anymore. He still has a little trouble walking, but he'll whip that."
Perry said his prognosis is good.
"Some people never recover fully," he said. "I walk sometimes with a cane, but sometime I don't need it. I'm doing work in the gym. Every day, I'm getting better and better, doing what I'm supposed to and exercising, really just doing everything, and everything is slowly coming back."
The memories, Perry said, sustain him. Will always sustain him.
"That's the thing they remember about me, running a touchdown as big as I was, scoring and just having fun.
"I appreciated it when it happened and down the road, I'll still remember it," he said. "I still laugh about it today. It's still great, still fun, just wonderful.
"Everybody still looks and recognizes me and says 'Hello, how're you doing?' I say I'm doing well, and I keep on going."
Melissa Isaacson is a columnist for ESPNChicago.com.