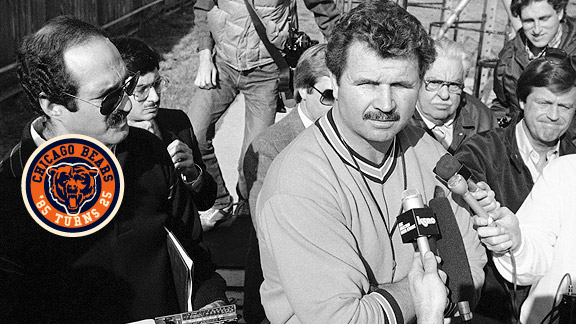 AP Photo/Sal Veder
Stop the press for the '85 Bears
The Super Bowl XX champs were as entertaining as they were dominant '85 Bears: Growing Media Coverage
Editor's note: ESPNChicago.com is celebrating the 25th anniversary of the Chicago Bears' dominant 1985 season and victory in Super Bowl XX. We'll have weekly features on each game from '85, video interviews with key figures, photo galleries and more.
Ken Valdiserri is hard-pressed to pin it down given the number of candidates, but if there was one moment he could call the most memorable in his experience as the media relations director for the '85 Bears, it would have to involve Jim McMahon.
Actually, McMahon is credited with a double-pronged public relations ... uh ... situation, for his infamous mooning of a helicopter during Super Bowl week, ostensibly to show off his bruised behind; then being erroneously accused of calling the women of New Orleans a derogatory term the following day.
"

It was a reporter's dream to cover that team. In large part, it was the characters who made the stories and it was a soap opera, a different story angle every week.

" -- Ken Valdiserri, former media director
"A reporter woke me up at 4:30 that morning, and I recall having to meet with [Bears general manager] Jerry [Vainisi] and get the facts of what happened from McMahon's point of view," Valdiserri said. "And I was the [team] spokesperson, so that [Thursday] of the Super Bowl, there I was sitting at a podium giving the blow-by-blow description of what took place. At that point, the whole thing was absolutely a blur because with everything else that was going on, you then had to deal with this side story that took on a life of its own. It was somewhat surreal."
Good thing Valdiserri was used to it by then.
Between contract squabbles and the Fridge phenomenon; Ditka's DUI and the Super Bowl Shuffle; the McMahon-Dan Hampton back-and-forth and the Ditka-Buddy Ryan tension; not to mention a football team as dynamic on the field as it was captivating off it; the season was a public relations test tube and a media smorgasbord.
"It was a reporter's dream to cover that team," Valdiserri said. "In large part, it was the characters who made the stories and it was a soap opera, a different story angle every week.
"Every media outlet in town enjoyed the benefits. Whether it was WGN and Bob Collins getting more listeners or the Tribune selling more papers, it all impacted cumulatively in a very positive way for the team and the media here."
A 26-year-old "kid" in his second year with the Bears by way of Notre Dame and a stint with the White Sox media relations department, Valdiserri was young but well-prepared.
"He had been around this since he was 6 years old," said his father, Roger Valdiserri, former longtime sports information director and associate athletic director at Notre Dame. "I think he saw what is expected of a PR guy and how it should be handled and what the requirements are, and I think he was ready for it. And he had quite a bunch to contend with. It would have been a ball to work with that group. Every day was an adventure."
And the enormous undertaking of managing the daily adventure was handled by a two-man staff. Valdiserri was assisted by Bryan Harlan, then 23 and in his first year as a full-time employee for the club after a one-year internship following graduation from the University of Iowa.
Harlan, who like Valdiserri also had a sports administration pedigree as the son of Bob Harlan, then the corporate assistant to the president of the Green Bay Packers and later chairman of the board and CEO of the team, remembers the story of the '85 team growing daily.
"It evolved so quickly that season from being a local sports story, to a local news story, to a national sports story, to a national and international news story," Harlan said. "It went so far beyond typical sports coverage just because of the personalities involved, and it all started with Ditka, it all fed off of him. Because of the way he was, it helped bring out some of the other personalities."
Ditka, in fact, encouraged it in his players.
"There were a lot of independent thinkers in that group, a lot of strong personalities, and Mike set the tone for those personalities to emerge," Harlan said. "Teams today are so guarded and concerned about how quotes are interpreted.
"The [''85 Bears] were good, they knew they were good and they backed it up. The whole business and mindset has changed since then. There's such a conscious effort to control the message. We had a lot of fun. It was refreshing."
It began with a generous access policy.
"A real trademark of that team that was dictated by Mike was that we made everyone accessible," Valdiserri said. "In today's world, you don't let the offensive coordinator talk until Wednesday, the quarterback doesn't speak until Thursday. We had little regard for those limitations. We felt that these guys are big boys, they can handle themselves. We put virtually no restrictions on the media."
The "old" Halas Hall was a horrible place to house throngs of reporters but a great place for those reporters to get to Bears players, whether it was by simply stopping them as they had to walk past the tiny media room or following them out to their cars across the street for a private chat, an impossible task in today's NFL.
"All of that in a way made it neat and made it great for the media," Harlan said. "They could develop relationships, and at the end of the day, the personalities of the players were able to show.
"To this day, those players are making money because of that. People know Otis Wilson. I'm not sure if they know Lance Briggs."
Don Pierson, the senior Bears beat writer who was in his 16th year covering the NFL for the Tribune in '85, evoked the kid-in-the-candy-store analogy to describe working the Bears' locker room as a reporter during that Super Bowl season.
"I've never seen anything like it before or since," Pierson said. "If someone didn't want to talk, you didn't even care, you just went to the next guy and they just sat there waiting for you. There was very little hiding.
"And one guy was as good as the next, not just off-the-wall, loose cannons but also really thoughtful, insightful guys like [Matt] Suhey, [Gary] Fencik and [Mike] Singletary, who were always accessible, where you could always get perspective and would write your stories for you. You can't find too many guys like that anymore."
With Ditka leading the way, each day, it seemed, someone with the Bears did or said something outrageous enough to lead the nightly sportscast. Valdiserri remembered Ditka's weekly Monday news conference as an event in itself.
"We'd hunker down in the basement classroom, served lunch to the press and it was like must-see theater," Valdiserri laughed.
Pierson called it "laugh-out-loud fun. ... No matter what story you had for the day, and you probably had a good one, you couldn't even sit down to write it until we talked to Ditka because he would always give you something better. He could always one-up whatever you were working on, and it almost seemed intentional."
Of course it wasn't always fun. Driving home from the airport and a celebratory flight following the Bears' 26-10 victory over the 49ers, Ditka was pulled over by state police and charged with DUI.
When Valdiserri arrived at Halas Hall the next morning at 6:30, he found Ditka at his desk.
"He looked downtrodden, his eyes were bloodshot and he was apologetic and just felt a lot of remorse," Valdiserri recalled. "I said ''Hey, let's just deal with it head-on.' I thought he handled it like a man [answering questions at that day's news conference] and because of the way he handled it, it quickly went away. He confronted it, admitted he made a mistake and it had a very short shelf life."
Of course it helped that the team was winning. But either way, it is hard to imagine that same story having a "short shelf life" today, particularly since Ditka's arrest came on the same day that details of the Bears' plan to limit beer sales at Soldier Field during the following Monday night game against Green Bay were released.
"Today," said Valdiserri, "it would be a nightmare for him."
With the Internet and social media, it's unlikely that many of the mild skirmishes that affected the team -- the tension between McMahon and Dent, the sideline shoving match between Steve McMichael and Gary Fencik, and the ongoing friction between Ditka and Ryan -- would blow over quickly.
"The level of social media infiltration would probably have provided 10 times the amount of access and some of the behind-the-scenes things that I didn't even know about that the players were involved with on the street," Valdiserri said. "We probably would have had to have some sort of acknowledgement, whether it be guys getting their pictures taken with iPhones or whatever. It could have been bad in one sense."
The other likelihood, said Pierson, is that players would have to be a lot more careful.
"There were things that happened [during training camp] in Platteville [Wis.] pool halls, for example, that could have never remained private," he said. "Because they were so loose, it very well could have backfired on them.
"As ubiquitous as the media was at the time, we were still filters. There were things that went on in the locker room that wouldn't have been reported. It was just behavior. There are no filters anymore."
One of Valdiserri's biggest challenges in '85 was dealing with Ryan, who seldom worried about what he was saying, whether it was calling Perry "a wasted draft pick" or saying Dave Duerson would never be Todd Bell.
"I tried to reason with Buddy," Valdiserri said. "I had a couple of closed-door meetings with him to try to talk through some of the things he was saying. But he was very gruff and he said ''I'm just going to call it as I see it.' And I said, ''Well Buddy, we all kind of want to make sure we're singing from the same hymn here and we're not creating any internal conflicts because this is about team and too much of this stuff is being played out in the media.'
"But here I was, this 26-year-old kid, and I could not empower those folks to always say what I wanted them to say or at least to think what I thought was in the best interest of the team."
At the same time, Bill McGrane, the Bears director of administration at the time and Valdiserri's direct supervisor, recalled that by the end of the season, there was a certain resentment from some of the top players toward the sheer amount of media attention, and at least where the quarterback was concerned, the creation of a media persona.
"I remember sitting on the bus with McMahon during Super Bowl week," McGrane said, "and he looked and acted totally normal, everything about him, his hair, his demeanor, and we talked the whole trip and had a nice conversation.
"Then when we got to where we were going, his whole manner and mood changed because he was going to be interviewed. He became a whole different person and he said something like, ''Time to go feed the animals.'"
The media contingent in New Orleans was the biggest yet for a Super Bowl, but it was still a relatively easy week for the Bears' young PR staff after the season it had gone though.
Valdiserri said he and Harlan got their first taste of what '85 would be like the year before, when Walter Payton broke Jim Brown's career rushing record.
"That was an incredible amount of work," Valdiserri said. "We decided at the beginning of the year, to make it easier on reporters, we would put together a packet of clips and provide that as background for anybody who came in to cover his record-breaking year.
"For three straight days, Bryan and I produced over 250 of them with over 100 clippings from Walter's file. We didn't have a Xerox machine that could collate and do the stapling so we were doing it all ourselves. That sort of helped prepare us for the '85 season."
The nation took notice of the Bears with the explosion of the Fridge phenomenon in Weeks 6 and 7. And from there, the attention grew. And grew.
"The national press was covering us almost as a beat," Valdiserri said. "I think the NFL saw -- and certainly the [CBS] network -- that Chicago was such a key market, it was great for the league. The Bears had gone through so many years of failure, this was something new and fresh."
To call Valdiserri a media relations director was selling him short, for the job coordinating the press, outside appearances, advertising and eventually marketing of the '85 Bears went far beyond that of putting together the team media guide.
Sports marketing, a discipline whose inception is acknowledged as coinciding with the first nationally televised Major League Baseball game in 1939, flourished in the late '80s and became Valdiserri's eventual calling.
"At that time, no teams had full-time marketing directors," said Valdiserri, who assumed that title in ''88. "But that season I can say really launched a league-wide initiative for teams to market themselves locally. In '85, everyone was making money off the Bears, but the Bears."
Gatorade, Valdiserri recalled, paid the Bears $60,000 in exchange for cups with its logo on the sidelines and one giveaway -- such as magnetic team schedules -- a year. The following year, the Super Bowl champion New York Giants doused Bill Parcells with a cooler of Gatorade, and a tradition -- and a marketing phenomenon -- was born.
"I kind of laugh at our primitive efforts," McGrane agreed. "Especially when I hear some of the stuff like, ''The opening kickoff is brought to you by ... '' They just sell everything today. ... We probably didn't do as well with it as we could have, but to tell you the truth, there wasn't time. We hit it with a lick and a promise."
Either way, as Pierson put it, "It was just a helluva good time."
Melissa Isaacson is a columnist for ESPNChicago.com.