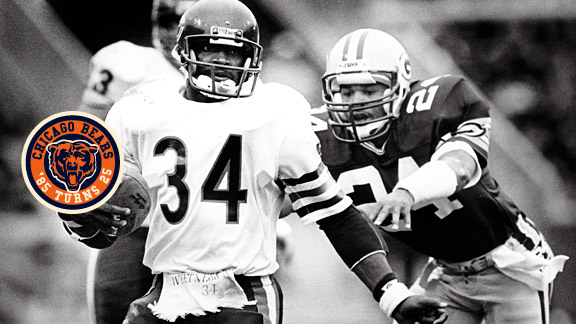 Jonathan Daniel/Getty Images
'A crazy, crazy night' in Green Bay
Second meeting between Bears and Packers revealed fierceness of rivalry Mike Ditka on Walter Payton
Editor's note: ESPNChicago.com is celebrating the 25th anniversary of the Chicago Bears' dominant 1985 season and victory in Super Bowl XX. We'll have weekly features on each game from '85, video interviews with key figures, photo galleries and more.
If the Bears had any doubts as to what was in store for them at Lambeau Field that November Sunday in 1985, they got a not-so-subtle hint when they caught a whiff of the welcome gift delivered to the visitors' locker room from a local radio station: a sack of horse manure.
Yeah, it was going to be a real stinker, all right.
[+] Enlarge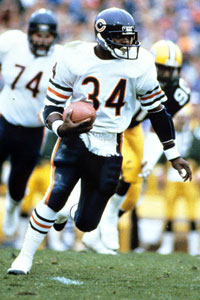 Vernon Biever/Getty ImagesWalter Payton had his best game of the season against the Packers in Green Bay, rushing for 192 yards on 28 carries with a touchdown.
If the rivalry itself was not enough, the Bears had embarrassed the Packers on "Monday Night Football" two weeks before as William Perry lined up in the backfield for the second week in a row, clearing a path for two Walter Payton touchdowns and scoring his first from 1 yard out in a 23-7 Chicago victory.
"That Monday night game made the Fridge, gave him national recognition," said Bears fullback Matt Suhey. "The Packers were part of that and they weren't thrilled about it. We were going to be in for a physical game with those guys, a classic Bears-Packer game, and they were going to get some cheap shots in there."
The game, in fact, is remembered for two shots in particular.
And for Payton's ultimate payback.
In his third-best game in the pros, Payton rushed for 192 yards on 28 carries, including the game-winning 27-yard touchdown run in the Bears' 16-10 victory over the Packers. But as time went on, it was almost an afterthought to the late hit inflicted by Packers cornerback Mark Lee, who drove Payton out of bounds and over the Bears' bench following a 5-yard gain on the ninth play of the game, a play that got Lee ejected.
When the Bears' coaches reviewed game film the following day, they determined that the Packers were guilty of five cheap shots on the first nine plays. The worst, arguably, came on the Bears' next possession when Packers rookie safety Ken Stills, who had been cut by the team in the preseason and re-signed that week, leveled Suhey several seconds after the whistle was blown.
Stills, an eighth-round pick out of Wisconsin who ultimately spent five seasons with the Packers, still recalls the fierce buildup to the game fueled by Packers head coach Forrest Gregg, a teammate of Mike Ditka's on the Super Bowl champion Dallas Cowboys as well as Ditka's opponent in the Packers-Bears rivalry in the '60s.
For Gregg, 77, now living in Colorado Springs, the desire to defeat Green Bay's Central Division rival had long since been ingrained.
"When I first came to Green Bay in 1956, we were playing the Bears [in the second week], and every time you'd go somewhere in the city, if you went to the service station to fill up your car, the guy would say, 'Hey, don't forget, this is Bears week,'" Gregg recalled. "It was a situation where you had the backing of the whole city. And it was an expectation, the big thing was to beat the Bears. Just beat the Bears."
Gregg's players got the message.
"It was very big for Forrest," said Stills, now a salesman in Southern California who developed a close bond with Gregg in later years. "He'd say, 'We've got to get these guys. I can't stand Mike Ditka. I hate the Bears.'"
He had all this pent-up tension and anger. He made us wear orange wristbands during the week and we'd have Bears posters up [in the locker room -- in '86, it was of William Perry] and black out their eyes and the teeth.
"It was sort of funny but all week it was, 'We're going to get these guys' and it became very important to us. I knew all about the history of the rivalry and with guys like John Jefferson and James Lofton and Lynn Dickey and everyone else talking about it, I certainly bought into it."
"

We didn't have a dirty football team. I never taught my players to do anything against the rules. It was 'Play hard and play tough.' That game got out of hand, I'll tell you that much right now. Things happen in ballgames. I see it every Sunday when I watch games now and see things happen like that.

" -- Former Packers coach Forrest Gregg
Stills signed five days before the Nov. 3 Bears game after Tom Flynn was injured, then found himself in the starting lineup when Mike McLeod banged knees with a teammate in practice late in the week.
"We were just going to run base defenses, the coaches told me, nothing very sophisticated," Stills said. "We were thinking, 'We've got to stop Payton in this game.' After Lee was ejected, we thought Mark was not at fault because Payton grabbed him [arguably pulling the two over the bench].
"A few plays later in the huddle, we were like, 'We're going to get these guys. We're going to make these guys pay for our guy getting thrown out.'"
The next play was a toss sweep to Payton, to the Packers' right.
"I remember it clear as day," Stills said. "Matt was the lead blocker and Charlie Martin snuck through and tripped up Payton. I'm the free safety and all I'm thinking is 'Yeah, we're going to blow this play up. I'm going to stop this player in the backfield.' The play was over but I was coming from center field 100 miles an hour, oblivious to who was in front of me. It was my first game and all I was focused on was, 'I'm going to hit somebody in black.' Nothing against him, but I was going to hit someone in another uniform."
The collision was pad on pad and the crack could be heard on TV.
"It dazed me pretty good," Suhey said. "I wasn't ready to get hit and my body was relaxed. I'm sure I got hit a lot worse but that was a good one."
"I got up," said Stills, "and there's a big chunk of sod in my helmet and I remember coach [Dick] Modzelewski [Green Bay's defensive coordinator] cussing at me, 'You dumb SOB, what are you doing?' And Forrest Gregg grabs him and says, 'If we had 10 guys like him, we'd have a chance in this game.'"
Cameras caught Martin on the next play slugging a prone Jim McMahon, and Bears tight end Emery Moorehead said he, too, was a victim of some extracurricular play that cameras didn't catch.
"On the same play Lee threw Walter over the bench, I had cut a guy on the ground and he jumped up and put spikes in my back," Moorehead said. "Why? Because Forrest said do whatever you want to do and I'll back you up. They hated us, we hated them, but when you're on offense, you have to hold your composure. We couldn't get in fights because the second guy in always gets the penalty."
Gregg, however, insists today he did not condone the Stills hit and took offense to the notion that he, in fact, encouraged dirty play.
"We didn't have a dirty football team," Gregg said. "I never taught my players to do anything against the rules. It was 'Play hard and play tough.' That game got out of hand, I'll tell you that much right now. Things happen in ballgames. I see it every Sunday when I watch games now and see things happen like that.
"[Stills] wound up going from being on the street that week to being a starter. Kenny wanted to make an impression on everybody to show he belonged. And don't get me wrong, he was a tough football player. This guy, for his size, was a hitter. He didn't back off anybody or anything."
Stills did not receive a particularly warm reception as he headed back to the huddle after crushing Suhey.
"[Packers linebacker] John Anderson grabbed me and shook me, saying, 'What are you doing? What were you thinking?'" Stills recalled. "Today, that would have been a huge fine."
Stills was fined $500 the following Wednesday, sizable enough for a player who was to earn $70,000 that season but laughable today. Recently, someone sent a YouTube of Stills' hit to his son Kenny, a freshman wide receiver on the Oklahoma Sooners.
"He had never seen it before," Stills said of his son, "and he said, 'Dad, what were you thinking?'"
Stills later apologized to Suhey.
[+] Enlarge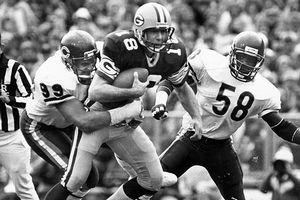 Jonathan Daniel/Getty ImagesThe Bears' Dan Hampton sacks Packers quarterback Jim Zorn, who was sacked three times and completed 11 of 26 passes for 179 yards with a touchdown and an interception.
"That was a crazy, crazy night," Suhey said. "It's fun to talk about it now but going through it thinking back, it was not a good thing. There was no love lost between the teams at all. When I think about it today, to have that kind of venom toward other players, it's kind of silly because it really is just a game. Over the years, they were no different than we were."
In offseason basketball games between the two teams, the play would be almost as physical as on the football field. But Stills remembers very different golf outings with Bears players.
"I remember us playing golf and all of us laughing about it, no animosity toward anybody," Stills said. "The rivalry stayed between the lines. Off the field, I have pictures I took with Walter. He was such a great person, so mellow and cool. I don't know if he ever lost his temper, even during those games.
"I wasn't aiming at 26 [Suhey]. I didn't even know those guys. I didn't realize Matt was the No. 1 draft pick out of Penn State. I would never try to hurt him. It wasn't in me."
The following season, in the teams' second meeting at Soldier Field, Martin body-slammed McMahon on his already injured throwing shoulder and was ejected. Martin, who passed away in 2005 at age 45 from kidney failure, received a two-game suspension without pay and the Bears quarterback ended up requiring surgery and was lost for the year, an injury that had long-term repercussions on McMahon's career.
During the game, Martin, Stills and other Packers defenders wore white towels on their belts with numbers of Bears players, including McMahon. The Bears believed the Packers had a bounty out on those players, something Stills dismissed.
"It wasn't a hit list like it was made out to be, numbers we'd cross off when we knocked them out of the game," said Stills. "It was, 'These are the guys we have to stop to win the game.'"
The Packers, however, were swept again in '86 by 25-12 and 12-10 deficits. And Stills claimed there was a bounty out on him in the first game.
"Dennis Gentry kneed me in the head on the third play and knocked me out," he said. "Guys told me Chicago players were saying, 'Who gets the bounty?' But I came back and played in the second half and I understood. That was the game.
"There's nothing personal. It's sad because back then it was such a great rivalry and it meant something to wear that green and gold or orange and blue. Now with everyone going team to team, there's not the same loyalty."
Asked about the rivalry, several Bears players still sound as if they wouldn't mind getting another shot at the Packers.
"You get hit legally, it's part of the game," McMahon said recently. "When you get mugged, it's not part of the game."
"It was very classless," said Bears offensive tackle Keith Van Horne of the Packers that day. "When a team does that, they're not good enough to beat you. Green Bay is a great organization but that just shouldn't have happened."
From '85 through '88, the Bears-Packers series went 8-0 in Chicago's favor. The Bears' overall record during that period was 52-11 while the Packers were 21-41-1.
"But it was such a rivalry, the records didn't matter," said Bears offensive tackle Jim Covert. "We had a great record [in '85] and still only won by six points. I really enjoyed those games because there was so much competition and that's what you're there for, right?"
During that time span, the Bears' victories averaged 10.6 points but the overall impression is that they were all closer.
"Those Green Bay teams were bad," Moorehead said, "but when they played the Bears, it seemed like it was always a close game. What generations today don't realize is that for so long, teams couldn't beat the Packers and Ditka was adamant about controlling the Central Division, which we did."
After 25 years, however, much of the ill will has faded.
"I'll just say this," Gregg said of the '85 Bears, "that was a great football team. They had a tremendous defense with Dan Hampton and [Mike] Singletary and McMichael and Fridge. And on offense, Payton and McMahon, who was a tough cookie, hard to get to, No. 1, and hard to bring down after you got to him."
Bears running backs coach Johnny Roland said Gregg and Ditka's personal rivalry got a jolt in the '84 preseason, during a game in Milwaukee with both teams sharing the same sideline, that carried over for the rest of their teams' games against each another.
"Right before halftime [of Green Bay's eventual 17-10 victory], the Packers called a timeout," Roland recalled. "They were trying to control the clock in a meaningless game and Mike's opinion was 'Let's get to the locker room, get the second half started, not get any injuries and get to the regular season.'
"Well, they almost got into a blow-by-blow fight right there on the sideline and this is meaningless game. ... There was no love lost between Forrest Gregg and Mike Ditka."
Contrary to everyone else's opinion, however, Gregg said his desire to beat the Bears superseded any need to beat Ditka.
"Every game you play in, every game you coached, your desire was to win the ballgame," he said. "We were the best team during the '60s and there wasn't anything with Mike Ditka and myself as far as I was concerned. Mike and I were teammates in Dallas and he was a good football player. I just wanted to win the ballgame. That's what was what important to me."
Suhey has softened as well.
"I hold no ill feelings toward any of those Packers," Suhey said. "It was just the way the game was played back then. It was a great rivalry and it made for great TV. I'm sure if any of those guys were on our team, they would be a great teammate as well."
Gregg told the story of his son "beating the socks" off a friend in "Madden" several years ago.
"I asked him, 'How in the world did you do that?' And he said, 'Dad, I had the Bears' '85 defense.'
"I had to laugh," Gregg said. "All those years he was paying attention, I guess."